Peachy Pita Breakfast Pizzas
Peachy Pita Breakfast Pizzas, whole grain mini pitas topped with juicy sweet peaches, raspberry preserves, lemony ricotta cheese and fresh blueberries. Less than 15 minutes for this easy kid-friendly toaster oven breakfast.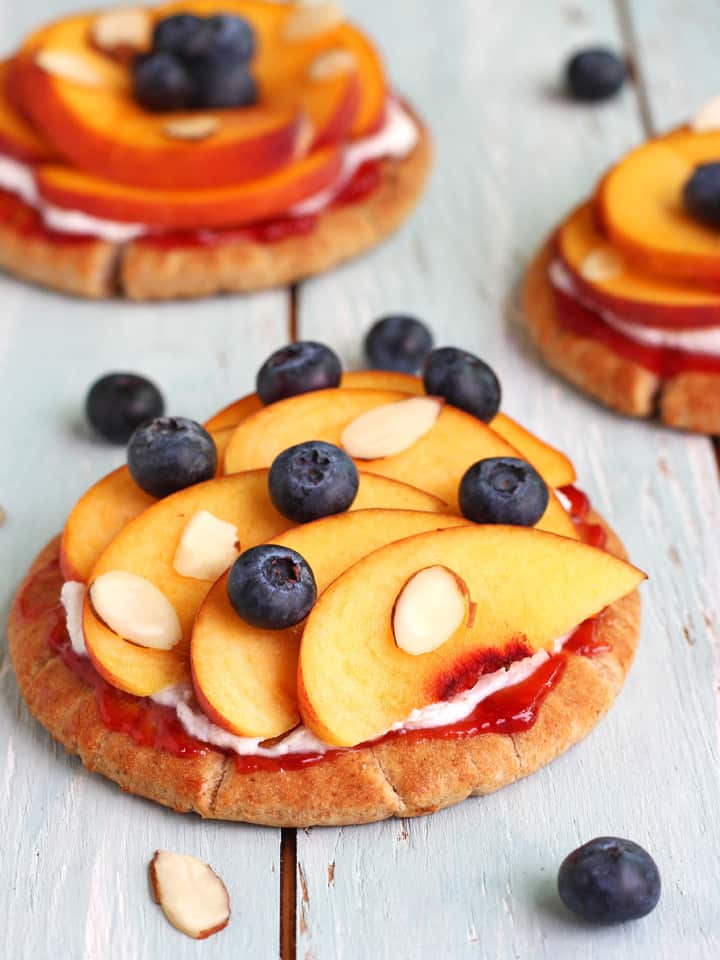 Oh summer peaches so juicy and sweet, you will be missed especially atop a Quick Peach Avocado Toast or as the star of sugar-free Blackberry Peach Oat Cookies.
Before you go, how about one last fruity breakfast together? Something like these simple Peachy Pita Breakfast Pizzas?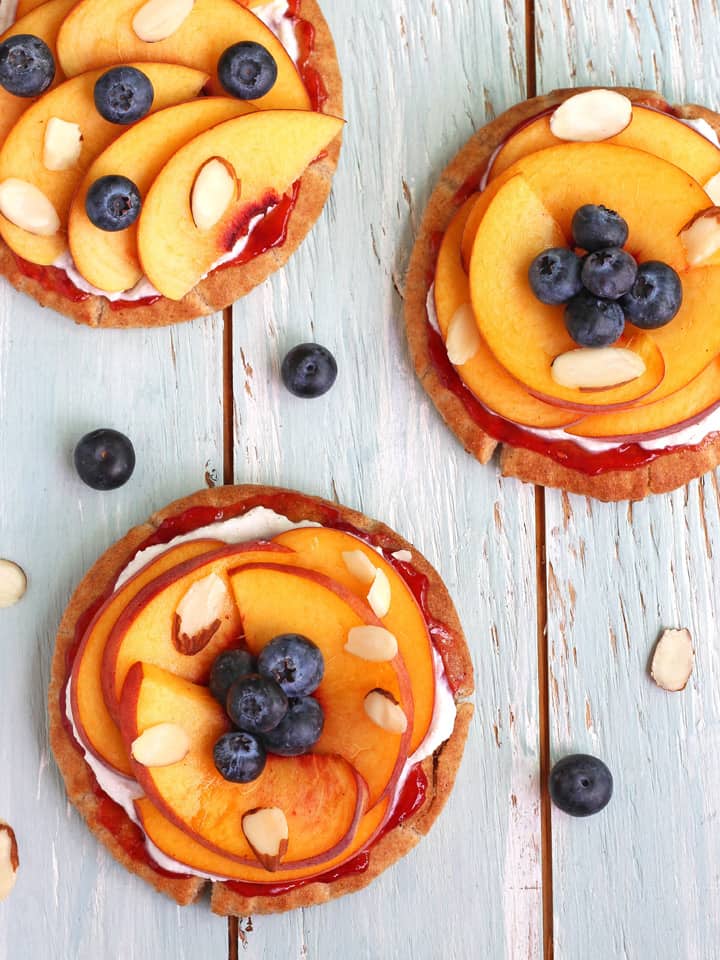 They may look fancy but these peach topped mini pita pizzas take less than 15 minutes to make! Pair that good news with the fact that a serving of two filling pizzas is less than 400 calories and you have a perfect farewell to summer breakfast.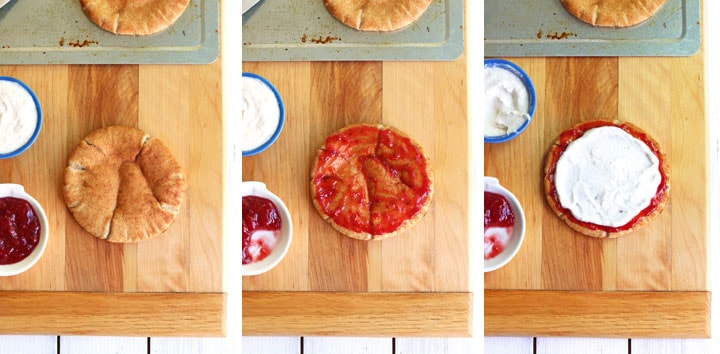 A tasty breakfast of coconut oil toasted chewy whole wheat pitas spread lightly with raspberry preserves and then smothered with a lemony ricotta cheese. Then just top your crispy-chewy-creamy pitas with peach slices and fresh blueberries.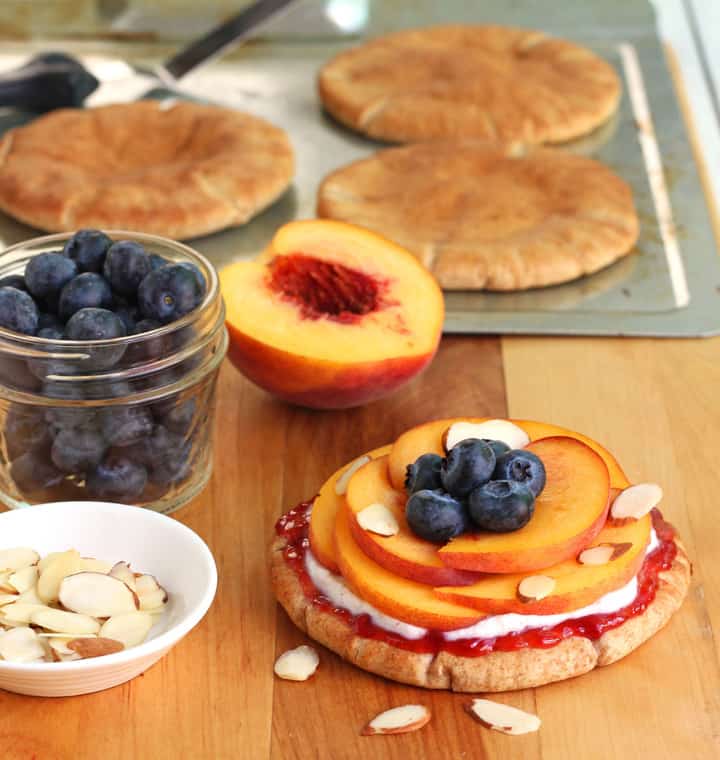 If you ♥ ricotta + fruit in a big way too check out our Easy Flatbread Fruit Pizza, Ginger Ricotta Pear Toast, Potsticker Fruit Tacos and these savory-sweet Strawberry Spinach Pita Pockets.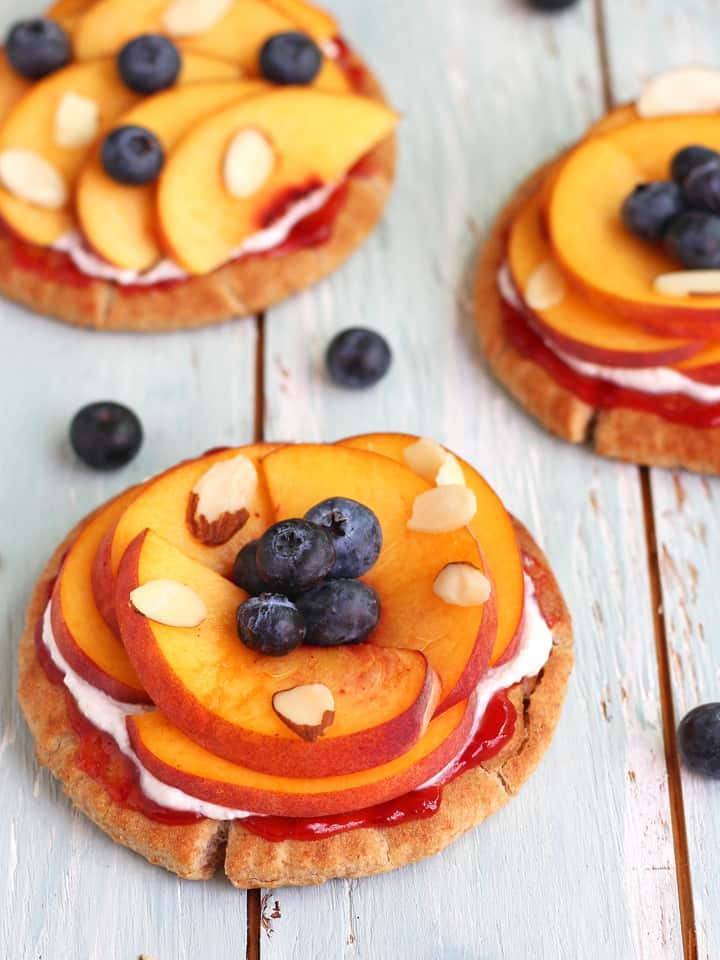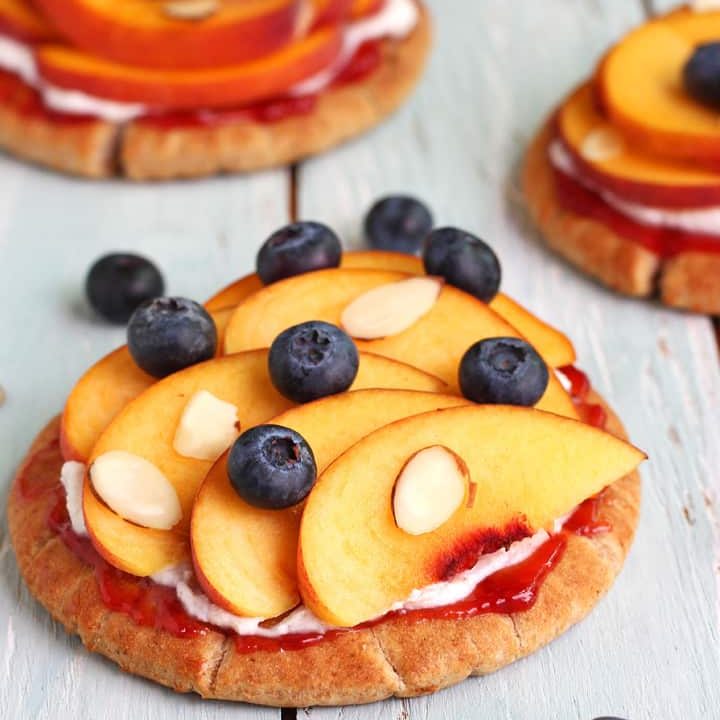 Peachy Pita Pizzas
They may look fancy but these peach topped mini pita pizzas take less than 15 minutes to make!
Ingredients
4 whole wheat mini pitas
1/2 teaspoon oil
1/4 cup whole milk ricotta cheese
1/4 teaspoon lemon juice
1/16 teaspoon ground cinnamon
1 tablespoon raspberry preserves
2 large peaches, pitted and thinly sliced
2 tablespoons fresh blueberries
1 tablespoon sliced raw almonds
Instructions
Preheat toaster oven or oven to 400 F. Lightly oil both sides of the mini pitas with coconut oil. Bake oiled pitas at 400 F for 5 to 8 minutes until the pitas are warmed and lightly crispy. Allow pitas to cool for 3 or 4 minutes before topping.
While the pitas bake mix together the ricotta cheese, lemon juice and cinnamon.
To make pizzas, spread cooled pitas with raspberry preserves. Top preserves with ricotta cheese mixture spreading evenly over the entire pita. Layer peach slices and top with blueberries. Sprinkle pitas with raw almonds just before serving.
Notes
Recipe makes 4 mini pizzas, Nutritional Information is an estimate for a serving of 2 Mini Peachy Pita Pizzas.
Nutrition Information:
Yield:

2
Serving Size:

2 Mini Pizzas
Amount Per Serving:
Calories:

360
Total Fat:

11.4g
Saturated Fat:

5.7g
Cholesterol:

26.5mg
Sodium:

295.6mg
Carbohydrates:

55.8g
Fiber:

7.2g
Sugar:

19.1g
Protein:

13.5g