Ginger Ricotta Pear Toast
Ginger Ricotta Pear Toast, crispy whole grain toast smothered with spicy cinnamon ginger ricotta and topped with juicy pear slices and a drizzle of honey.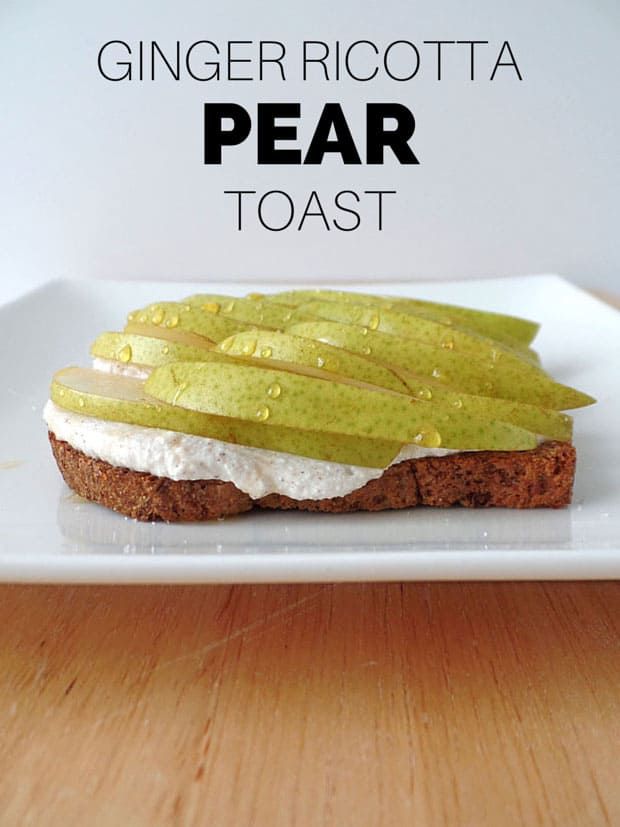 Don't tell my husband but I'm having a bit of a love affair…with ricotta.
It all started with a spinach lasagna toast. Pretty soon I was putting ricotta in and on everything, from sweet Easy Flatbread Fruit Pizzas to a more savory Golden Beet and Avocado Sandwich. Reaching the last of the container I had just enough for this Ginger Ricotta Pear Toast.
Sweet and lightly spiced it's the perfect treat to keep all for yourself or share!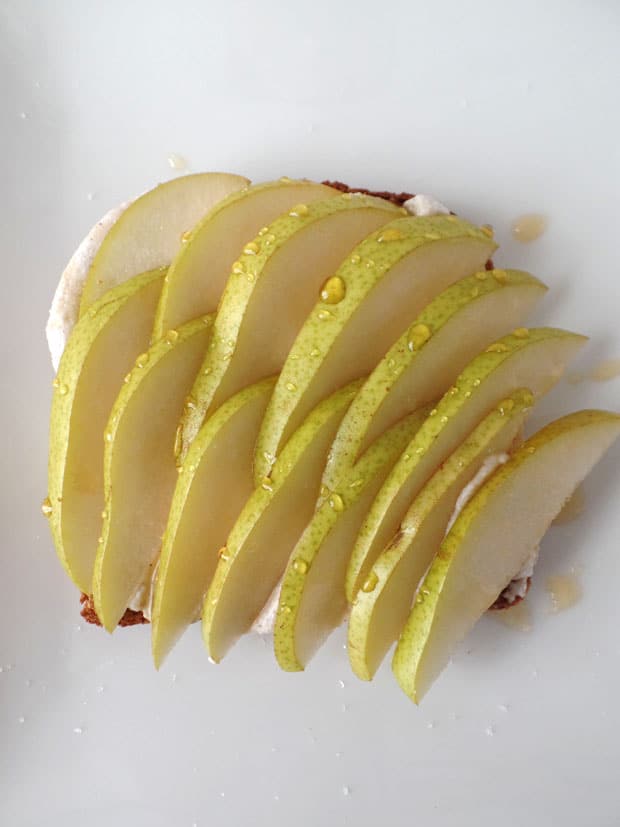 Ricotta is such a chameleon. Add sun-dried tomatoes and it's perfect for savory Veggie Pita Pizza Bites. Or mix in fresh ginger and cinnamon for a yummy cheesecake style ricotta.
You could skip the honey and save a few calories. But it's really a nice addition providing a delicate sweetness balanced by with a tiny sprinkling of sea salt.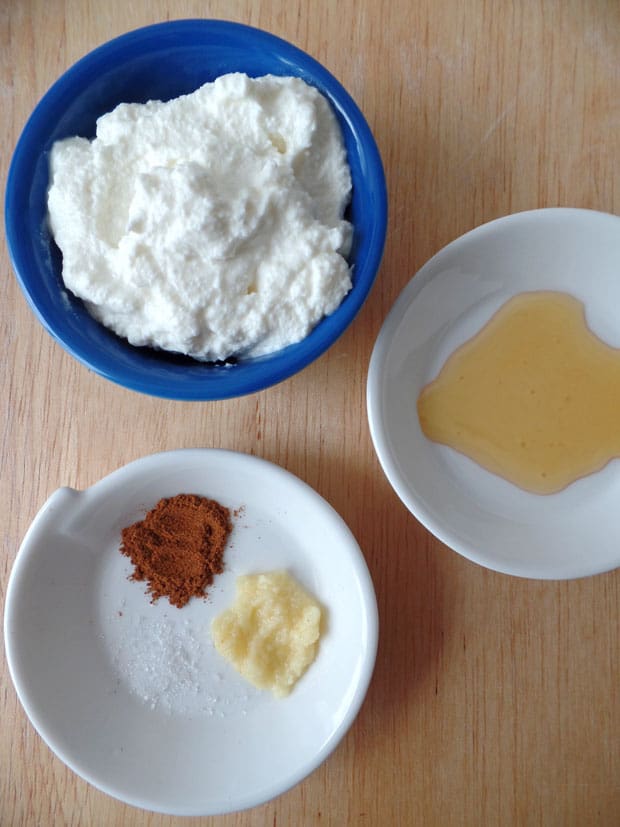 Speaking of delicate, pears are a curious fruit. Hard and crunchy when raw, firm yet cream when ripe.
For the longest time I had trouble picking a ripe pear, thinking a tender middle meant it was ready to be eaten. Then I learned I was doing it all wrong and needed to move a bit north.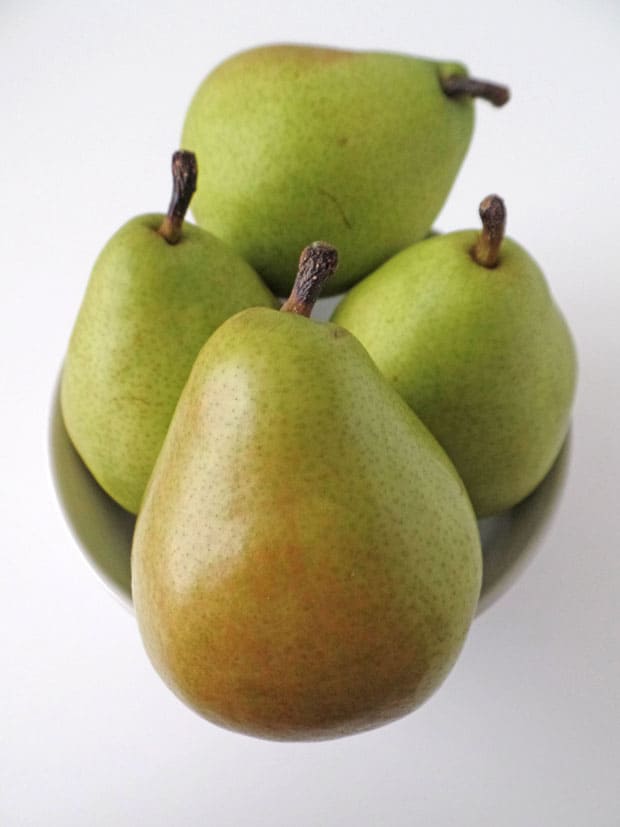 The best way to find a ripe pear according to the growers at usapears.org is to "Check The Neck." You apply a bit of pressure to the pear's neck with your thumb, if it's tender then it's ready to eat.
A squishy pear belly is actually a sign of an overripe pear. Don't toss your overripe fruit though it has other uses. Substitute your squishy pear for the peach in this recipe for Blackberry Peach Oat Cookies and make a batch of healthy kid-friendly cookies.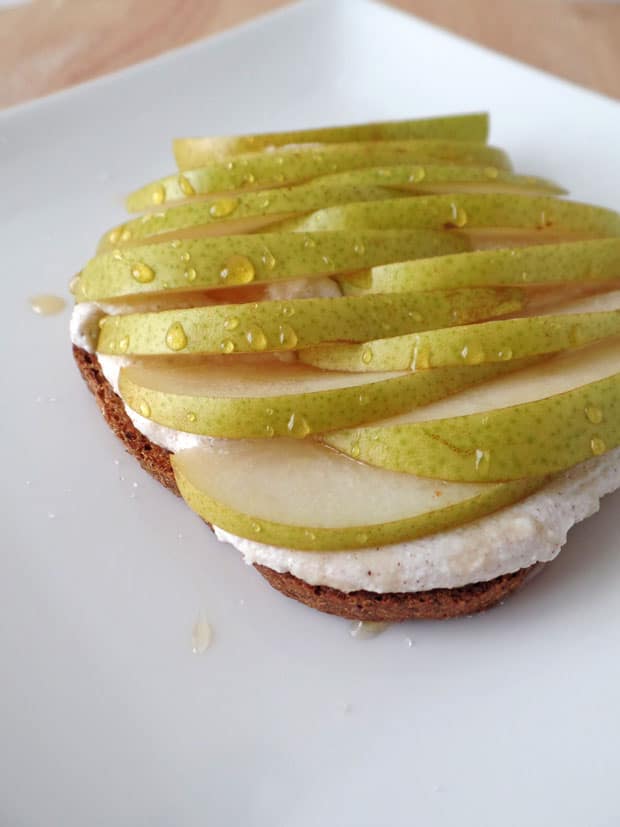 So let's grab a ripe pear, some ricotta and treat ourselves to a decadent Ginger Ricotta Pear Toast today.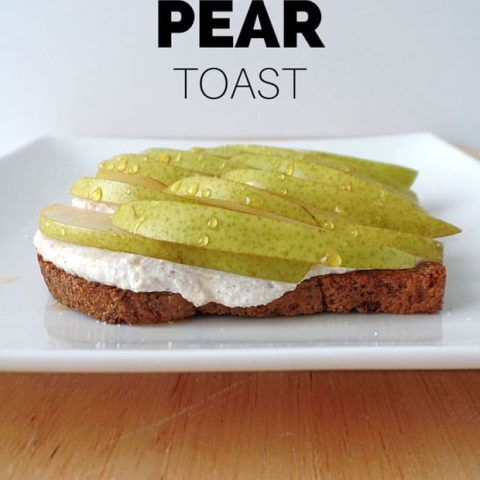 Toaster Oven Ginger Ricotta Pear Toast
Crispy whole grain toast smothered with cinnamon ginger ricotta and topped with juicy pear slices and a drizzle of honey
Ingredients
1 slice sprouted whole grain bread, (or your favorite whole grain bread)
1/4 cup whole milk ricotta cheese, (about 2.3 ounces)
1/4 teaspoon finely grated fresh ginger
1/8 teaspoon ground cinnamon
1 medium pear, cored and thinly sliced (6 or 7 ounces, our preference is for the Green Anjou Pear)
1/2 teaspoon honey
Finely ground sea salt for sprinkling, (optional)
Instructions
Toast bread slice. While bread is toasting, in a small bowl stir together ricotta, ginger and cinnamon.
Place toast on plate. Spread spiced ricotta mixture onto toast. Fan pear slices evenly atop ricotta. Drizzle with honey and sprinkle lightly with sea salt if desired.
Nutrition Information:
Yield:

2
Serving Size:

1 Toast
Amount Per Serving:
Calories:

255
Total Fat:

6.8g
Saturated Fat:

3.8g
Cholesterol:

21.6mg
Sodium:

136.6mg
Carbohydrates:

42.9g
Fiber:

7.6g
Sugar:

22g
Protein:

8.9g