Toaster Oven Recommendations From Our Readers
Are you looking to buy a toaster oven but have no idea where to begin?
How do you know what to look for? What features are important? Is bigger better? Do you want one with a convection fan?
Before you start shopping we'd suggest reading this Tips For Choosing A Toaster Oven post. It will help you answer many of those questions.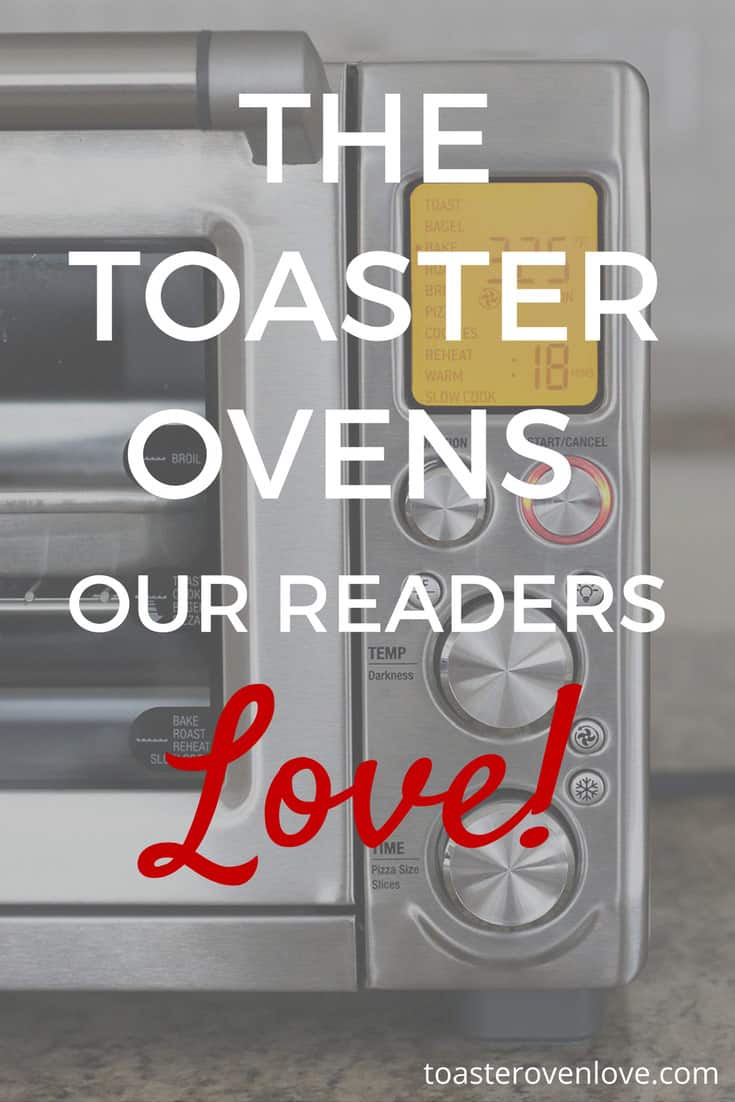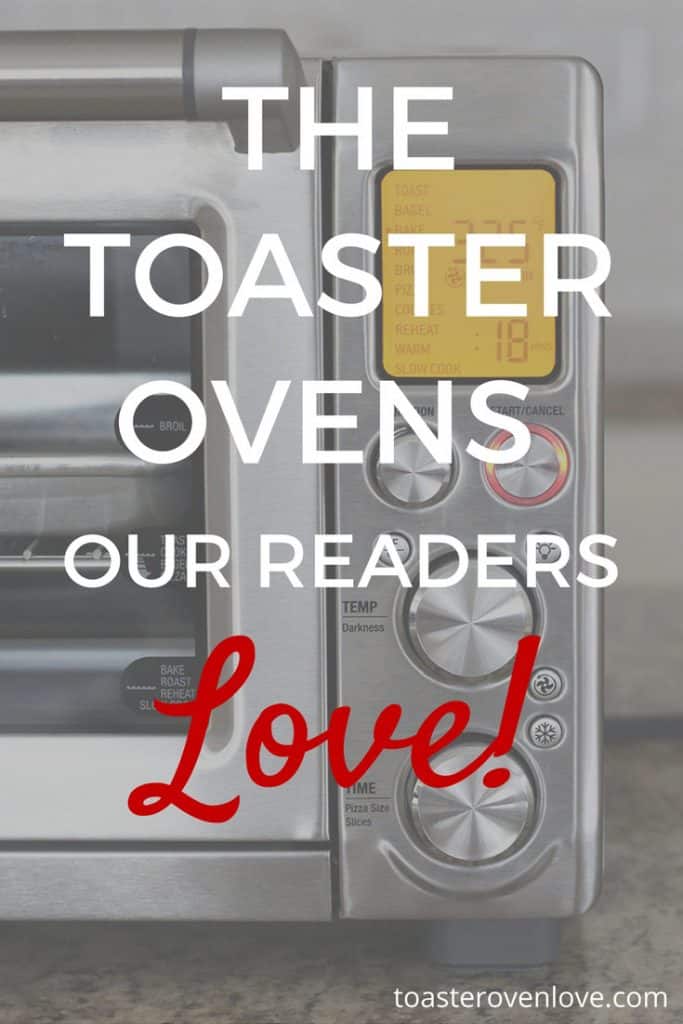 Recommendations From Friends
We get a lot of emails asking for toaster oven suggestions.
While the list of toaster ovens we use (or have used) is longer than most people's, it's still pretty small.
And we wouldn't feel comfortable recommending an appliance without having cooked with it.
So I'd reply to those emails with a recommendation for our main and favorite toaster oven, the Breville Smart Oven Pro (BOV845BSS), a few technical roundups and the suggestion to check Amazon's reviews.
The Problem Is
Those "Best Toaster Oven" head-to-head articles are great once you've narrowed down your list and are deciding between two or three specific toaster ovens.
And Amazon reviews are helpful but overwhelming.
Frustrated we couldn't do more, Tim and I spent some time thinking about how we could best help people find the right toaster oven for them.
Then two things occurred to me:
Most people were looking for suggestions from someone who cooked with their toaster oven, using it for more than just toast and warming leftovers.
We happened to have a lot of friends like that on the Toaster Oven Love email list!
So, last month we asked them for help.
Toaster Oven Recommendations From Our Readers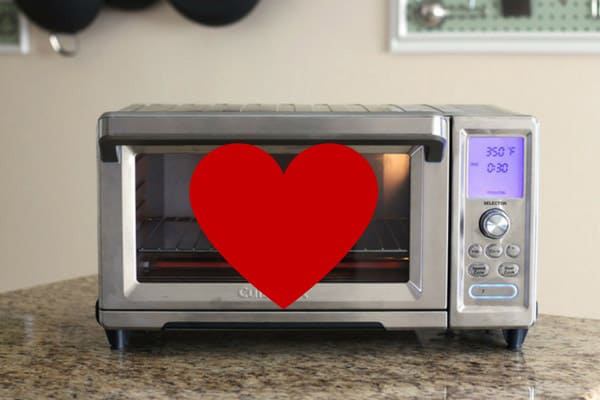 Since negative reviews are easy to find online, we wanted to focus on the positive instead and asked our readers:
"If you have a toaster oven you like so much you'd recommend it to a friend or neighbor, we want to hear about it."
And wow, did they deliver!
Because our community is THE BEST, not only did they send recommendations, some people shared:
Their reasoning for choosing a specific little oven;
What they cook with it;
A bunch of tips (like how to make half a box of cake mix!);
And even a few small things they'd change about their toaster oven.
We received the most recommendations for Oster, Breville, and Cuisinart toaster ovens so we've started with those ones.
Oster TSSTTVXXLL Countertop Oven
Karen W. just got this toaster oven and is already in love with it. Check out her fantastic in-depth review below.
"I just got an Oster countertop oven with convection this month from Sam's for $80. Model TSSTTVXXLL. It is extra large–will fit a 16″ pizza (it says–but not a 16″ pan -the opening is about 15.75″) and a 9×13 pan.

I bought it because our regular oven is not working and after 6 months I was ready to bake! I made a 9×13 Coca-Cola cake and it turned out better than it ever did in my regular oven–and without the 20 minute preheating! Just turn it on and put the pan in the oven!!

This week I made delicious meatloaf and green bean casserole -baked at the same time!! I haven't had a toaster oven the last 8 years–and I am loving it. Especially in this summer heat–my kitchen stays cooler"
Karen also shared a great pizza cooking tip: "Frozen pizzas must be baked on the rack. The bottom of the crust doesn't cook if on a pan."
Oster TSSTTVXLDG Countertop Oven
Linda F. purchased this large capacity Oster to use instead of her regular oven and has been cooking up a storm.
"I Love It! So easy to use and clean up…i have made bread, cake, chicken, toast, and I have a lamb shank in as we speak! It was only $99 at Walmart (couldn't find it anywhere else). Don't know how I lived without it."
Curious how the lamb turned out? Linda let me know "the shank was amazing!"
Oster TSSTTV0001 Toaster Oven
(It looks like this toaster oven is available only at Target, when we stopped by to snap a pic it was on sale for $10.00 off the price!)
Cindy uses her mid-size Oster TSSTTV0001 Countertop Toaster Oven as her main oven too. While there's a lot she likes about it (mmm…warm garlic breadsticks!), there are a few things she'd change.
"My toaster oven is the Oster 6 slice toaster oven. I bought it at Target for 50 dollars! I typically make baked chicken, heat up frozen garlic breadsticks (obsessed), make mini apple cinnamon muffins (love them for breakfast with scrambled eggs), cupcakes, and of course cookies!

It is my main oven since I am unable to stand for long periods and the large oven is just difficult for me to use without burning myself sitting down.

The only things I can think of that I would change would be I wish it was a little bigger since it only holds up to a 12" pan and I would love to get a 9×13 in there! Also, I kinda wish it was digital since I'm not really sure I've hit the right temperature or time."
Roxana J. also likes the Oster TSSTTV0001. She received it as a gift from her daughter and has been cooking "carnitas and baked chile rellenos in it all the time." Her husband's a big fan of it too, he "loves how leftover pizza tastes so much better heated in the toaster oven."
Breville Smart Oven Pro (BOV845BSS)
There are a few premium, reliable and well-reviewed countertop ovens available. We consider the Breville Smart Oven Pro (BOV845BSS) to be one of them and personally love cooking with it.
Reader Dave S. noted that he didn't do much research before his purchase but said "I am very pleased with it."
Jona spent a lot of time researching and reading reviews before purchasing her Breville Smart Oven Pro. She kindly shared everything she loves about her toaster oven, how she uses it and a few things she'd change.
"My toaster oven is a Breville Pro and it is a second oven to my full size oven. Our reasons for going with the Breville Pro was the convection feature and the width that allows a 12" cookie sheet or pizza stone.

With our toaster oven I no longer hesitate to bake garlic. I use a 6 muffin tin, each head of garlic gets drizzled with oil and wrapped in foil and baked in the toaster oven. To bake commercial box cake mixes I whisk the dry mix and then divide that mix in half, use half of the oil or eggs required and bake in one round or 8×8 square pan. The only thing my large oven gets used for since getting the toaster oven is to bake 4 loaves of bread at a time. With only two of us in the home it is nice to have a smaller cakes.

The ability to have fresh homemade cookies in less than 15 minutes is awesome. I mix the dough ahead of time and freeze so that I can enjoy anytime without having to bake cookies all day or have too many around to eat up later.

With a pizza stone I purchased after getting my toaster oven I make and bake fresh pizza, and can reheat leftover pizza on the stone.

There are two features we do not use. The toast feature fails to toast both sides of the bread evenly when toasting on the rack position recommended. I bake my own bread and it just did not toast it to our satisfaction so we use our stand alone toaster. I have not used the roast feature out of concern it will splatter oil around up on the top rack close to the elements making it hard to keep clean.

The only feature I wish it had was a steam option so I could bake artisan breads in my toaster oven."
Breville Smart Oven Air
Nancy F. likes that she can use her existing bakeware with her new toaster oven and it's unique air fry feature.
"I bought a Breville Smart Oven Air February, 2017. I did research toaster ovens and thought this would be the perfect fit for me. I absolutely love ❤️ it!!

The thing I like best is being able put things in it and take them out at counter level. No bending over or struggling to see what's going on in the oven. I did not have to purchase new bakeware. It is large enough to accommodate a 9 x 13 pan.

I have used the air fry feature and it is a great feature on a toaster oven. Love ❤️ air fried sweet potatoes! It is a little pricey, but well worth the investment. I use mine all the time."
Breville BOV800XL Smart Oven
Leslie D. says her Breville XL is a "good stand-in for a range oven and much more energy efficient. Adequate volume to do entire meals for two."
Sharon S. agreed "About 6 months ago bought a Breville toaster oven…the big "smart oven" (800XL) Like its size and accuracy. Expensive but seems worth it."
Cuisinart TOB-195 Exact Heat Toaster Oven Broiler
Lana M. had so many good things to say about her (9 year old!) Cuisinart TOB-195 Exact Heat Toaster Oven Broiler.
"I've had it about 9 years (since August 2008), and use it at least 4-5 times a week as my primary oven. It's large enough to handle a 12″ pizza, although I rarely make one that big (10″ is my usual size).

It's just about perfect. Accurate, fast, easy to use, holds a lot, preheats quickly. I'm single and hate heating up the "big oven" when I'm baking only one or two potatoes or a couple of chicken breasts. I especially don't like heating up the "big oven" in the summer!

I've been able to take a lot of "full size" recipes and minimize them to a couple of servings that are doable in the toaster oven (a recent favorite: a variety of "sheet pan" dinners in compact form). It broils, bakes, and reheats perfectly.

I honestly can't think of any feature I'd want to add to it. It does everything I need it to do, and it does it very well."
Vivian has been using the Cuisinart Convection Toaster Oven (her's is the TOB 1300 SA) purchased from Costco to cook all kinds of yummy goodies stating it's "Fully functioning…roasts a chicken fast, makes little one-two-person casseroles, bakes mini quick breads…doesn't heat up the kitchen."
Cuisinart TOB-260N1 Chef's Convection Toaster Oven
Sandra L. did a lot of research before purchasing her Cuisinart TOB-260N1 and it sounds like that extra effort paid off.
"After a lot of research, we got a Cuisinart toaster oven a couple of months ago. I love it! My main motivation was efficiency. I typically cook for just my husband and me and don't need a full oven.

I'm really enjoying the super quick pre-heat and cool-down that doesn't add more heat into my kitchen in our Texas heat. Last night I baked red snapper for 10 min and switched it to broil and the fish was super. It's a pricey machine, and for me it's worth it."
Hamilton Beach 31401 4-Slice Toaster Oven Broiler
Diane M. is cooking up delicious dinners for 2 and brownies(!) with her little oven.
"I have a Hamilton Beach, 4 slice size oven, about 8 months old. I use it for everything instead of my regular oven, especially now in the summer heat. Made brownies yesterday and tonight, baked cod. It is perfect for 2 people.

At first the pre-heat and time setting dial (actually all dials were, and still are, difficult to read the tiny print) was tricky, so the only change I would make would be digital settings much easier to read sort of like my microwave."
Hamilton Beach 31512 Convection 6-Slice Toaster Oven
Marion had accessibility in mind when purchasing a Hamilton Beach 6-Slice Convection Toaster Oven (this red one Model# 31514).
"It is wonderful. I purchased it a couple of months ago because of the very nice reviews I read in different places.

I am blind, so, of course, accessibility with any appliance is very important. I have had very good experiences with Hamilton Beach and accessibility of their items. My toaster oven has also proven to be very accessible. Did I have to make a few little adjustments like adding bump dots at several places on the temperature and time Knobs? yes. But other than that, everything was fine. I am very happy with the purchase.

Still learning to do things, and when you are so new at doing something there is a bit of a learning curve. I am really getting comfortable with it. I'm looking forward to learning to do more and more things.

Again, Hamilton Beach makes great products in terms of ease of use, dependability, quality and accessibility either right out of the box or with minor adaptation."
BLACK+DECKER TO1313SBD 4-Slice Toaster Oven
Suzi's a die-hard Black and Decker fan who sent in a great review for her "no bells and whistles" TO1313SBD 4-Slice Toaster Oven.
"I started purchasing/using toaster ovens about 35 years ago! I have always purchased the Black and Decker small, no bells and whistles, Toast-R-Oven. I have no doubt I purchased the first one because of the price. They are not expensive at all.

I purchase the same one every time and use them almost daily until they die. Then I get the same one even though they make modifications, typically just the way it looks.

I love this toaster oven! It's small so doesn't take up too much countertop space, works great, and is a great price. I would recommend it for sure."
BLACK+DECKER TO1675B 6-Slice Convection Countertop Toaster Oven
Jane's got nice things to say about her BLACK+DECKER TO1675B 6-Slice Convection Countertop Toaster Oven too.
"I use it a lot for toasting, baking, broiling. (Did a steak last night.) Not too big for the counter, and it saves from the heat of the stove's oven."
Even More Little Oven Love
Brenda would recommend the Waring Pro TCO650 she uses almost every day saying "I absolutely love this oven!"
Jacquie feels the same way about her Panasonic Flash Xpress Toaster Oven "Love my dual purpose Panasonic."
Catey B. has a KitchenAid convection/toaster oven and thinks "It's pretty amazing."
Unfortunately, these last toaster ovens are no longer manufactured but are still worth taking a minute to appreciate (and maybe keep an eye out for at yard sales!).
Can Take A Licking and Keep On Ticking
Susan B. has a Euro Pro Toaster Oven and bought it "because it was made by Euro Pro and I have their sewing machine (all metal construction!) so I knew it would be well made. It's probably close to 10 years old now. It was in storage for awhile, fell a short distance one time and is still going strong. Sadly, it's no longer being made."
Coolest Multi-Function Toaster Oven
Joyce G. let us know about a toaster oven that was clearly ahead of its time. "I have a Toastmaker/Breadmaker's Hearth toaster oven that I purchased new about 12 years ago. I love it since it is not only a great toaster oven that bakes, toasts. defrosts, but is also a bread maker. It also came with an instruction booklet with a vinyl cover that includes many bread recipes. It is one of the most convenient kitchen appliances I've ever had, and doesn't heat up the kitchen."
Do You Have A Toaster Oven You Love?
Share your recommendation in the comments, thanks!