Baked Pumpkin Donuts (or Donut Holes)
These baked pumpkin donuts are tender, sweet, and packed with warm fall spices. The egg-free recipe makes just 5 donuts or 12 donut holes, perfect for baking in the toaster oven!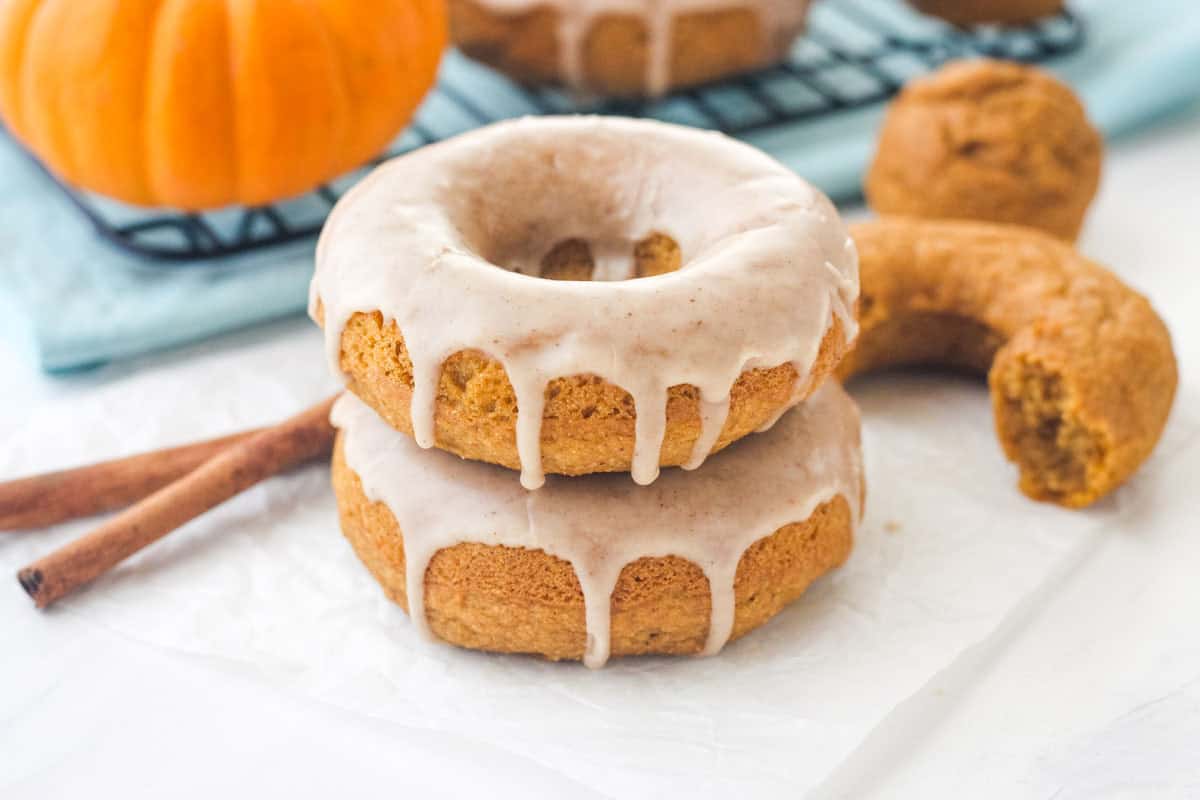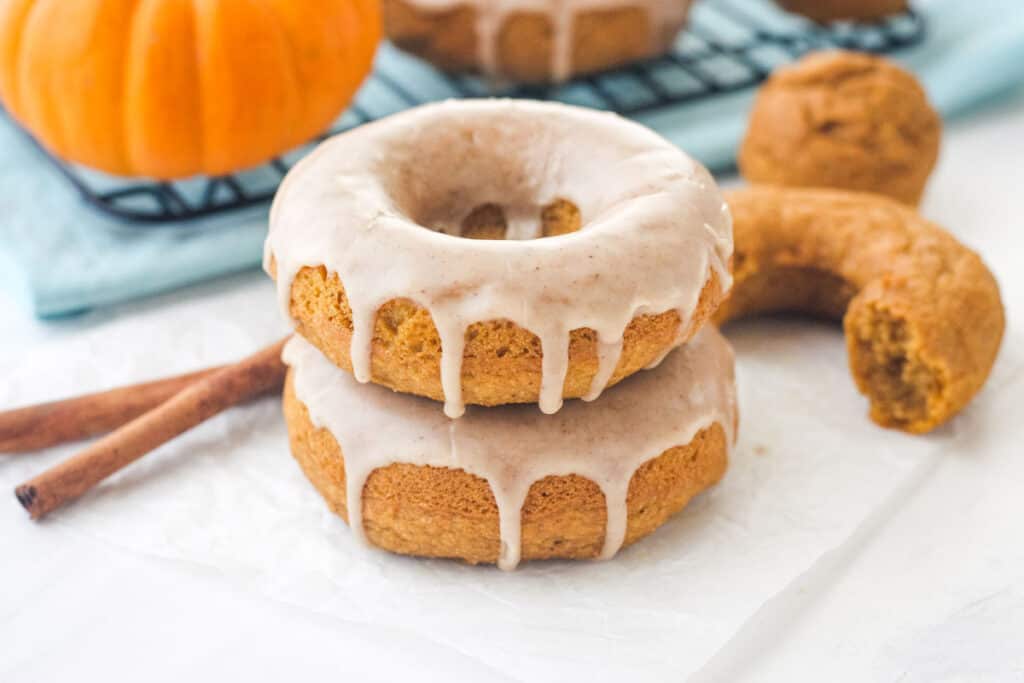 It's finally Fall! Time for apple hand pies, stuffed acorn squash, and all things pumpkin…starting with these easy pumpkin spice donuts.
The small-batch recipe can be baked in a donut pan or in a mini muffin pan (yep, donut holes!).
Big or small, these donuts are a great way to use up leftover canned pumpkin and they freeze wonderfully for a quick grab-and-go treat.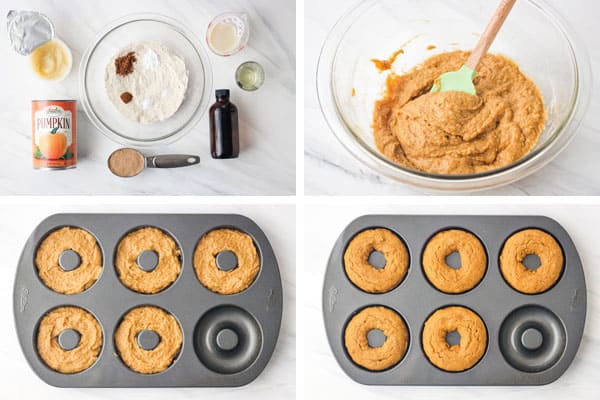 How to Make Baked Pumpkin Donuts
Whisk together the dry ingredients in a large bowl.
In a smaller bowl, whisk together the wet ingredients.
Then pour the wet into the dry and stir just until combined.
For Full-Sized Donuts: Spoon the batter into a greased donut pan (remember you'll only be filling 5 of the 6 cavities). Bake at 350°F until the donuts spring back when pressed and a toothpick inserted in one comes out clean, about 11 to 12 minutes. 
For Donut Holes: Use a cookie scoop to transfer the batter to a greased mini muffin pan. Keep the temperature the same and bake until they pass the toothpick test, about 10 minutes.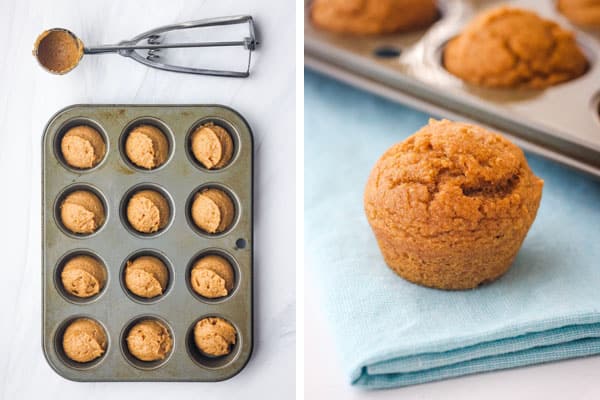 Recipe Notes and Tips
Don't overmix the batter, it will make the donuts tough instead of tender.  
For the lightest donuts go with the All-Purpose Flour.
If you're using organic canned pumpkin, you might need to increase the baking time by a few extra minutes. 
Store leftover donuts in a covered container at room temperature for 3 days or freeze (unglazed) for up to 3 months. 
Stuck with half a can of pumpkin but don't feel like baking anything else right now? You can freeze the leftover pumpkin puree.  
How can I take these baked donuts up a notch?
Dust them with powdered sugar.
Dip a few in melted butter and dredge in cinnamon sugar like these Baked Buttermilk Donuts. 
Drizzle with a quick cinnamon maple glaze – recipe included in the card below. 
Personally, I think they are very yummy plain but as always…you do you!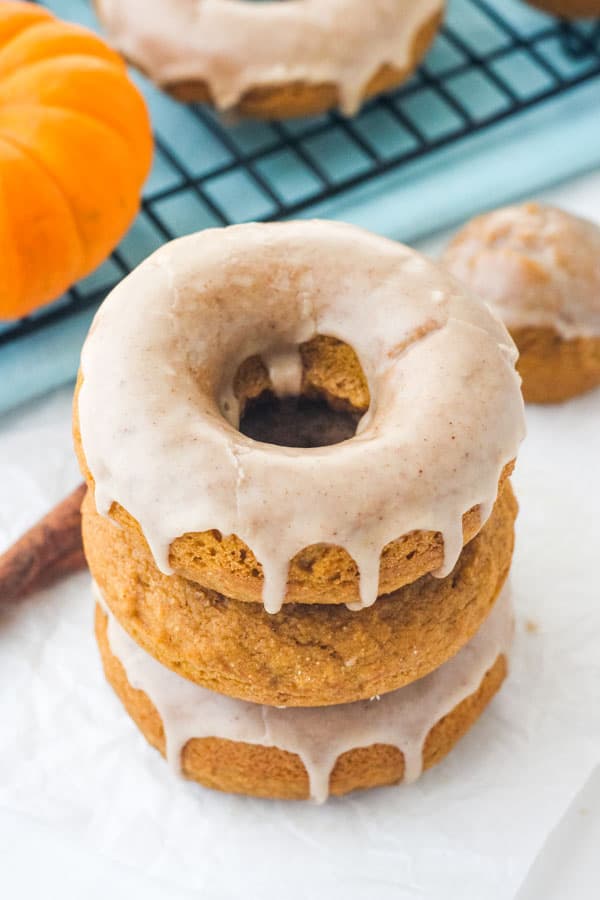 More Pumpkin Recipes to Try: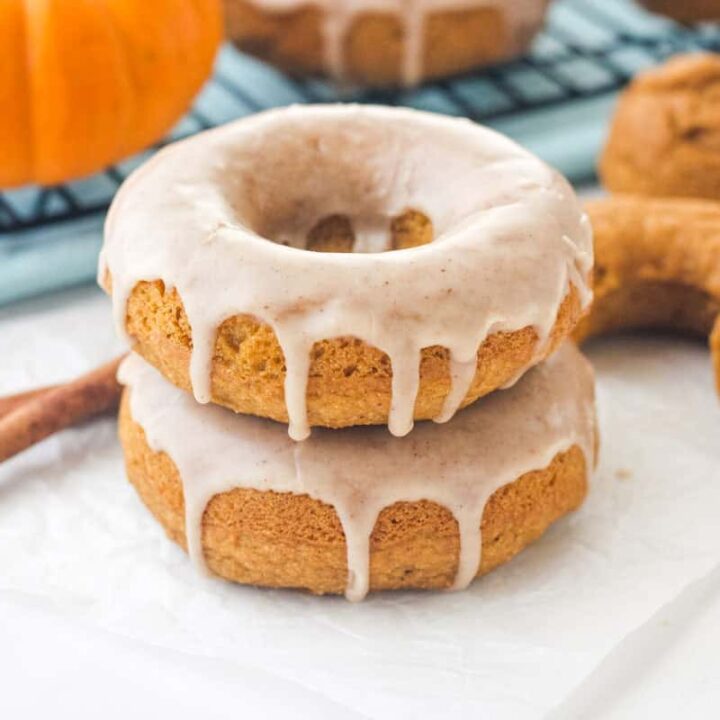 Baked Pumpkin Donuts
Yield:
5 donuts or 12 donut holes
The perfect fall treat, these spiced donuts are made without egg or dairy and are a great way to use up that last little bit of pumpkin in the can.
Ingredients
⅔ cup (80 grams) White Whole Wheat Flour or All Purpose Flour
½ teaspoon Baking Powder
½ teaspoon Pumpkin Pie Spice
⅛ teaspoon Cinnamon
⅛ teaspoon Baking soda
⅛ teaspoon Fine Sea Salt
Wet Ingredients:
⅓ cup (75 grams) Pumpkin Puree
¼ cup (50 grams) Packed Brown Sugar
2 tablespoons (32 grams) Unsweetened Applesauce
2 tablespoons (30 grams or 1 ounce) Non-Dairy Milk
1 tablespoon (14 grams) Canola Oil
½ teaspoon Vanilla Extract
Instructions
Preheat the oven to 350°F. If using a toaster oven, adjust the baking rack to the middle or bottom placement and select the BAKE setting. Grease 5 cavities of a donut pan with cooking oil spray.
In a large bowl whisk together the flour, baking powder, pumpkin pie spice, cinnamon, baking soda, and sea salt.
In a small bowl, stir together the pumpkin puree, brown sugar, applesauce, non-dairy milk, oil, and vanilla extract.
Pour the wet mixture into the bowl with the dry mixture and stir just until combined.
Spoon the batter into the prepared donut pan. Bake until donuts spring back when pressed and a toothpick inserted comes out free of crumbs, about 10 to 13 minutes.
Let the donuts cool in the pan for 3 or 4 minutes, then turn out onto a rack to cool completely before glazing, dusting with powdered sugar, or devouring plain.
Notes
To Make Donut Holes: Scoop heaping tablespoons of the batter into a greased mini muffin pan. Bake at 350F until a toothpick inserted in the center of a donut hole comes out clean, about 9 to 11 minutes. Cool on a wire rack.

For Cinnamon Maple Glazed Donuts
Whisk together the following until smooth:
¼ cup powdered sugar
1 teaspoon maple syrup
1 teaspoon almond milk
⅛ teaspoon cinnamon
⅛ teaspoon vanilla extract
pinch sea salt.
Adding a splash of more milk if needed. Dip the top of each donut into the glaze and place on a cooling rack to let the glaze set up.
Storage: Glazed donuts are best enjoyed the day they are made. Unglazed donuts can be stored at room temperature in a covered container for up to 3 days or frozen for up to 3 months. To thaw, leave donuts at room temperature for 20 minutes or pop in the microwave for 25 to 30 seconds.
Nutrition Information:
Yield:

5
Serving Size:

1 Unglazed Donut
Amount Per Serving:
Calories:

127
Total Fat:

3.2g
Saturated Fat:

0.3g
Cholesterol:

0mg
Sodium:

88mg
Carbohydrates:

23.4g
Fiber:

2.2g
Sugar:

11.4g
Protein:

2.4g