Cinnamon Glazed Whole Wheat Mini Pumpkin Donuts. Perfectly spiced and generously glazed healthier baked pumpkin mini donuts.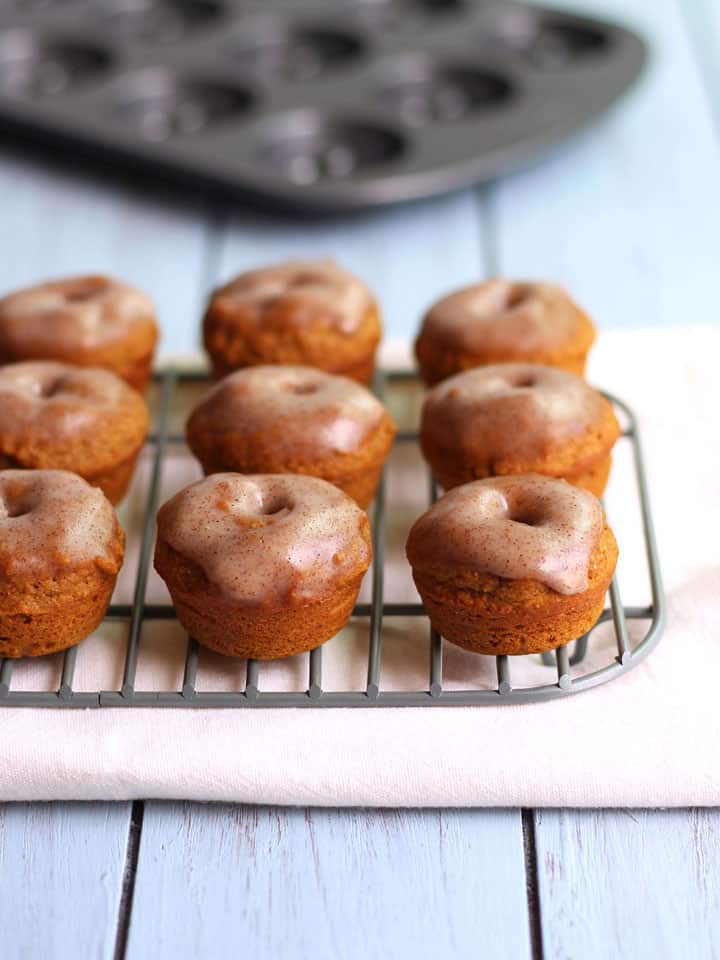 (this post contains affiliate links)
1..2..3..4 cans of pumpkin!
How did I end up with so many cans of pumpkin, in July no less? They're remnants of last year's good intentions.
Each November I plot out Big Holiday Baking Plans. Cooking magazines with hundreds of dog-eared recipes piled high and a well-stocked pantry. BUT four or five recipes later cookie fatigue sets in.
By mid-December, I don't want to bake another thing. You know what I'm talking about.
No need to beat ourselves up, though. Especially when we can easily turn that pumpkin surplus into a batch of yummy Cinnamon Glazed Whole Wheat Mini Pumpkin Donuts.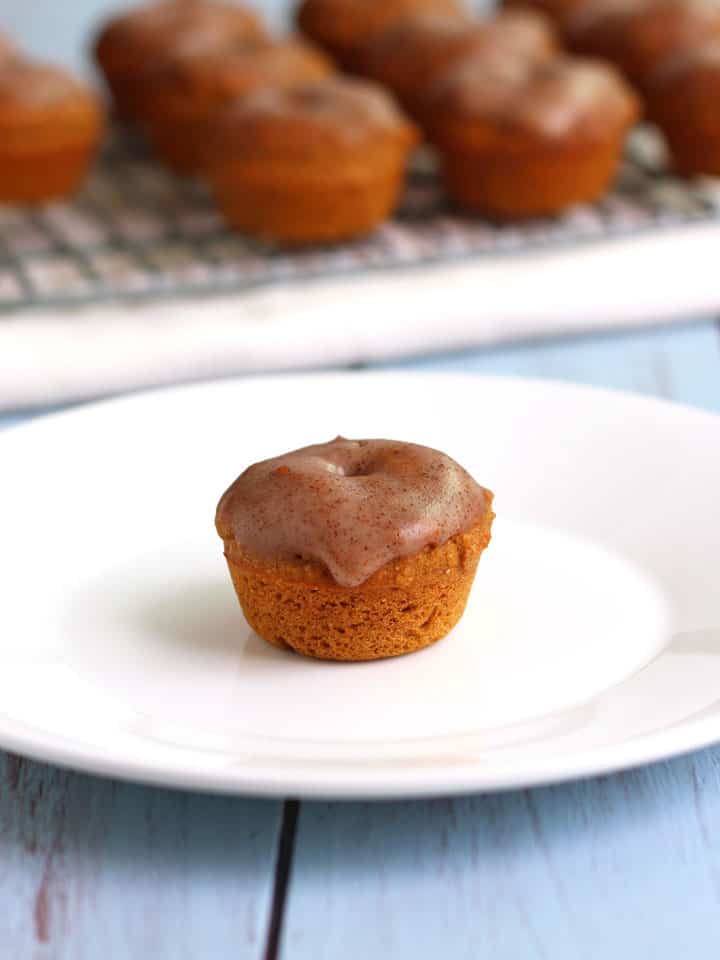 About These Donuts
The recipe needs only one bowl and less than 25 minutes. You can use a mini donut pan but a mini muffin pan works well too.
These donuts are a sweet treat for sure. But the recipe does feature a blend of wholesome ingredients including white whole wheat flour and coconut oil.
Related: Wholesome Baked Cinnamon Apple Donuts
Coconut Butter Makes The Best Glaze
About the glaze…the smooth creamy glaze! It's made with rich coconut butter (not coconut oil), a bit of maple syrup, almond milk and cinnamon.
I know we're talking about baked donuts. But if you want to taste the world's best cinnamon toast just spread a little of that glaze on a slice of whole grain bread and pop it in your toaster oven.
Coconut Butter Cinnamon Toast needs to be in your life.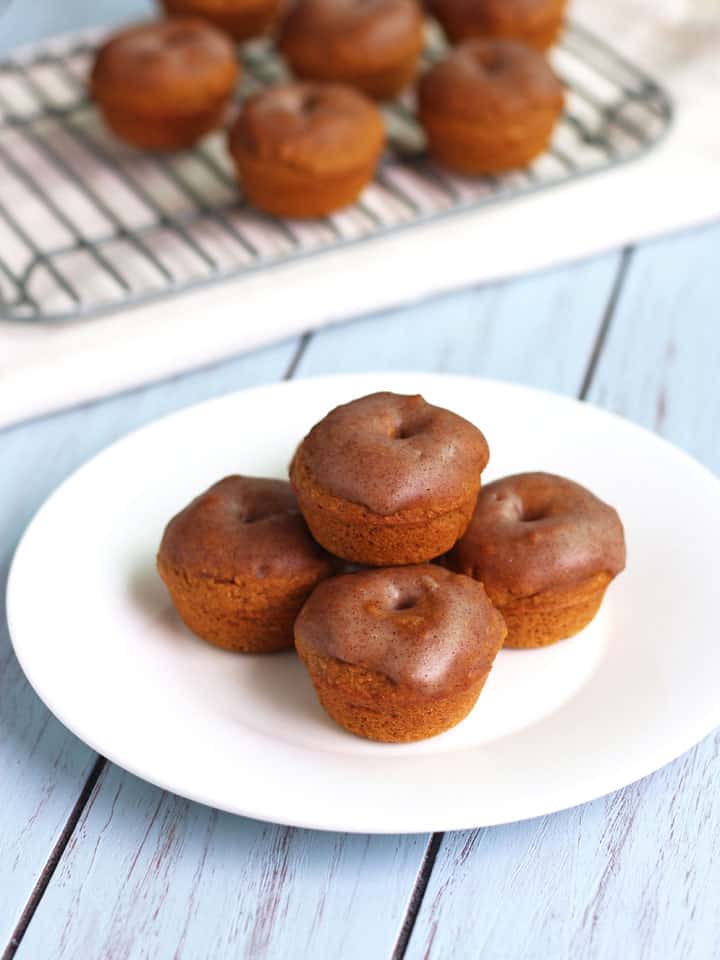 As you dig into your freshly baked whole wheat mini pumpkin donuts give yourself a little pat on the back.
You were smart to buy so much canned pumpkin. Brilliant even.
3 More Tasty Ways to Use Up Extra Pumpkin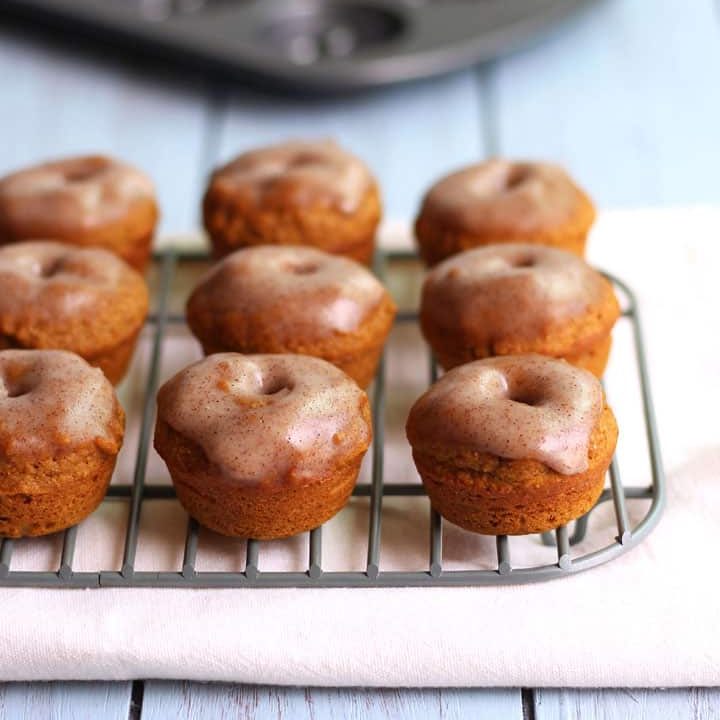 Cinnamon Glazed Whole Wheat Mini Pumpkin Donuts
Yield:
12 Glazed Mini Donuts
Perfectly spiced and generously glazed healthier baked pumpkin mini donuts.
Ingredients
Mini Pumpkin Donuts
1 large egg
2 tablespoons melted coconut oil + more for greasing donut pan
1/4 cup + 1 tablespoon pureed pumpkin
1/4 teaspoon real vanilla extract
1/4 cup coconut sugar, (or brown sugar)
1/2 cup white whole wheat flour
1/4 teaspoon baking powder
1/8 teaspoon baking soda
1/4 teaspoon fine grain sea salt
1/2 teaspoon pumpkin pie spice
Cinnamon Maple Glaze:
1 tablespoon coconut butter
2 teaspoons real maple syrup
1/8 teaspoon ground cinnamon
2 tablespoons unsweetened plain almond milk
Instructions
Preheat toaster oven to 400 F and grease a 12 cavity mini donut pan.
In a medium bowl mix together the egg, coconut oil, pumpkin and vanilla until well combined. Stir in coconut sugar. Sprinkle flour, baking powder, baking soda, salt and pumpkin pie spice over mixture and stir just until combined.
Spoon or pipe batter into the prepared mini donut pan. Bake for 8 to 9 minutes until a toothpick inserted comes out clean.
Allow donuts to cool in pan for 5 minutes, transfer to a wire rack to cool completely before glazing.
For the Glaze: combine coconut butter, maple syrup and cinnamon. Stir in almond milk a teaspoon at a time until desired thickness is achieved.
Pour glaze over cooled donuts or dip donuts in glaze.
Notes
The glaze takes about 30 minutes to set and will darken in color.
Nutrition Information:
Yield:

12
Serving Size:

1 Glazed Mini Donut
Amount Per Serving:
Calories:

72
Total Fat:

3.8g
Saturated Fat:

2.7g
Cholesterol:

18mg
Sodium:

79.5mg
Carbohydrates:

9g
Fiber:

0.8g
Sugar:

4.9g
Protein:

1.3g