Pumpkin Ricotta Stuffed Maple French Toast. Chopped dates, pumpkin and ricotta sandwiched between two whole grain bread slices, dipped in a maple custard and fried to sweet perfection. Hello holiday breakfasts!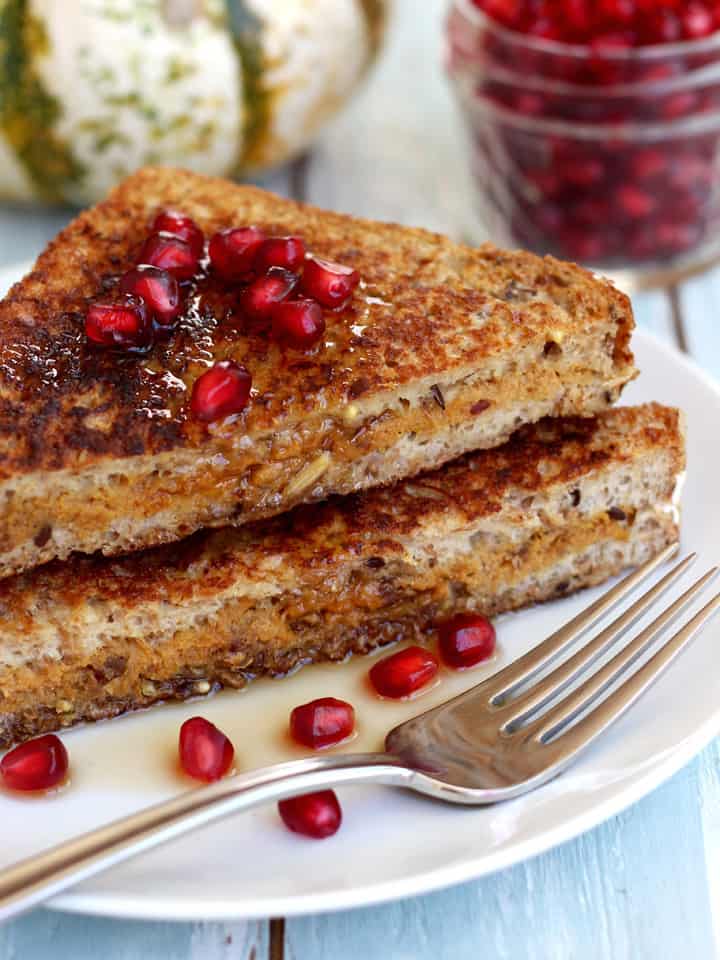 This week we've got breakfast on the brain starting with this recipe for Pumpkin Ricotta Stuffed Maple French Toast. Date sweetened pumpkin and ricotta sandwiched between two slices of whole grain bread, dipped in an eggy maple custard and fried to sweet perfection.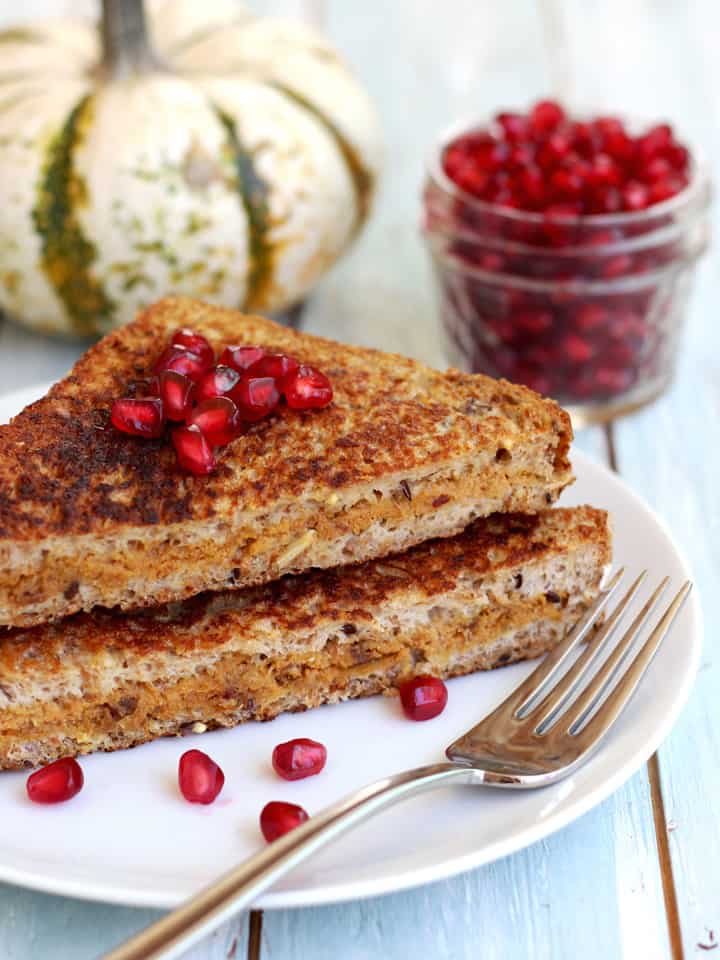 This simple recipe is easily personalized. You can play around with the fillings and spices like substituting dried cranberries for the dates, cream cheese for the ricotta or using orange zest and pumpkin pie spice in place of the cinnamon.
We enjoy a lot of filling in our stuffed French toast, if you prefer less just reduce the pumpkin to 3 tablespoons.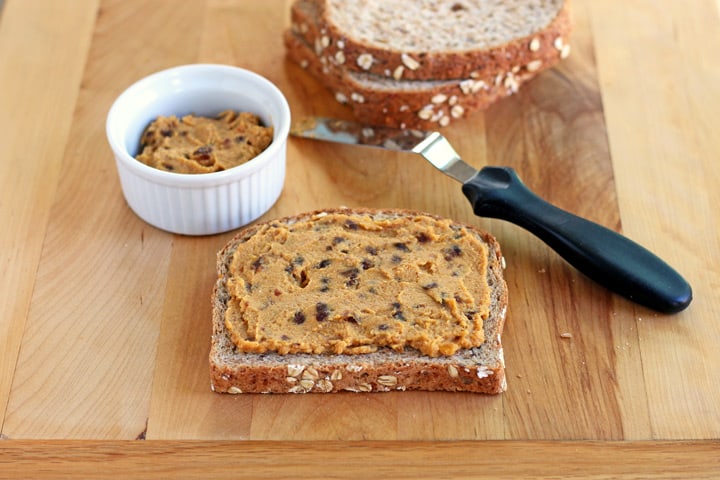 To create the filling for the toast mix together creamy pumpkin and ricotta cheese, stir in finely chopped Medjool date pieces and a sprinkle of cinnamon. Spread it on your favorite hearty whole grain bread. It helps if your bread is a little stale and has some heft like Dave's Killer Bread.

Then you whisk the maple syrup directly into the eggy custard mixture. Dip each side of the sandwiches in the custard for about 20 seconds, too long a soak and the bread will absorb too much and get soggy.
Now it's griddle time! The maple syrup absorbed by the bread will caramelize on the griddle giving the French toast loads of flavor, sweetness, crispy edges and a beautiful golden color.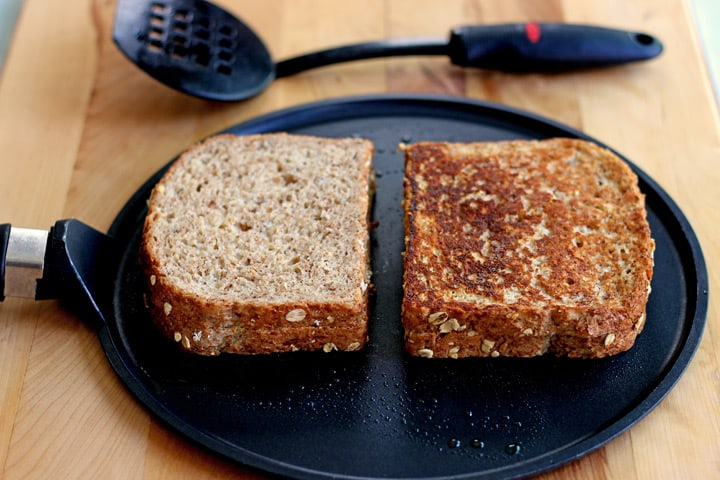 The lack of added sugar in the filing allows the pumpkin's squash-like qualities to stand out and compliment the maple flavored French toast.
Drizzle on extra maple syrup if you please and if you have them pomegranate seeds add a nice tart brightness to such a rich plate of Pumpkin Ricotta Stuffed Maple French Toast.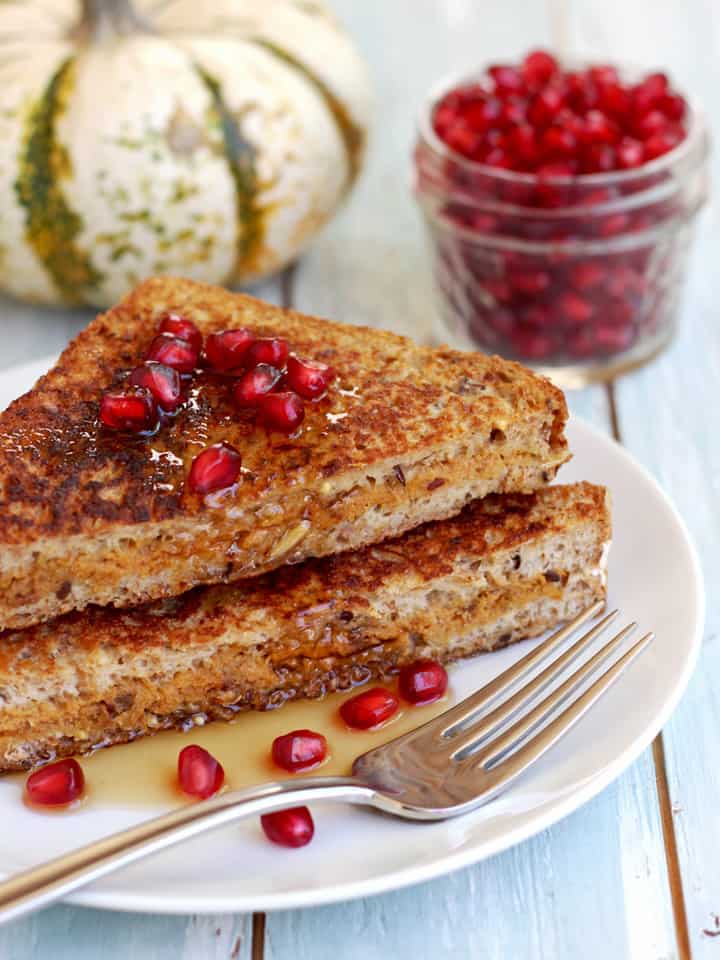 Our breakfast obsession continues on Wednesday with a creepy recipe for Bell Pepper Baked Eggs (Halloween Style) in honor of the upcoming Halloween holiday.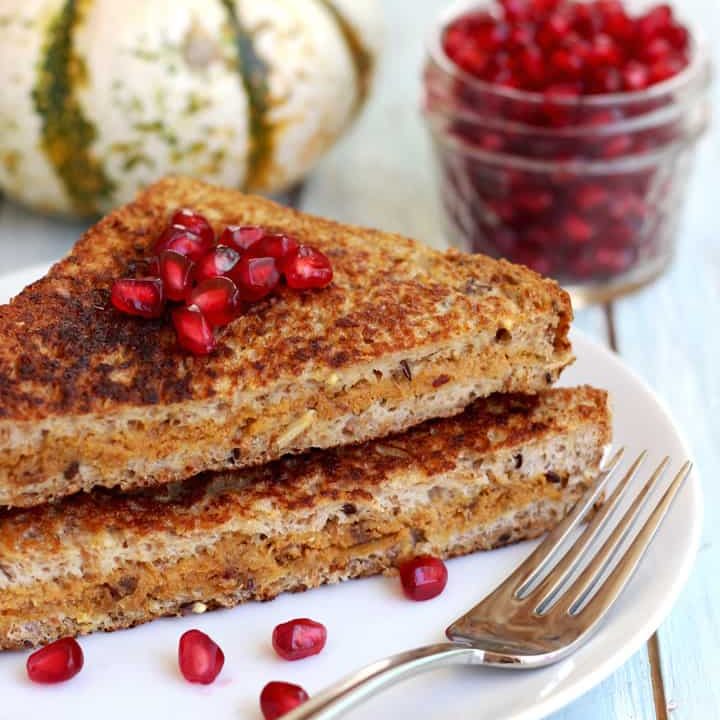 Pumpkin Ricotta Stuffed Maple French Toast
Yield:
2 Pumpkin Ricotta Stuffed Maple French Toasts
Whole grain bread stuffed with pumpkin and ricotta, dipped in a maple egg custard and fried to sweet perfection.
Ingredients
1/4 cup canned pumpkin puree
2 tablespoons whole-milk ricotta cheese
2 Medjool dates, seeded and finely chopped
1/8 teaspoon ground cinnamon
4 slices whole grain bread
1 egg
1/2 cup non-fat milk
2 tablespoons maple syrup
1/4 teaspoon real vanilla extract
1/8 teaspoon ground cinnamon
2-3 sprays cooking oil spray or butter for greasing griddle
Optional Toppings:
2 teaspoons maple syrup for drizzling
2 tablespoons pomegranate seeds/arils
Instructions
Mix together the pumpkin, ricotta, dates and cinnamon. Spread mixture onto 2 slices of bread leaving a small border. Top with remaining bread slices and press edges to seal.
In an 8x8 baking dish whisk together the egg, milk, maple syrup, vanilla and cinnamon.
Heat a griddle or pan to medium heat and grease with butter or cooking oil spray.
Dip the stuffed sandwiches into the egg mixture for 20-25 seconds on each side. Carefully remove the soaked sandwiches and cook on the griddle until golden brown, about 4-5 minutes per side. (Discard any leftover egg mixture)
Serve warm with maple syrup and pomegranate arils.
Notes
To keep the stuffed French toast warm while you clean up you can place a cookie sheet in your toaster oven or oven and preheat it to 325 F before starting.
When the French toast is done on the griddle place it on the warmed cookie sheet and return to the oven for 10 minutes until you've cleaned up and are ready to eat.
Nutritional Information is an estimate for 1 Pumpkin Ricotta Stuffed Maple French Toast.
Nutrition Information:
Yield:

2
Serving Size:

1 Stuffed French Toast
Amount Per Serving:
Calories:

381
Total Fat:

7.8g
Saturated Fat:

2.6g
Cholesterol:

101.4mg
Sodium:

281.9mg
Carbohydrates:

65.7g
Fiber:

7g
Sugar:

40.4g
Protein:

14.7g
Nutritional information provided is an estimate generated by an online calculator. It should not be considered a substitute for advice from a professional nutritionist or your doctor.