Jalapeño Pumpkin Cornbread Donuts
Jalapeño Pumpkin Cornbread Donuts are a moist and spicy savory cornbread treat. Perfect as buns for veggie burgers, dunked in a bowl of chili, or slathered with butter and honey for a quick snack. (Recipe also includes directions for baking in a muffin tin, loaf pan, 11 x 7 pan, and an 8 x 8 square pan.)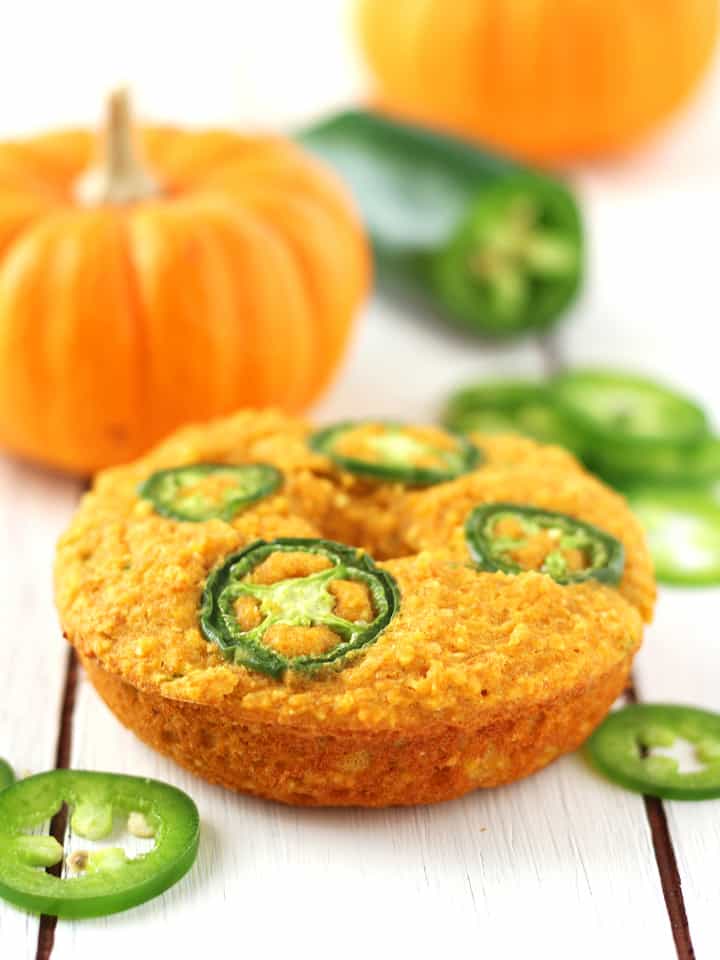 Jalapeño Pumpkin Cornbread
Last week, we cracked open a can of pumpkin for some Pumpkin Ricotta Stuffed Maple French Toast and quickly found ourselves in Pumpkin Purgatory.
If you've made our Small Batch Pumpkin Spice Cookies then you already know what I'm talking about. If not, it's the 5 days spent struggling to use up your (practically-full) jar of leftover pumpkin before it goes bad.
This time around, we skipped the cookies and adapted our Cheddar Sriracha Cornbread Donuts recipe into a batch of savory Jalapeño Pumpkin Cornbread Donuts.
Despite their name, you won't taste the pumpkin. But you will know it's there.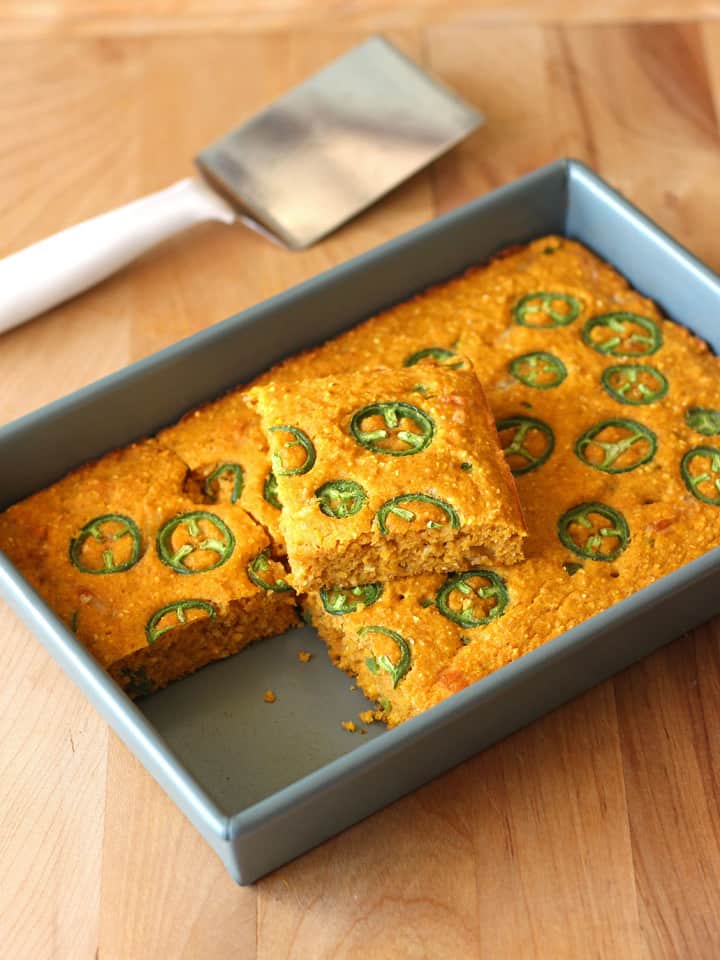 The creamy pumpkin adds moisture that balances out the coarse texture of the medium grind cornmeal.
The result is a delicious, moist, and hearty cornmeal donut with an irresistible smoky heat courtesy of some hot sauce and jalapenos.
So if you've got an open can of pumpkin and some jalapeños, I think you know what needs to be done now 🙂
~ Keep scrolling for step by step photos & tips after the recipe ~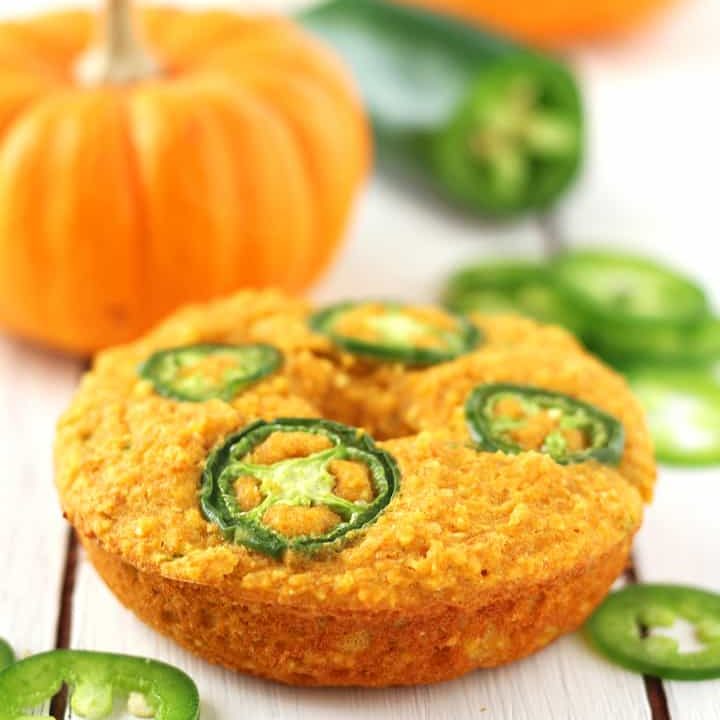 Jalapeño Pumpkin Cornbread Donuts
Savory and spicy, these jalapeno pumpkin cornbread donuts are a fun fall treat. Great as a quick snack or dunked in a bowl of chili!
Ingredients
2 Small Jalapeños
1/2 cup Medium Grind Cornmeal
1/2 cup Flour (Whole Wheat, White Whole Wheat, or All-Purpose)
1 teaspoon Baking Powder
1/4 teaspoon Baking Soda
1/4 teaspoon Fine Sea Salt
1 Large Egg, beaten
1/2 cup and 1 tablespoon Low-Fat Buttermilk, (see notes for substitutions)
1/3 cup Canned Pumpkin Puree
1 tablespoon Salted Butter, melted and cooled
1 tablespoon Honey
2-3 teaspoons Hot Sauce, (like Cholula Hot Sauce)
Instructions
Adjust your cooking rack to the bottom placement and preheat your toaster oven to 400°F. Grease or spray a six-cavity donut pan with oil.
Thinly slice one jalapeño and save for topping the donuts. Seed and finely chop the remaining jalapeño, you should have about 1.5 tablespoons chopped.
In a medium bowl, whisk together the cornmeal, flour, baking powder, baking soda, and salt.
In a small bowl, whisk together the egg, buttermilk, pumpkin, melted butter, honey, and hot sauce.
Make a well in the center of the cornmeal/flour mixture, pour in the buttermilk mixture and fold together just until combined and small lumps remain. Quickly stir in the chopped jalapeño.
Spoon mixture into prepared pan and top each donut with the jalapeño slices, lightly pressing the slices into the batter.
Bake donuts until browned around edges and a toothpick inserted comes out clean or with a few crumbs attached, about 13 to 15 minutes.
Cool donuts in pan for at least 5 minutes before using an off-set spatula to gently remove them. Serve warm with butter and honey.

Notes
Buttermilk Substitute: Combine 1/2 cup and 1 tablespoon Milk (traditional or plant-based) with 1½ teaspoons Apple Cider Vinegar. Stir and let sit for 5 minutes before adding to the recipe.
Jalapeños: Try a small piece before adding to the batter and adjust the amount depending on your preferred heat. For a spicier donut increase diced jalapeños to 2 tablespoons.

Additional Pan Options:
6-Cup Muffin Tin: Bake for 14 to 16 minutes 
8½ x 4½-inch Loaf Pan, Bake for 18 to 23 minutes 
11 x 7-inch Pan or 8 x 8 Pan, Bake for 15 to 18 minutes

Cheesy Option: Stir in 1/2 cup shredded pepper jack cheese.
Nutrition Information:
Yield:

6
Serving Size:

1 Donut
Amount Per Serving:
Calories:

137
Total Fat:

3.4g
Saturated Fat:

1.7g
Cholesterol:

37mg
Sodium:

310mg
Carbohydrates:

23.2g
Fiber:

2.1g
Sugar:

4.9g
Protein:

4.3g
How to Make Jalapeño Pumpkin Cornbread

Start by preheating your toaster oven to 400°F and oiling your donut pan.
Then grab 2 small jalapeños. Slice one into thin pieces for topping. Seed and chop the other one.
Step 3: Whisk all the dry ingredients in a medium bowl. Whisk the wet ingredients in a small bowl. Pour the wet into the dry, add the chopped jalapeño, and mix just until combined. A few small lumps are okay!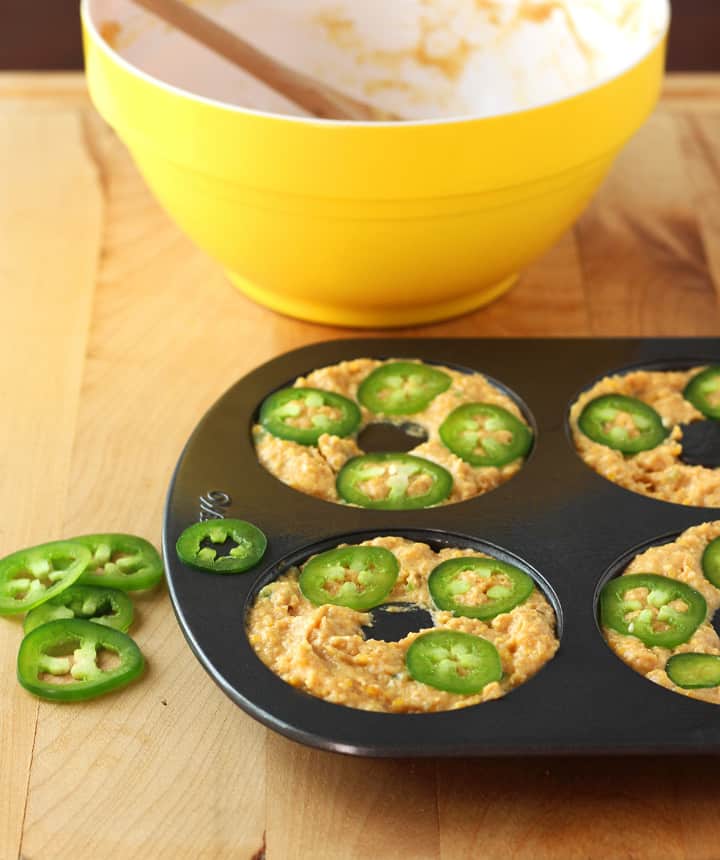 Can you make this recipe without a donut pan?
Absolutely! We've had a lot of success baking this batter in a 6-cup muffin pan, loaf pan, 11 x 7 pan, and an 8 x 8 square pan. The only difference is how long your cornbread needs to cook. You can find suggested baking times for each pan in the Notes section of the recipe card above.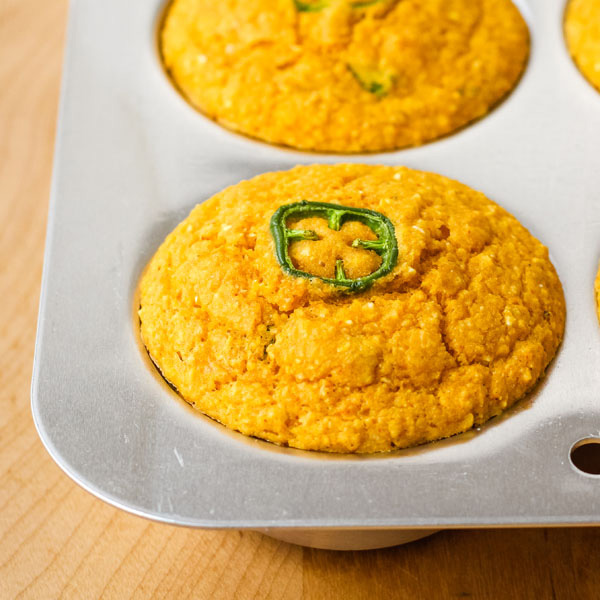 Now add the batter to your pan. Top with the jalapeño slices, gently pressing them down into the batter. Bake until golden on the edges and toothpick comes out clean or with a few crumbs attached.
Let the cornbread cool in the pan for about 5 minutes, then enjoy warm. We like ours with some salted butter and a drizzle of honey!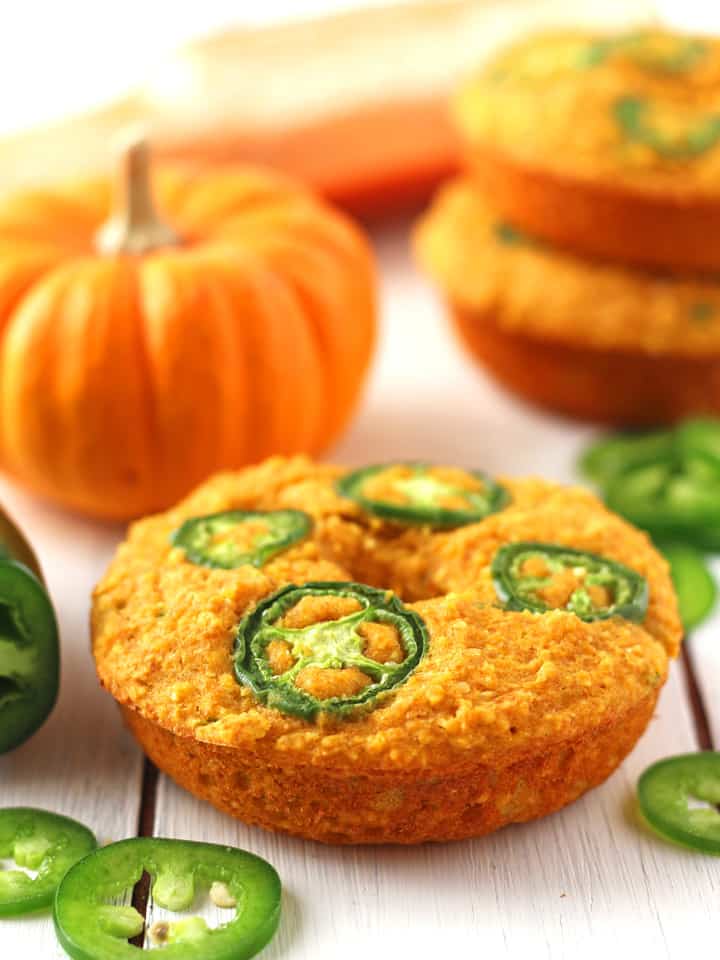 What Kind of Hot Sauce Should I Use?
We've been going steady with Sriracha sauce for a few years now and love using it to make Sriracha Vinaigrette or adding it to a batch of Sweet And Spicy Maple Roasted Brussels Sprouts.
But this recipe tastes best with a sauce like Cholula Hot Sauce. It's a south of the border original with a mild heat and great smoky flavor. Added to cornbread it contributes a layer of savory spices that's perfect for pairing with jalapeño.