Toaster Oven Cauliflower Steaks
Nutty, tender, and roasted to caramelized perfection, these toaster oven cauliflower steaks taste even better than they look. Here's how to cook them in the toaster oven.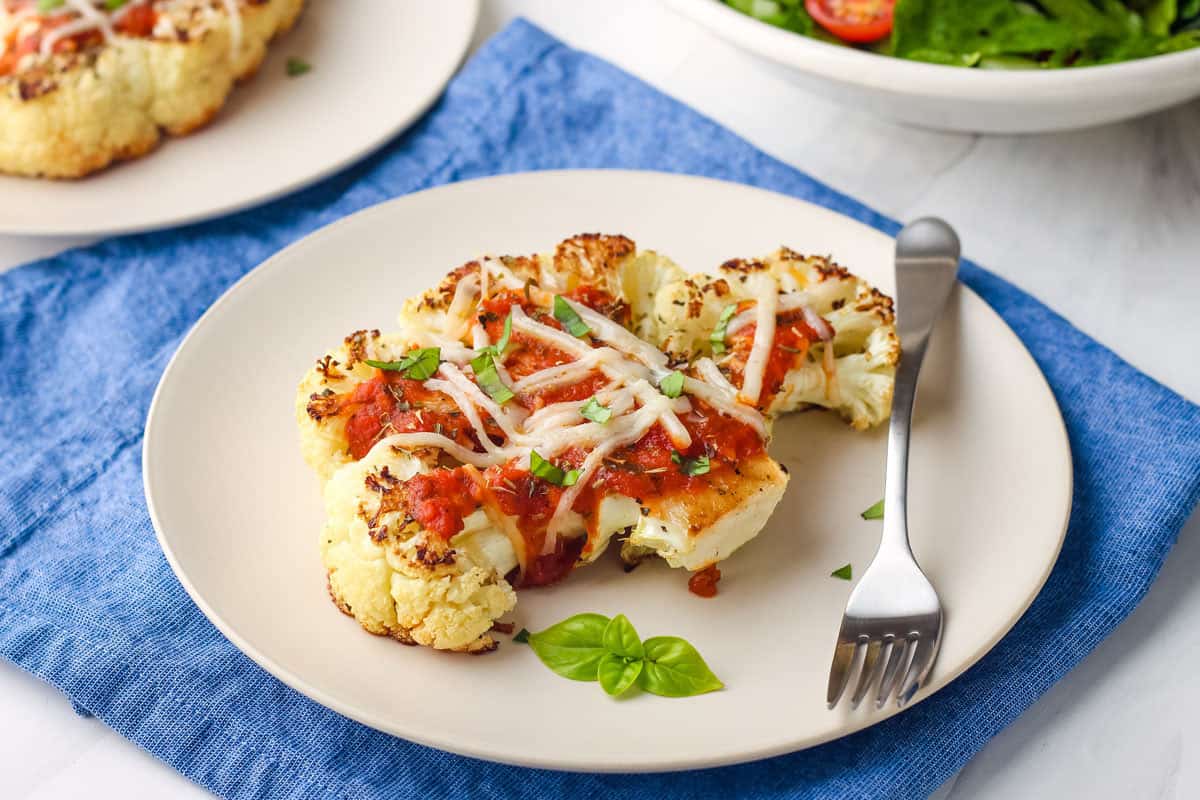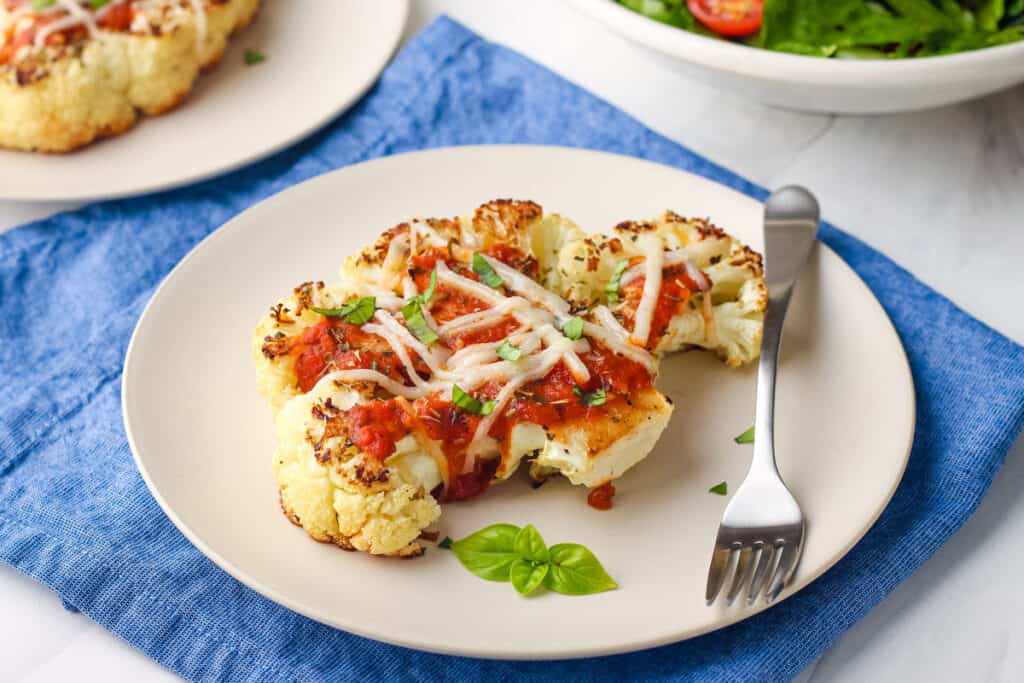 While these vegetable "steaks" have nothing to do with meat, they do make for a cool presentation that's great for special occasions (like Valentine's Day).
To make them, instead of chopping cauliflower into small pieces you slice it into thick planks or slabs. Add some oil, seasoning, and a hot toaster oven and you've got one tasty and impressive-looking veggie on your hands.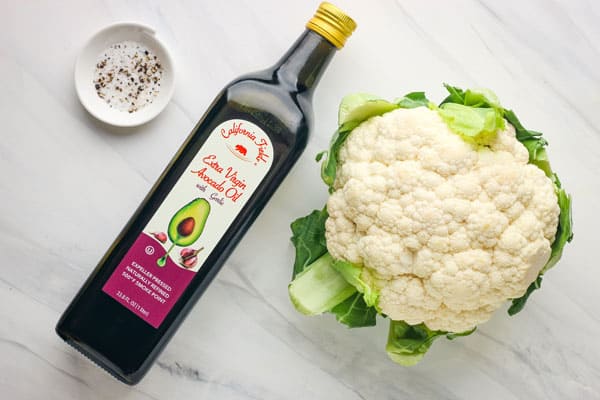 Ingredient Notes
Cauliflower: Look for a large head of cauliflower that is bright white (or slightly off-white), feels firm with tightly packed florets/curds, and is heavy for its size. If your cauliflower has a few little brown spots, use a paring knife to cut them away.
Oil: Lately, we've been using garlic-flavored avocado oil to roast veggies but olive oil is always a good option.
Seasonings: A few shakes of salt and freshly cracked black pepper highlight the roasted cauliflower's nutty flavor. But if you're looking to take things up a notch try adding a sprinkle of garlic powder, onion powder, paprika, chopped rosemary or thyme, Italian seasoning, or your favorite spice blend (za'atar is very tasty). Don't add them all though, just pick one or two.
How to Cut Cauliflower Steaks
There are a few ways to slice a whole cauliflower into thick slabs (aka steaks). The most common is to just slice the whole head into 1-inch thick pieces working from one side of the cauliflower to the other.
But I've found that the best "steak" pieces come from the center of the cauliflower where the core is the thickest. The steaks made with those pieces are less likely to fall apart and are easier to flip during cooking.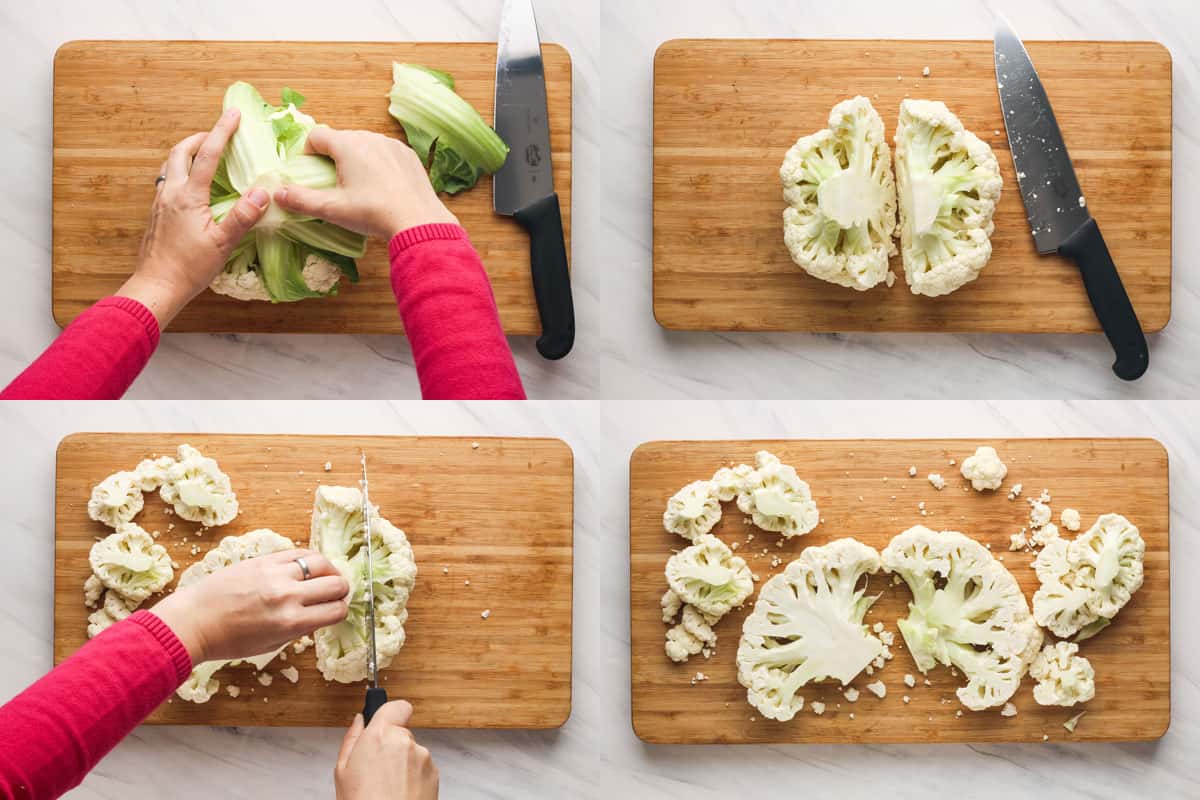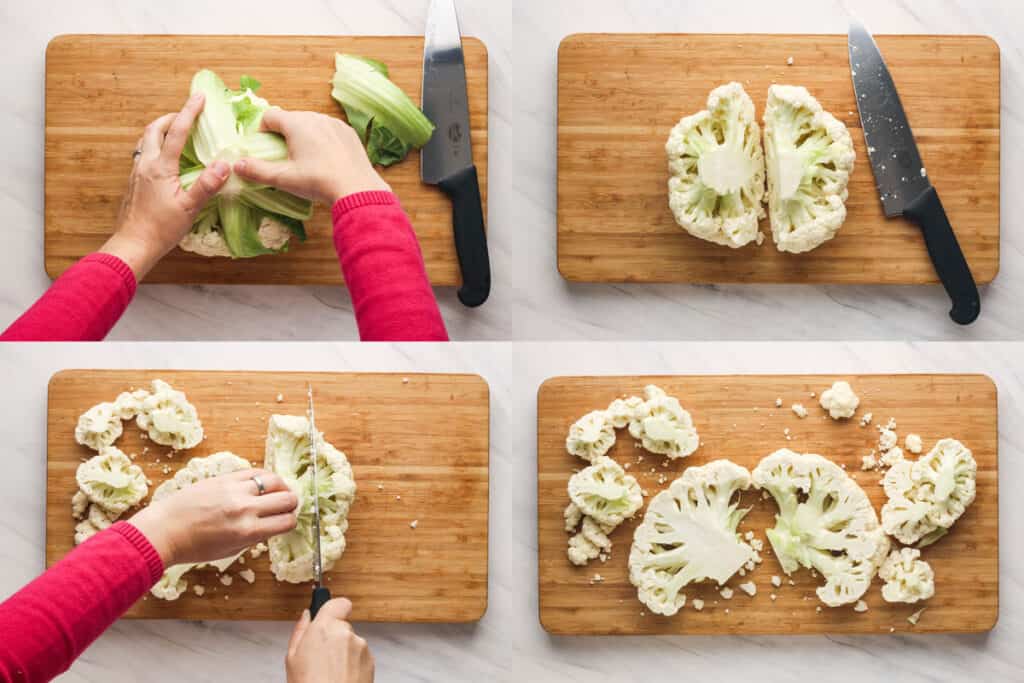 So I like to cut my pieces from the center and save the leftover side pieces to make this toaster oven roasted cauliflower on another day. 
If you have a whole head of cauliflower:
Cut the outer leaves off the cauliflower and trim a little off the base but do not remove the stem.
Turn the cauliflower upside down and use a sharp knife to cut in half.
Slice two 1-inch thick steaks from the center of the cauliflower.
What if you only have half a head of cauliflower? Make wedges!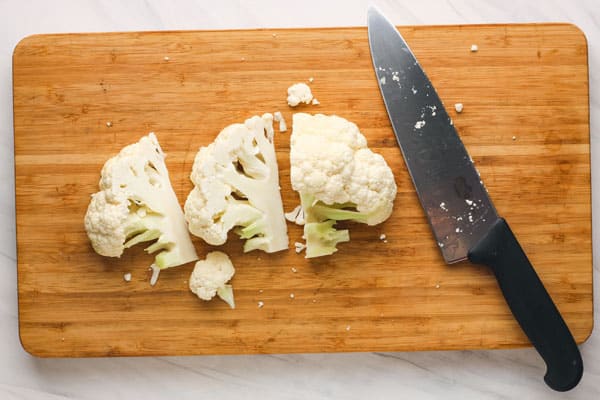 Slicing the pieces into wedges isn't as pretty but it does help keep them intact and their thicker size still gives off a "meatier" vibe. Plus they're a great option for smaller toaster ovens that may not be able to fit two of the larger planks.
To make wedges, slice half a cauliflower down the center. Then cut each piece in half again to create 4 wedges. Or if your cauliflower is very large, slice each piece into thirds to create 6 wedges.
Step By Step Directions
1. Adjust the cooking rack to the lowest placement and preheat the toaster oven to 425°F.
2. Place the cut cauliflower slabs on a rimmed sheet pan. Brush each side with the oil and sprinkle generously with salt and pepper (or any other seasoning you'd like).
3. Cook for 15 minutes, then carefully remove the hot pan and use a large spatula to flip the steaks. Sometimes, a floret piece will break off when you're flipping the steaks, especially if they were sliced too thin. Don't worry, the cauliflower will still taste delicious. Just cook any loose pieces alongside the planks.
4. Return the pan to the toaster oven and continue cooking until the cauliflower is well browned and fork-tender, about 10 to 15 minutes more.
*Since the total time will depend on the thickness of the cauliflower and the second side will brown faster than the first, begin checking on it after 10 minutes, and add more time if needed.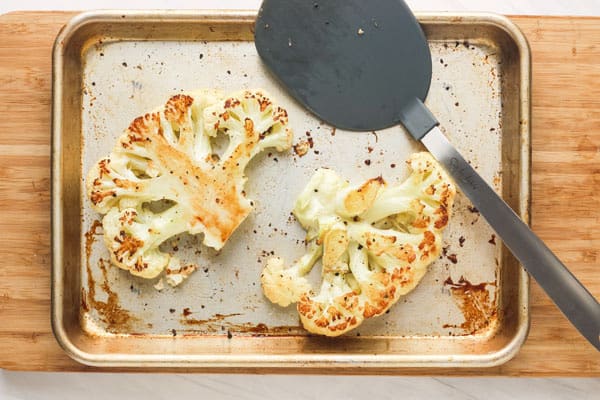 Recipe Tips
Toaster Oven Temperature: 425°F worked best in our toaster oven but if your oven runs hot, you are using a dark-colored pan, or are cooking with a convection toaster oven, reduce the temperature to 400°F the first time you make the recipe.
You may need to cook the steaks a few minutes longer but the lower temperature will help to prevent the cauliflower from browning too much before the center is cooked through.
Get Saucy: Try a drizzle of balsamic glaze or buffalo sauce, dollop on marinara, pesto, salsa, or any of our savory small batch dressing and dips. Cauliflower's mild flavor pairs up nicely with almost any sauce you can think of!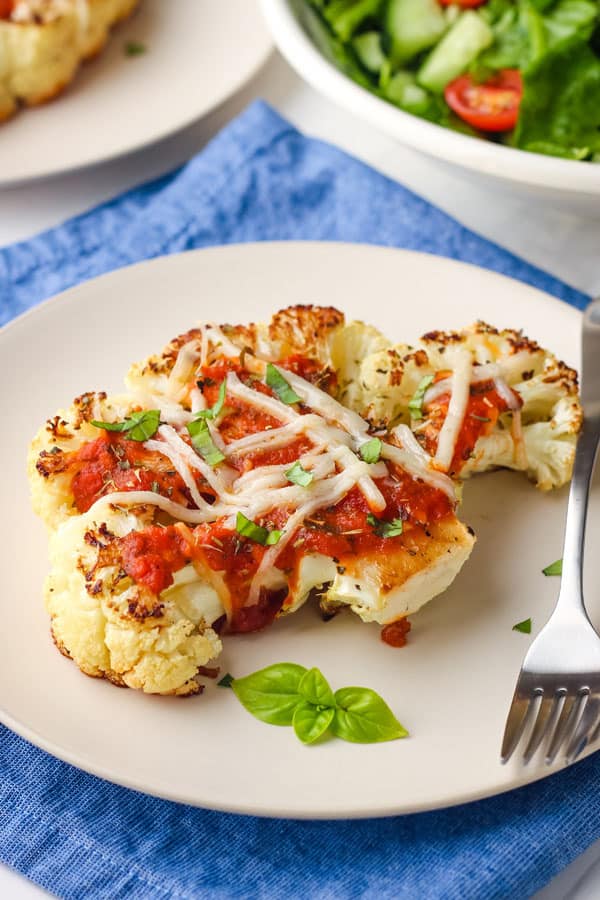 More Yummy Veggie Recipes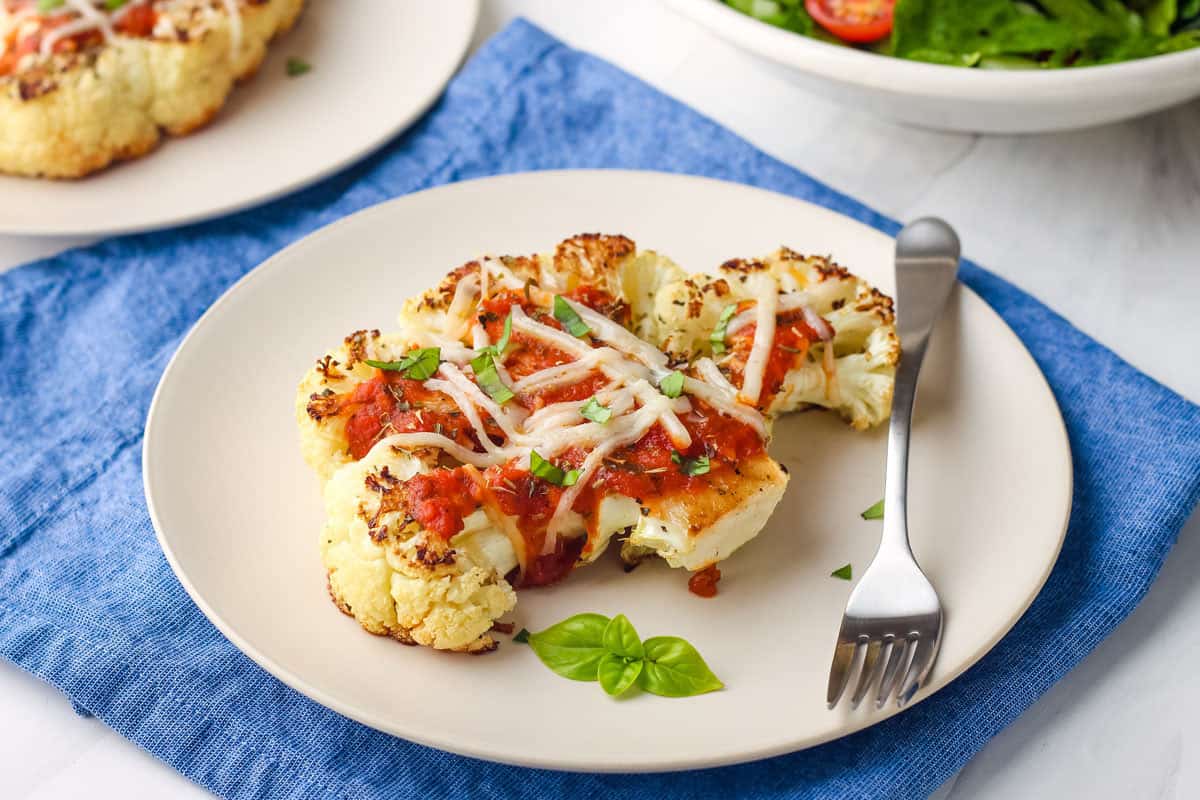 Roasted Cauliflower Steaks
Yield:
2 Cauliflower Steaks
Slicing cauliflower into thick veggie "steaks" before roasting creates an inviting presentation that tastes even better than it looks. 
Ingredients
1 head cauliflower (you won't be using all of it)
2 to 3 teaspoons olive oil or avocado oil
¼ teaspoon fine sea salt, or to taste
⅛ teaspoon freshly cracked black pepper, or to taste
Instructions
Adjust the cooking rack to the lowest placement, select the BAKE setting, and preheat the toaster oven to 425°F (or 400°F Convection).
Remove any outer leaves from the cauliflower. Slice a thin piece off the base of the stem, making sure to leave the core intact.
Turn the cauliflower upside down and slice two 1-inch thick slabs from the center. Reserve the remaining cauliflower for another recipe (see note).
Place the slabs on a rimmed sheet pan and brush each side with the oil. Sprinkle generously with salt and pepper.
Cook until the bottom of the cauliflower is browned, about 15 to 20 minutes, then carefully remove the hot pan and use a spatula to flip the steaks. Continue cooking until they are well browned on both sides and a fork inserted in the core meets little resistance, about 10 to 15 minutes more. The total time will depend on the thickness of the cauliflower.
Enjoy served warm with fresh lemon wedges or add your favorite toppings.
Notes
Steak Thickness / Cooking Temperature: The cauliflower planks can be sliced into any thickness, just keep in mind that thinner steaks will cook faster and thicker steaks will cook slower. So you might need to play around with the temperature and time a bit to find the perfect settings for your little oven. When you flip the cauliflower, take note of how it's cooking. If the steaks are browning too quickly, it's okay to reduce the temperature. 
Pizza Style Steaks: Top roasted cauliflower with pizza sauce, Italian seasoning, and mozzarella cheese. Cook in a 350°F oven until the sauce is warmed and the cheese is melted for about 5 to 7 minutes. 
Nutritional Information is for one roasted steak without any toppings.
Nutrition Information:
Yield:

2
Serving Size:

1 Cauliflower Steak
Amount Per Serving:
Calories:

90
Total Fat:

4.9g
Saturated Fat:

0.7g
Cholesterol:

0mg
Sodium:

350mg
Carbohydrates:

10.6g
Fiber:

5g
Sugar:

4.8g
Protein:

3.9g