Strawberry Tiramisu Toast
Strawberry Tiramisu Toast, an easy and delicious summertime dessert! Espresso soaked toast layered with mascarpone cheese, fresh strawberries and dark chocolate shavings.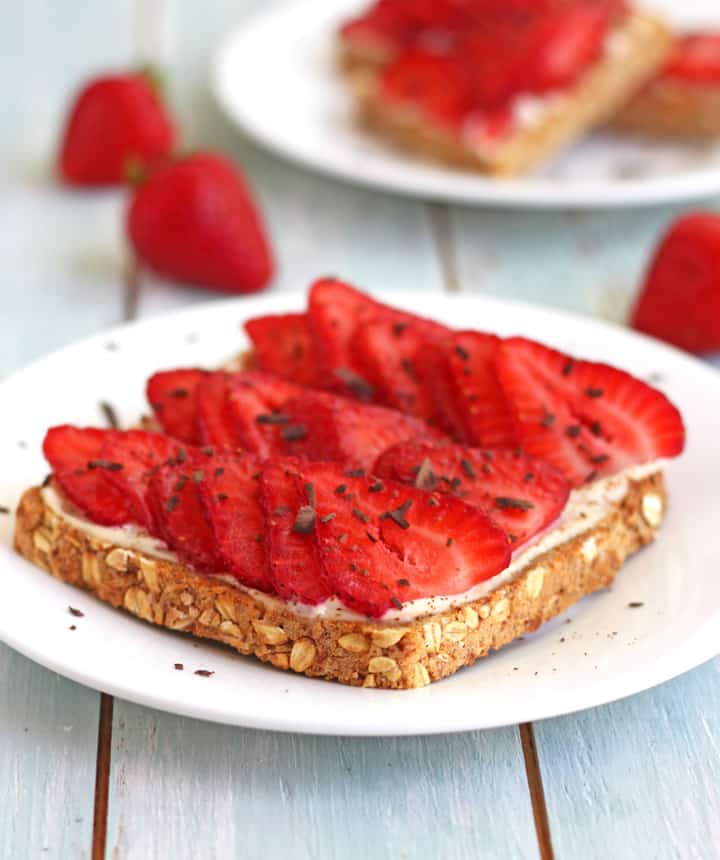 With so many delicious recipes to try you can quickly find yourself with little bits of leftover unique ingredients. More than a spoonful but not enough for a full recipe.
Occasionally, I end up with a small serving of mascarpone cheese. This recipe for Strawberry Tiramisu Toast is my favorite way to make it disappear.
When I hear the word mascarpone I immediately think of a delicate, rich and creamy Triamisu with layer upon layer of espresso soaked cake. But most days there's barely enough time to think about making a batch of Double Chocolate Cookies. So a fancy cake is not on the menu.
Instead of polishing off a few tablespoons of mascarpone cheese with a spoon let's see if we can find anything else to pair it with…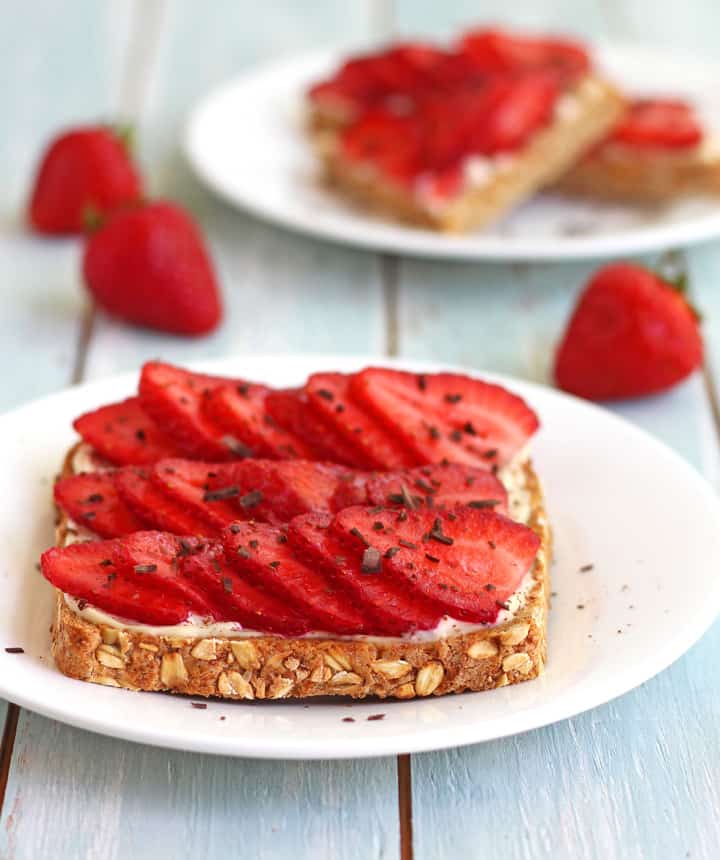 Like whole grain bread slices spread with coconut butter. And how about that handful of strawberries left in the container, the last of this morning's coffee and a tiny piece of dark chocolate?
We don't usually have leftover coffee hanging around. Instead I turn to my trusty jar of instant espresso. Add a tiny bit to hot water for a quick cup of espresso. Instant espresso is fantastic for making perky Coffee Greek Yogurt Parfaits too!
Keeping with our theme of using up leftovers you can substitute whatever you have on hand. Like fresh cherries or peach slices for the strawberries. Or English muffins for the sliced bread.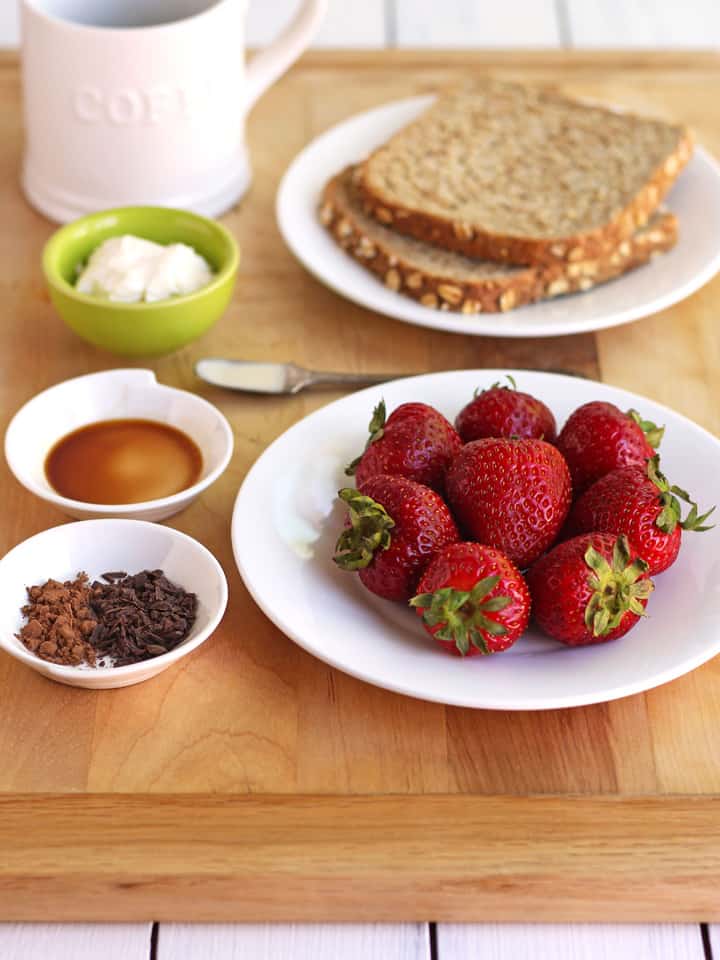 Once you've gathered your ingredients it's time to get down to business.
Just Toast, Soak and Layer.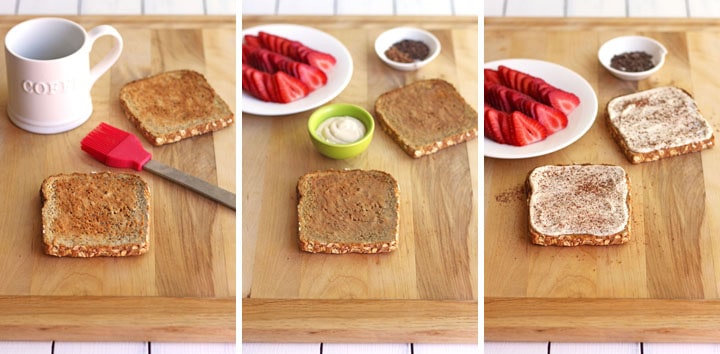 Now for the final step…enjoy your delicious Strawberry Tiramisu Toast!
For more sweet berry treats try our Easy Flatbread Fruit Pizza, Berry Flag Toast, Mini Berry Skillet Cake, Blackberry Cupcake Muffins and these Raspberry Coconut Donuts ← a fun and wholesome take on raspberry zingers.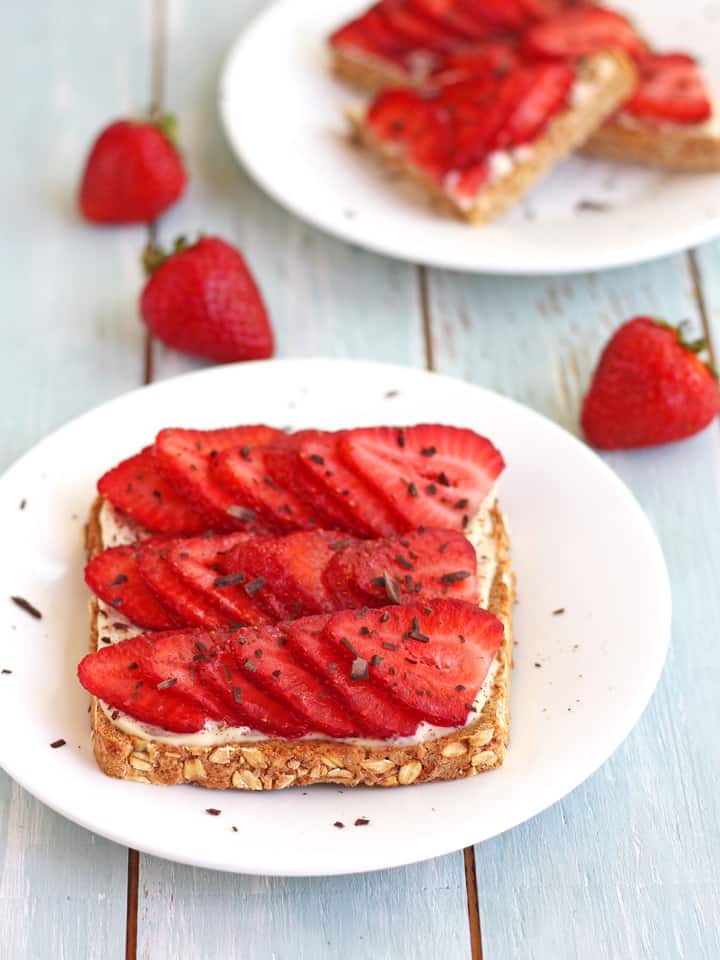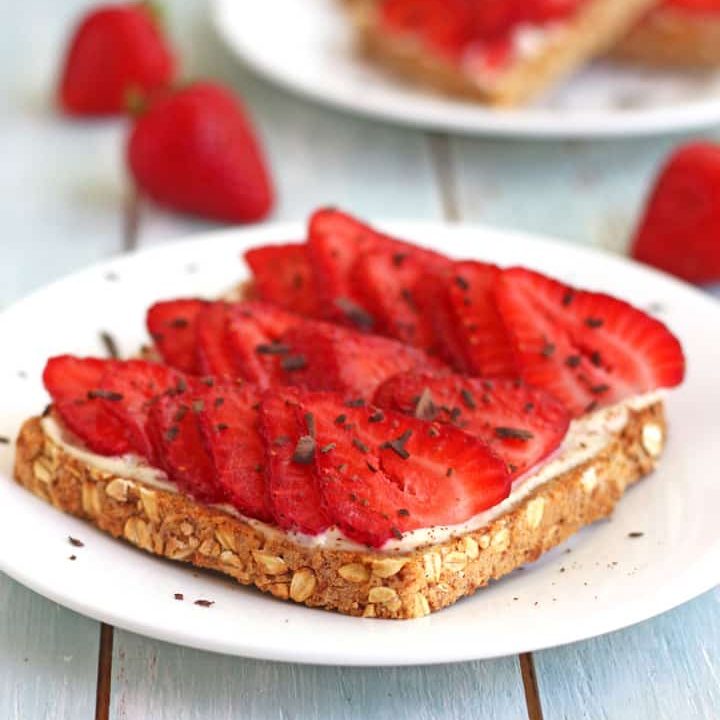 Strawberry Tiramisu Toast
A delicious espresso soaked toast layered with mascarpone cheese and fresh strawberries.
Ingredients
2 tablespoons mascarpone cheese
1/4 teaspoon real vanilla extract
2 oz espresso or very strong coffee, cooled
2 slices whole grain bread
1 teaspoon coconut oil, butter, or coconut butter
1/8 teaspoon unsweetened cocoa powder
8 medium strawberries, sliced
1 teaspoon dark chocolate shavings
Instructions
In a small bowl stir together mascarpone cheese, vanilla extract and 1/2 teaspoon of the cooled espresso. Place mixture in the refrigerator while you prepare the toast.
Spread bread slices with coconut butter or oil and toast until golden brown. Allow toast to cool slightly for a few minutes. Brush cooled toast with espresso, applying two to three layers of brushed espresso allowing it to soak into the bread.
Spread mascarpone mixture evenly across toast and dust with cocoa powder. Layer strawberry slices on toast, sprinkle with dark chocolate shavings and enjoy.
Notes
Nutritional Information is an estimate for 1 Toast.
Nutrition Information:
Yield:

2
Serving Size:

1 Toast
Amount Per Serving:
Calories:

148
Total Fat:

7.2g
Saturated Fat:

3.7g
Cholesterol:

16.1mg
Sodium:

140.5mg
Carbohydrates:

17.1g
Fiber:

3g
Sugar:

5.4g
Protein:

4.5g