Raspberry Coconut Donuts. A healthier, baked donut version of raspberry Zingers you can feel good about eating!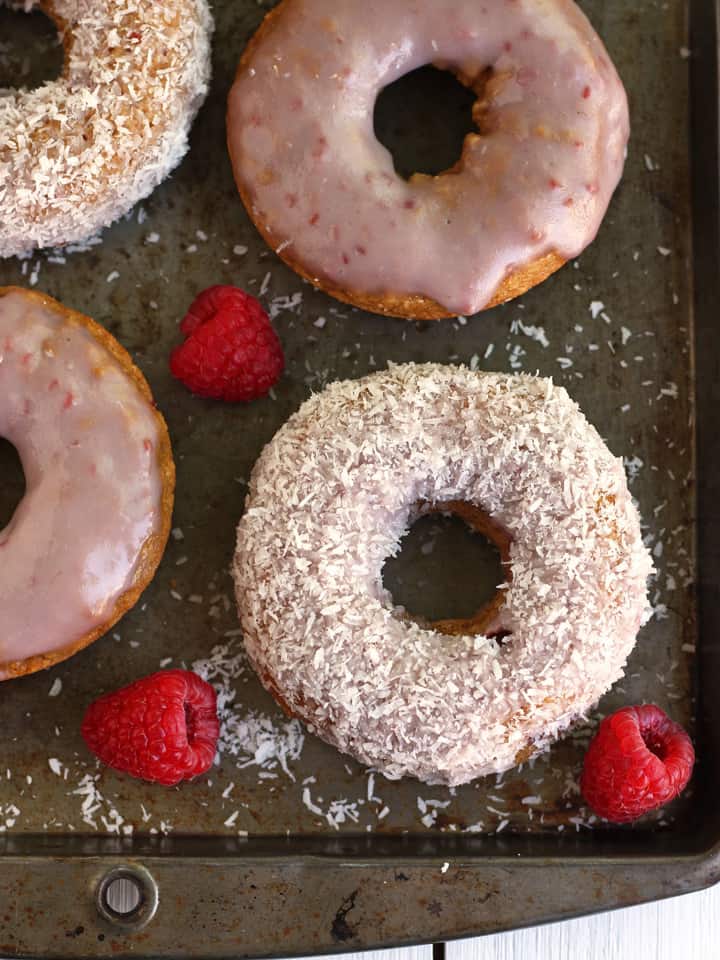 I'm just going to come out and say it; these are the best darn Raspberry Coconut Donuts!
Tart fresh raspberries, shredded coconut, white whole wheat flour and a decadent coconut butter raspberry glaze, N-O-M!
As a kid I wasn't much of a Ho-Ho or Ding Dong fan, thought I do smile every time I say Ding Dong 🙂 (←yup, I'm super mature). Nope, in our house it was all about the zingers, especially the raspberry ones.
Over the years Tim and I have managed to ditch our attachment to a lot of processed treats. But each time I hit the grocery store checkout line those sweet coconut covered raspberry zingers are always calling my name.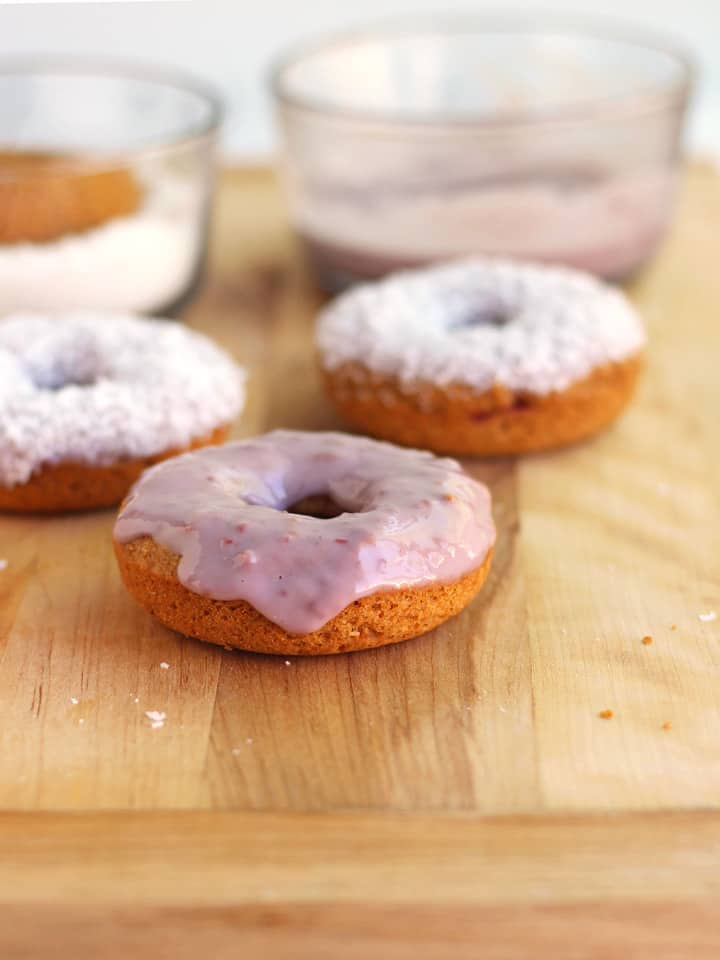 After one particularly strong craving I set out to make a healthier baked donut version of everyone's favorite childhood lunchbox treat.
You will notice a lack of "cream filling" in our version. But I can guarantee you won't miss it. Instead of chemical fluff these donuts are filled with chunks of fresh raspberries.
The wholesome donut "cake" is a combination of tangy buttermilk, coconut oil, white whole wheat flour and unsweetened shredded coconut.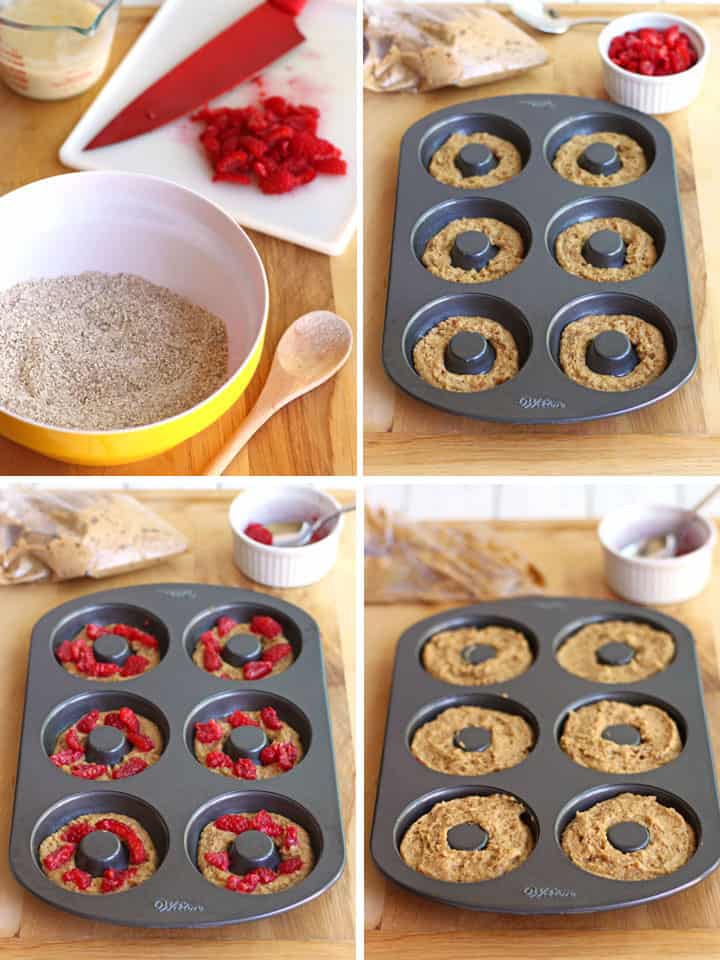 Instead of the traditional overly sweet raspberry coating, we're dipping these baked donuts in a rich coconut butter raspberry glaze. Cover them with more shredded coconut and you've got a breakfast treat that's certain to leave an aftertaste you will actually be pleased about!
Because these donuts are baked not fried there's no pot of oil to mess with – Yay! Yeah, they won't have that distinct crispy crust of a fried donut. But baked donuts have their own desirable features like a tender cakey texture and moist crumb.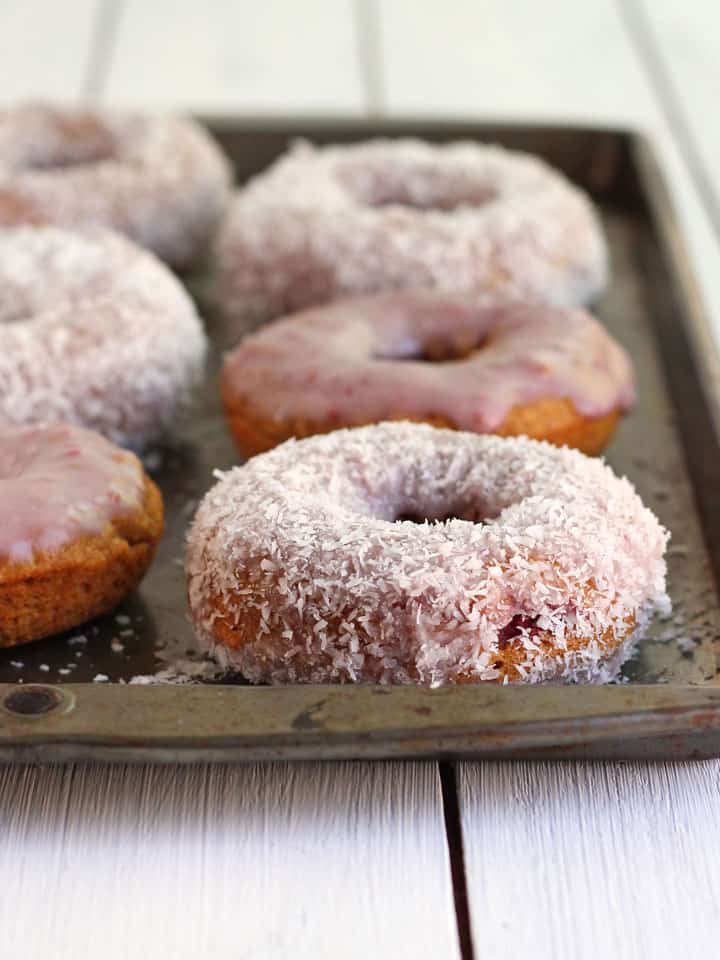 If you're still on the fence about baked donuts consider the following:
5 Things To Love About Baked Donuts
They're super simple. Wet ingredients, dry ingredients, mix and bake
You can make them sweet → Frosted Lemon Coconut Donuts
Or savory → Cheddar Sriracha Cornbread Donuts
You don't have to leave the house to surprise someone with a fresh donut
Glaze, Glaze and more Glaze. Oh, just let me lick the spoon already!
Okay #5 really applies to any donut or doughnut, especially these Cinnamon Glazed Whole Wheat Mini Pumpkin Donuts.
Hungry yet? Great, grab your donut pan (No. 3 on our Toaster Oven Essentials) and let's get to baking up some Raspberry Coconut Donuts. Then we can quickly move on to the eating phase 🙂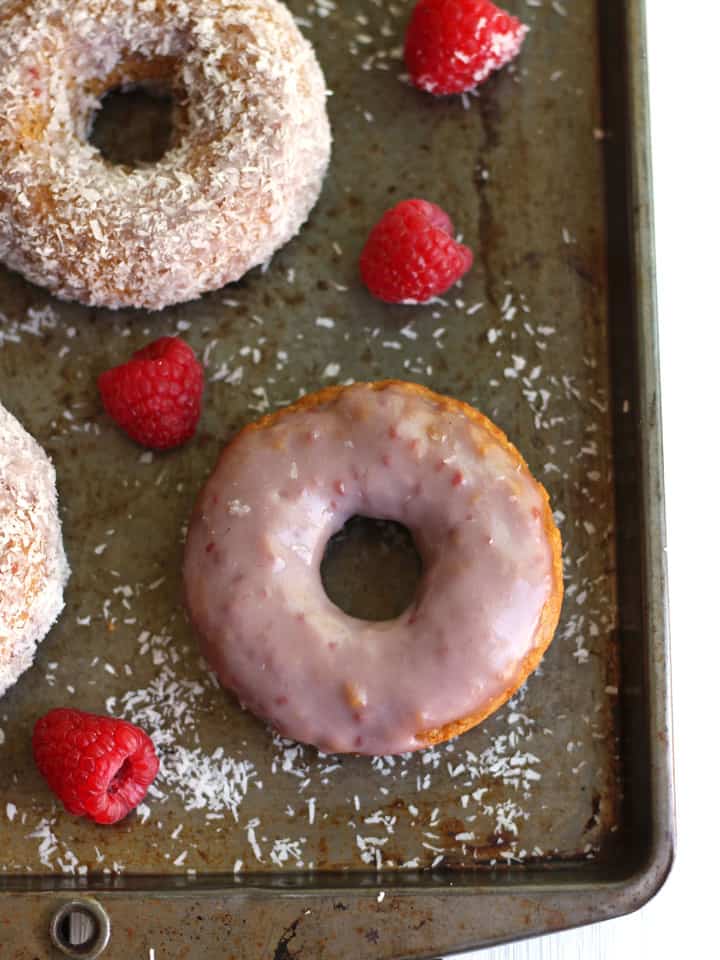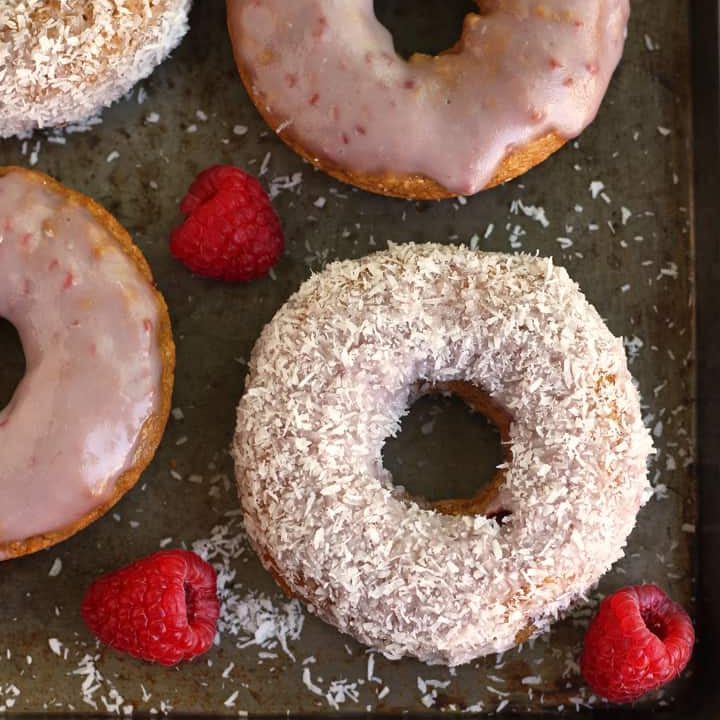 Raspberry Coconut Donuts
A healthier version of a childhood favorite made with fresh raspberries, whole grains and lots of coconut.
Ingredients
For The Baked Donuts:
1/3 cup low-fat buttermilk, (room temp)
1 large egg, (room temp)
1 teaspoon real vanilla extract
2 tablespoons melted coconut oil
3/4 cup white whole wheat flour
1/4 cup finely shredded unsweetened coconut
1/4 cup coconut sugar
3/4 teaspoon baking powder
1/8 teaspoon baking soda
1/4 teaspoon fine grain salt
1/3 cup fresh raspberries, , chopped into quarters (about 12 small whole raspberries)
For The Glaze & Topping:
2 tablespoons raspberry jam or preserves
2 tablespoons coconut butter, (not coconut oil)
2 tablespoons room temperature milk or non-dairy milk, (you may need more depending on desired consistency)
1/2 cup finely shredded unsweetened coconut
Instructions
Preheat your toaster oven to 400 F and grease a donut pan.
In a small bowl mix together the room temperature buttermilk, egg, vanilla and coconut oil until well blended. In a medium bowl combine the flour, shredded coconut, coconut sugar, baking powder, baking soda and salt. Stir the buttermilk mixture into the dry ingredients and mix just until combined and no flour streaks remain.
Transfer batter to a zip-top sandwich bag and snip off a corner of the bag. Fill each donut pan cavity 1/3 of the way full. Use the back of a spoon to smooth out the batter into an even layer. Top batter with chopped raspberries. Cover raspberries with the remaining donut batter. Use the back of a spoon to smooth the batter evenly if needed. Bake at 400 F for 10 to 12 minutes until a toothpick inserted into donuts comes out clean. Allow donuts to cool in pan for 10 minutes before moving to a wire rack to finish cooling completely.
To prepare the glaze mix together the raspberry jam and coconut butter in a bowl large enough to fit a donut. Stir in the room temperature milk or non-dairy milk a teaspoon at a time until desired consistency is achieved. You want it thin enough you don't need a knife to spread it but thick enough it will not drip off the donut.
Place shredded coconut into a bowl large enough to fit a donut. Dip top of donut into glaze and then into coconut. Shake off excess coconut and place donut on rack for at least 10 minutes for glaze to firm up. Repeat with remaining donuts. Once glaze has firmed a bit, dip the bottom of each donut into the remaining glaze and then coconut. Shake off excess coconut and place donuts freshly glazed side up on rack until glaze has set enough to handle (about 10 minutes).
Notes
The glaze will not harden, it will remain soft but should not be sticky.
Nutritional Information is an estimate for 1 Glazed Donut.
Nutrition Information:
Yield:

6
Serving Size:

1 Glazed Donut
Amount Per Serving:
Calories:

228
Total Fat:

12.7g
Saturated Fat:

9.4g
Cholesterol:

42.2mg
Sodium:

217mg
Carbohydrates:

26.3g
Fiber:

2.8g
Sugar:

12.8g
Protein:

4.1g
Nutritional information provided is an estimate generated by an online calculator. It should not be considered a substitute for advice from a professional nutritionist or your doctor.