Sriracha Tempeh Lettuce Wraps.  Butter lettuce cups filled with baked marinated tempeh, onions and peppers topped with crispy cabbage, carrots and cashews.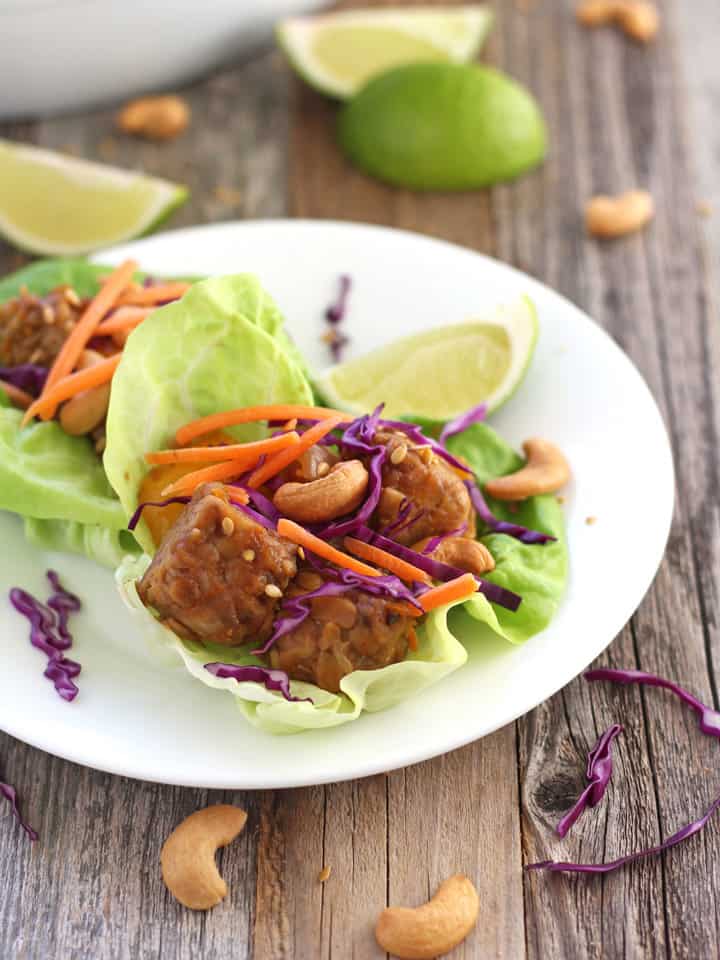 How do you get your protein?  This is the first question I'm always asked after mentioning I don't eat meat.  Answering is super fun because while I like chatting about all kinds of food I really ♥ talking tempeh! 
When someone is curious about the protein in our diets (meaning what Tim and I eat) I start by yammering on about the usual suspects like hummus, quinoa, tofu, beans and yogurt.  They nod politely with glazed eyes that seem to say – "just as boring as I thought."
Then I get a little quieter.  Softer.  Like I'm about to share with them the secret to the most delicious high protein meat-free meal (cause I am).  I lightly whisper…tempeh.
They lean in closer…Wait what did you say?  Say it again?  What is that?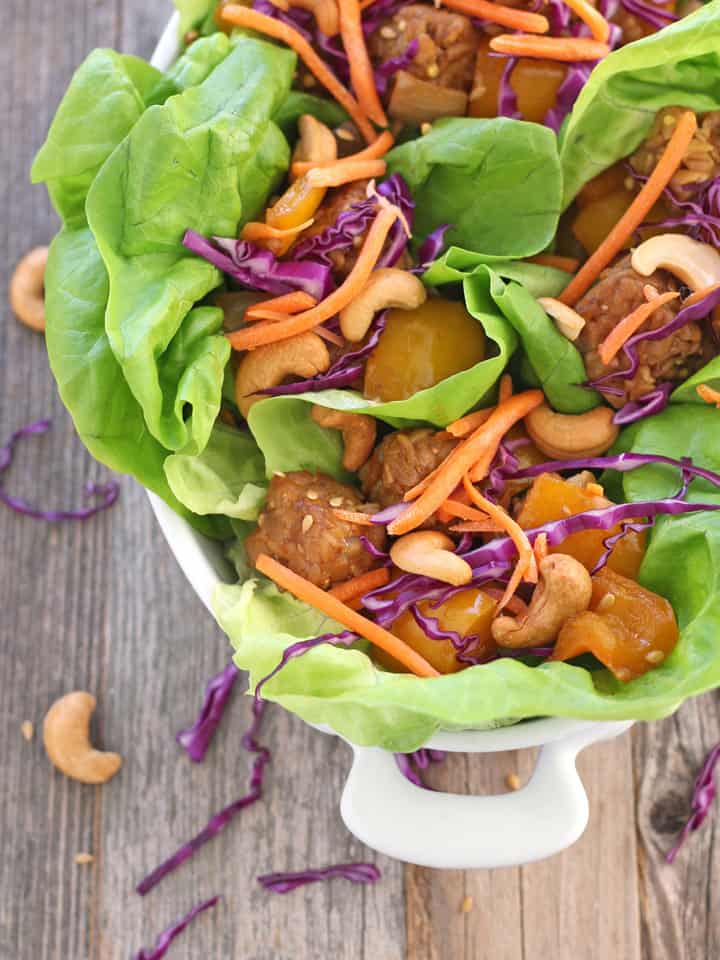 It's not like tempeh is a secret (though it kind of feels that way) it's just that this protein-powerhouse gets so little attention.  If you aren't following a meat-free diet chances are you have never seen or heard of it.  A few years ago I had no clue tempeh existed.
So what is tempeh?
Short Answer: Tempeh is a flat cake of fermented cooked soybeans usually mixed with grains.  It can be found near the tofu at natural food stores and some major grocery chains.
It can be pretty wild looking too and sometimes has brown, black and gray spots on it from the natural culturing process (like cheese) ← Suuuper sexy right 🙂
I'll save you the history lesson but if you want to learn more about the origin, production and preparation of tempeh Wikipedia has you covered and then some!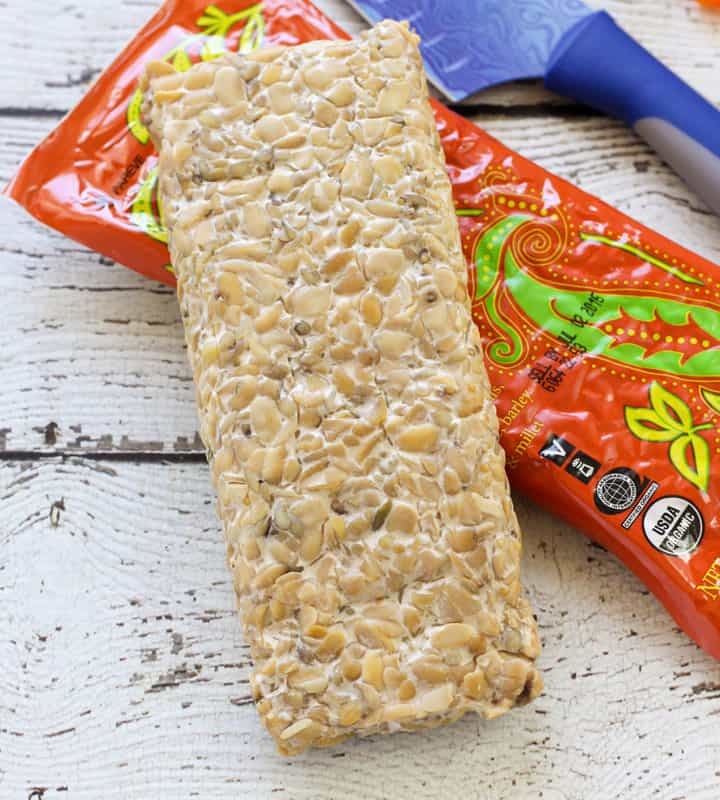 Straight out of the package tempeh tastes quite unique with a mix of nutty flavor and earthy mushroominess (yep, now I'm making up words).  Some people do find it slightly bitter or sour which makes sense when you consider that it has been fermented.
Even though tempeh is fully cooked and can be consumed "raw" it's usually prepared with a marinade or sauce to eliminate any bitter flavor.  Personally, I think the "raw" flavor depends on the brand.
Our favorite tempeh is from Trader Joe's.  It's budget-friendly at $1.99 for 8 ounces, organic and has a mix of tasty grains like brown rice and barley.  One 4oz serving has 0mg Cholesterol, 15% of your daily Iron, 9 grams of Fiber and a whopping 20 grams of Protein!
Different from the eggy-ness of tofu, tempeh has a much firmer toothy texture.  This makes it a terrific addition to stir fry, crumbled into spaghetti sauce or fried for tacos.  These Crispy Tempeh Tacos from Macheesmo are crazy good and one of my all-time favorite tempeh recipes.
So now I'm pretending you didn't abandon me after the first paragraph → at the fermented cake part → or around the nutty mushroom flavor talk 🙂 and that you're just dying to hear all about these Sriracha Tempeh Lettuce Wraps…
They're spicy, tangy, sweet and crunchy.  Like guilty pleasure take-out food but using way better ingredients.
The marinade is bold and richly flavored with Sriracha sauce, sesame oil, salty liquid aminos (or soy sauce), tangy rice vinegar, garlic, ginger and fresh orange zest.
You can marinate the tempeh, peppers and onions for a quick 30 minutes or make the marinade before work and let the flavors soak in all day.  Either way start with an oven safe dish (like Pyrex 3/12/2017 Update: Pyrex is not safe to use in your toaster oven for more information check out this post for 4 Surprising Things You Should Never Use In A Toaster Oven).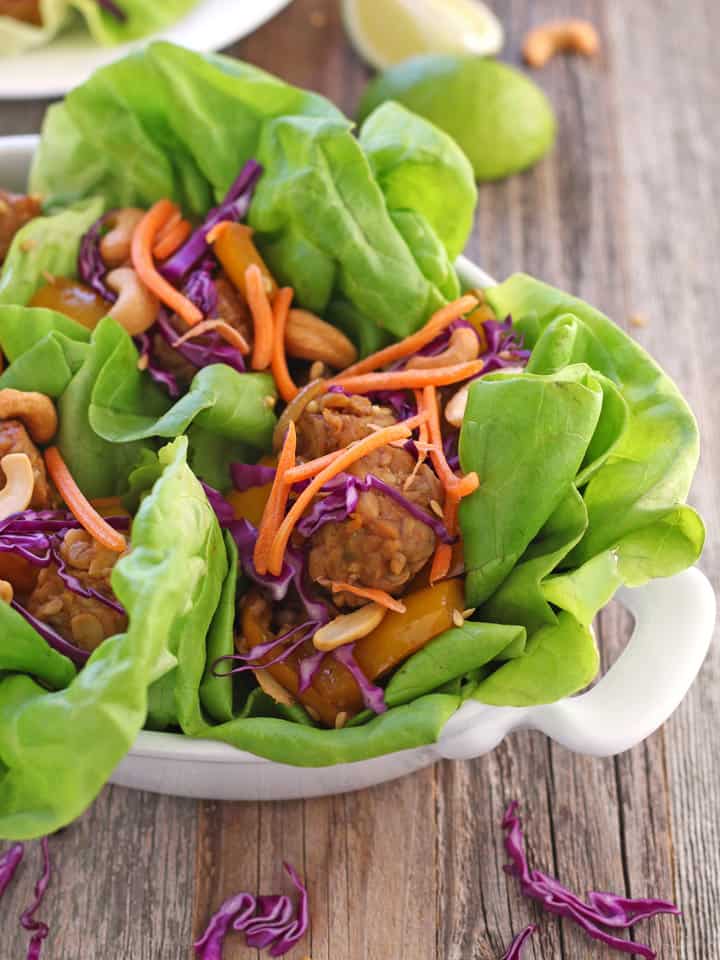 After you've baked your tempeh grab a head of lettuce and throw together some perfect-for-summer sriracha tempeh lettuce wraps.
You can use any type of lettuce like romaine or iceberg.  Butter lettuce is my favorite because it tastes great and is so much fun to look at, I keep expecting a Cabbage Patch Kid to pop out of it!  Doubling up the lettuce leaves means extra veggies and added structure for your wraps.
Spoon the cooked tempeh filling onto the leaves and top with crispy red cabbage, shredded carrots, buttery cashews and a sprinkle of toasted sesame seeds.  A squeeze of fresh lime juice is the finishing touch on this meat-free dinner that's bursting with bright flavors and textures!
Have you ever had tempeh, did you like it?  What's your favorite way to prepare tempeh?  If you've never had tempeh does it sound to "out-there" or would you consider trying it?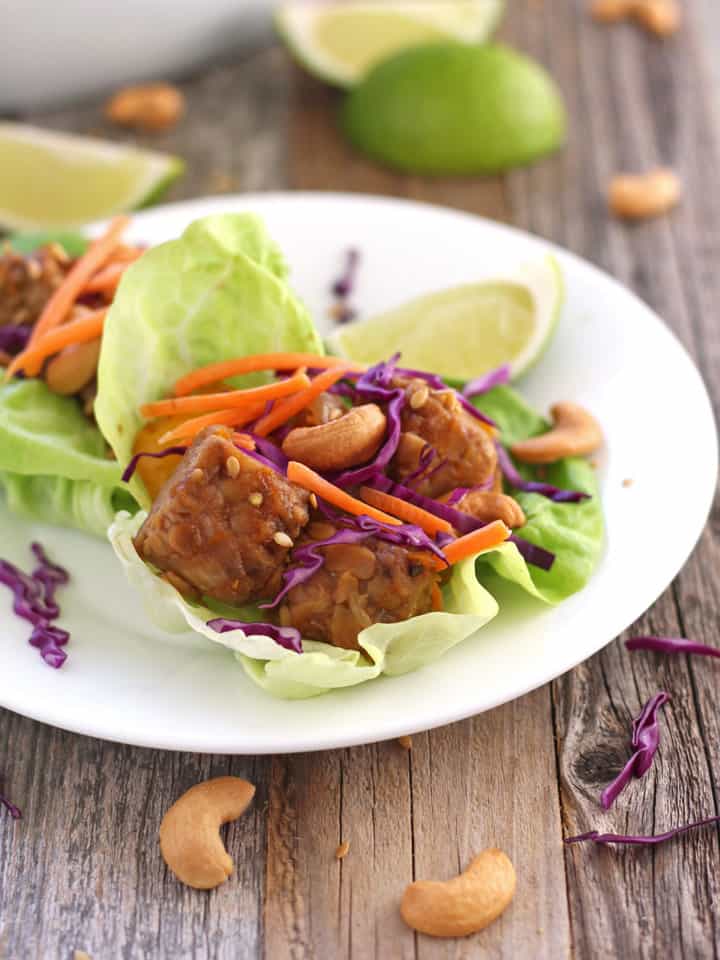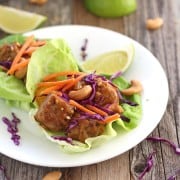 Sriracha Tempeh Lettuce Wraps
Butter lettuce cups filled with baked marinated tempeh, onions and peppers topped with crispy cabbage, carrots and cashews.
Servings
:
6
Lettuce Wraps
Ingredients
Marinated Tempeh:
8

ounce

of tempeh

, chopped into 1-inch cubes

1

large red bell pepper chopped into 1 to 1 1/2 -inch pieces

1/2

a medium yellow onion chopped into 1-inch pieces

3

tablespoons

liquid aminos

(or soy sauce)

2

tablespoons

unseasoned rice vinegar

1

tablespoon

maple syrup or agave nectar

2-3

teaspoons

sriracha sauce

2

teaspoons

toasted sesame oil

1

clove

garlic

, peeled and crushed

1

teaspoon

finely grated orange peel

1

teaspoon

peeled and grated fresh ginger
For Serving:
12

leaves

of Butter lettuce

(one head), washed and dried well

1/4

cup

shredded carrots

1/2

cup

shredded red cabbage

2

tablespoons

roasted unsalted cashew pieces

1

teaspoon

toasted sesame seeds

2

limes sliced into wedges
Instructions
Place tempeh, bell pepper and onion in an 8x8 toaster oven-safe baking dish.

In a small bowl whisk together the liquid aminos, vinegar, maple syrup, sriracha, sesame oil, garlic, orange and ginger. Pour mixture over the tempeh, peppers and onions. Stir well to coat all the pieces.

Place in the fridge and marinate at least 30 minutes, stirring once after 15 minutes.

After marinating, preheat toaster oven to 450 F.

Place baking dish in toaster oven and bake for 30-35 minutes stirring halfway through. The dish will be ready when the peppers and onions are tender and almost all of the liquid has been absorbed.

Allow dish to cool for 5-10 minutes, the tempeh will absorb any remaining sauce as it cools.

Layer two lettuce leaves together and spoon 1/6th of the filling onto the leaves. Sprinkle with a little carrots, cabbage, cashews and sesame seeds. Repeat with remaining ingredients and serve with lime wedges.
Recipe Notes
Prep Time includes 30 minutes of inactive time marinating the tempeh.

Tempeh can be found near the tofu at natural food stores and some major grocery chains.

We use Bragg Liquid Aminos which can usually be found near the vinegar at most grocery stores. You can also substitute your favorite soy sauce instead of using liquid aminos.

Rice Vinegar and Toasted Sesame Oil can be found at any Asian grocery store or in the Asian foods section at most major grocery stores.
Recipe makes 6 lettuce wraps, Nutritional Information is an estimate for a single serving of 3 lettuce wraps.

Seriously, I can't believe I have more to share either 🙂
We use Bragg Liquid Aminos because we like the flavor and it is less processed.  Although it has less sodium than your regular soy sauce it is not a low-sodium food.
If sodium is a concern for you, a quick glance at the nutritional information might have you saying "Holy Sodium Batman!"  In this case substitute 3 tablespoons of your favorite low-sodium soy sauce for the liquid aminos.
Another option is Coconut Aminos, a low-sodium sauce made from coconut flower blossoms.  It can be found on Amazon, at heath food stores and some major grocery chains (Tim got our bottle at Sprouts Farmers Market).
We tried this recipe using the Coco Aminos from Big Tree Farms which has 160mg per teaspoon.  When substituted equally for the liquid aminos it reduced the sodium to 399mg per serving.  The final dish was missing that earthy salty quality and instead tasted more like a spicy/sweet orange chicken flavored dish.  Not bad – just different and much sweeter (even after eliminating the maple syrup).