Yogurt Topped Cherry Almond Breakfast Cakes, a fun and healthy way to have cake for breakfast!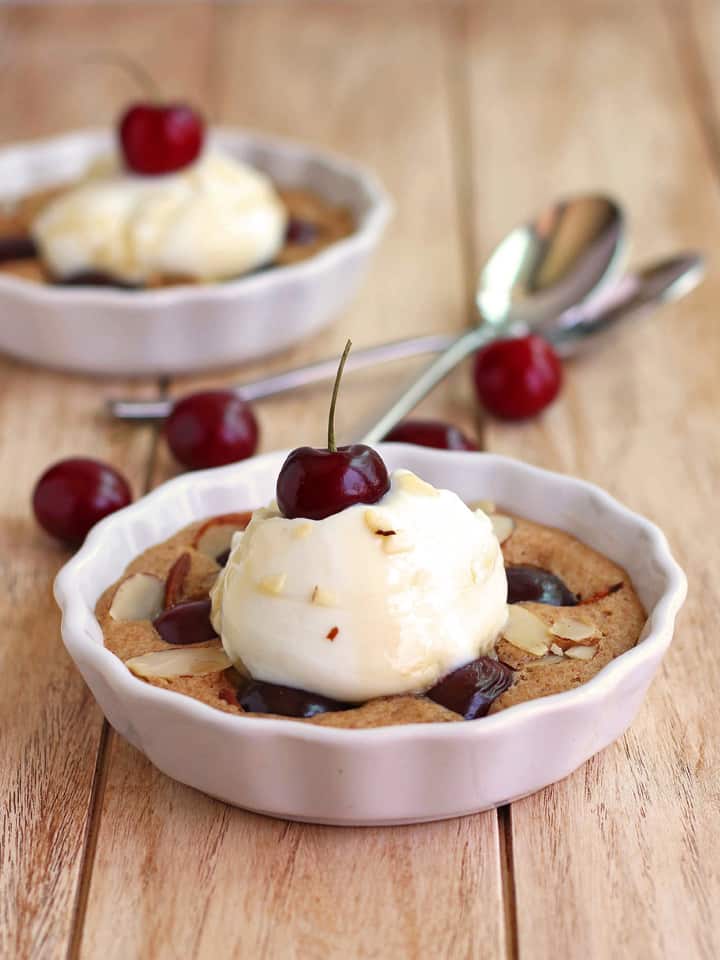 This has been a summer of Amazing tasting produce! Every bag of cherries I've tossed in the shopping cart has been ripe, juicy and so delicious. I hope your cherry season has been equally spectacular 🙂
Unfortunately, cherry season will be winding down soon. Before those sweet gems disappear let's grab a handful and enjoy these Yogurt Topped Cherry Almond Breakfast Cakes. This simple toaster oven breakfast recipe comes together quickly and is vegan-friendly when topped with a dairy-free yogurt.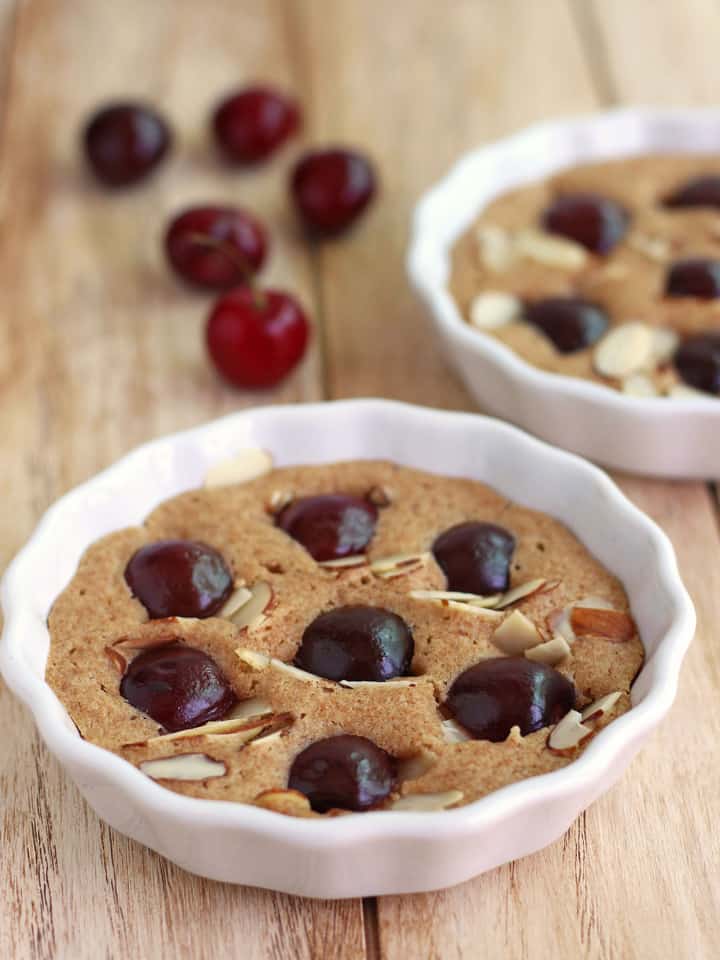 Speaking of yogurt, I used to dislike it, a lot. I actually enjoy the tart and tangy, slightly sour flavor of yogurt. It's the texture that I find off-putting.
If you don't drink cow's milk and love cheese but limit your consumption, including other sources of calcium in your diet is kind of important. Plus Tim loves yogurt and sharing things you enjoy with someone else makes life fun. It's also a great reason to give something a second chance.
I conquered my texture issue by trying every non-fat plain yogurt in a 10 mile radius. During my regular shopping trips I would purchase a different brand and give it a spin. Some were lumpy while others had a terrible snot-like quality but eventually the yogurt slipper fit.
Now I'm all about yogurt especially in some tasty Coffee Greek Yogurt Parfaits filled with Small Batch Almond Granola and lots of fresh cherries.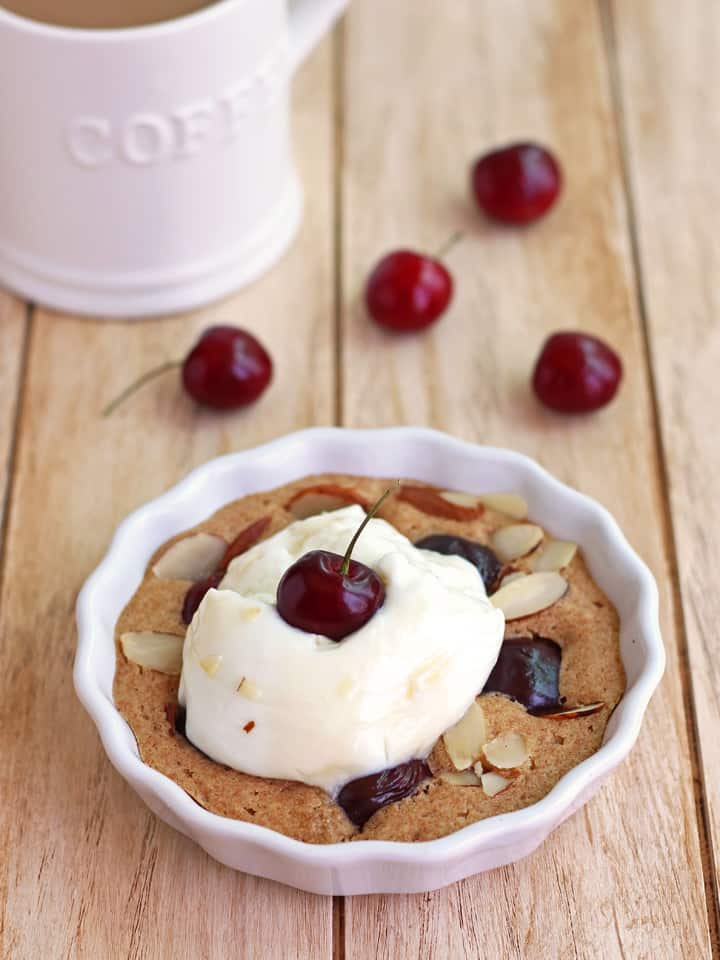 Tips for selling someone on a healthy meal (even yourself):
Start with delicious ingredients like fresh in season produce, natural sweeteners and whole grains.
Try combining an ingredient you love (Yay cherries!) with something you are learning to like (Hello, yogurt).
Presentation: It doesn't have to be complicated, I find an ice cream scoop can really elevate the appeal of yogurt. Instead of sitting down to a dish covered in a lumpy white mass I get to enjoy a breakfast cake "sundae" complete with a cherry on top.
However you serve them I hope you enjoy these fruity little cakes along with a happy and healthy start to your day.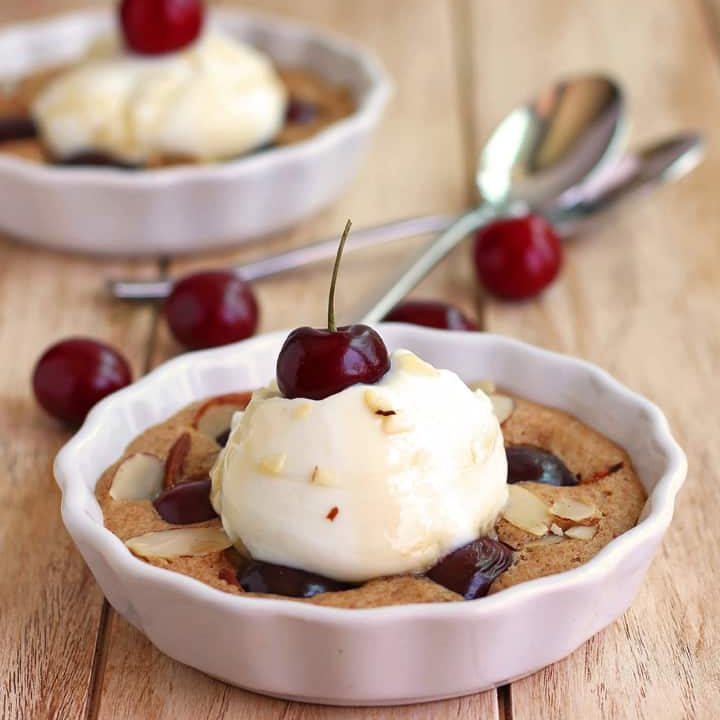 Yogurt Topped Cherry Almond Breakfast Cakes
Sweet fresh cherries are the star of this toaster oven breakfast recipe that comes together quickly and tastes delicious.
Ingredients
1 tablespoon + 1/2 tablespoon melted coconut oil, (plus more for oiling ramekins)
2 teaspoons real maple syrup, plus more for drizzling
1/8 teaspoon pure almond extract
3 tablespoons almond milk, (or milk of your choice)
1/4 cup spelt flour, (or sub whole wheat flour)
1/2 teaspoon baking powder
A pinch of salt
1/3 cup pitted & halved cherries, (about 8 whole cherries)
2 tablespoons raw slivered almonds, (plus more for sprinkling if desired)
2/3 cup nonfat plain dairy yogurt or dairy-free yogurt
Instructions
Preheat toaster oven to 350 F and lightly oil two 5 ounce ramekins.
In a coffee cup stir together coconut oil, 2 teaspoons maple syrup, almond extract and almond milk until well combined. In a small bowl combine flour, baking powder and salt. Stir maple milk oil mixture into flour and mix just until combined. Pour batter into prepared ramekins, sprinkle almonds evenly over batter and arrange cherry halves sliced side down gently pressing them into batter.
Place ramekins on a cookie sheet (makes it easier to remove the cooked ramekins) and bake at 350 F for 9 to 11 minutes until a toothpick inserted into the center comes out clean. Allow cakes to cool for at least 10 minutes before serving.
Top cooled cakes with a scoop of yogurt, drizzle with remaining maple syrup and sprinkle with a few sliced almonds.
Nutrition Information:
Yield:

2
Serving Size:

1 Yogurt Topped Breakfast Cake
Amount Per Serving:
Calories:

268
Total Fat:

12.9g
Saturated Fat:

9.1g
Cholesterol:

1.6mg
Sodium:

172.4mg
Carbohydrates:

32g
Fiber:

3.5g
Sugar:

15.9g
Protein:

8.9g
Nutritional information provided is an estimate generated by an online calculator. It should not be considered a substitute for advice from a professional nutritionist or your doctor.