Cheddar Sriracha Cornbread Donuts
Cheddar Sriracha Cornbread Donuts are a flavorful blend of hearty cornmeal, whole wheat flour, spicy sriracha sauce, and cheddar cheese. Perfect as an afternoon snack or dunked in a warm bowl of vegetarian chili.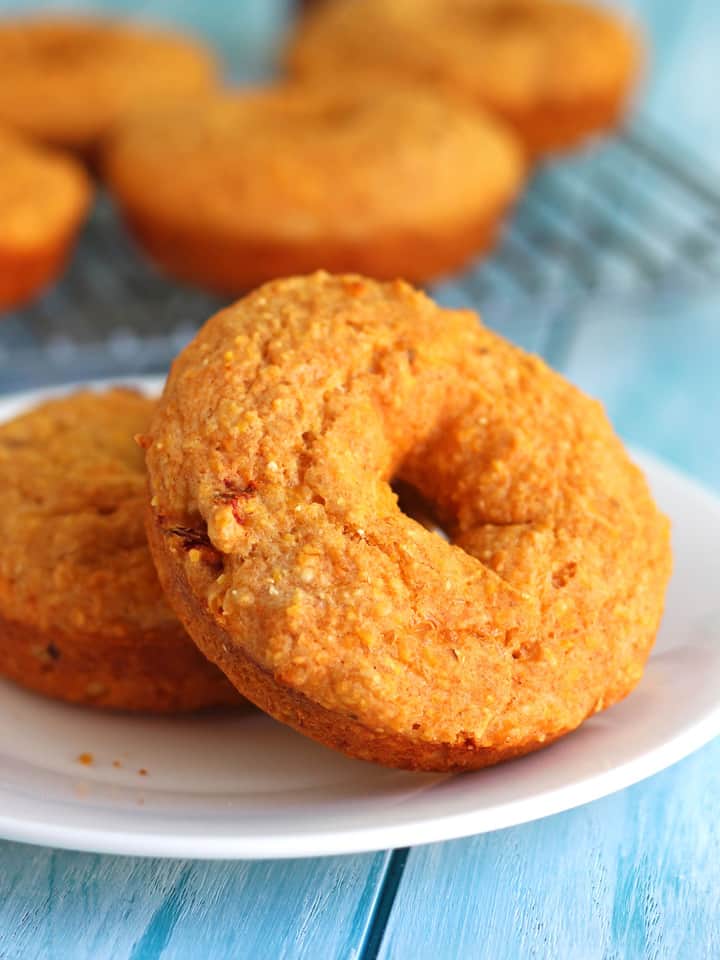 I'm always looking for an opportunity to use our poor neglected donut pan.
You know what I'm talking about right, remember how excited you felt when you first purchased your donut pan. Then it got tossed in the back of the cabinet to be passed over weekly in favor of your trusty ole muffin tin.
Well, let's dust off those long forgotten donut pans and make some truly unique cornbread treats! (For another equally unique donut pan use check out these Hidden-Egg Bagel Sandwiches)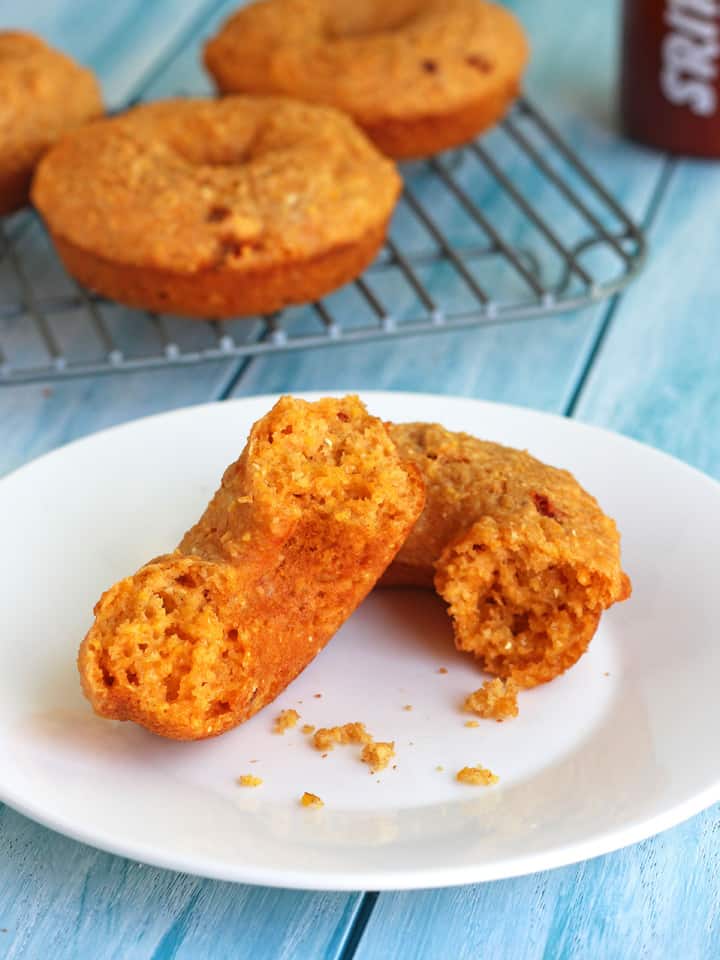 The base of these savory donuts starts with a quality medium grind cornmeal. The coarse texture from the medium-grind gives a hardiness to the donuts without making them too dense or heavy.
Tangy rich low-fat buttermilk is a must for moist cornbread. And just a tablespoon of melted butter for a hint of buttery flavor without any greasiness.
Then comes the big guns of shredded sharp cheddar cheese and spicy Sriracha sauce. The batter may look slightly pink and be a little chunky once you mix in the cheese and Sriracha. Hang in there – that funky colored batter is going to bake up into a golden cheesy donut that just screams "Grab Me – Eat Me – I Taste Fantastic!"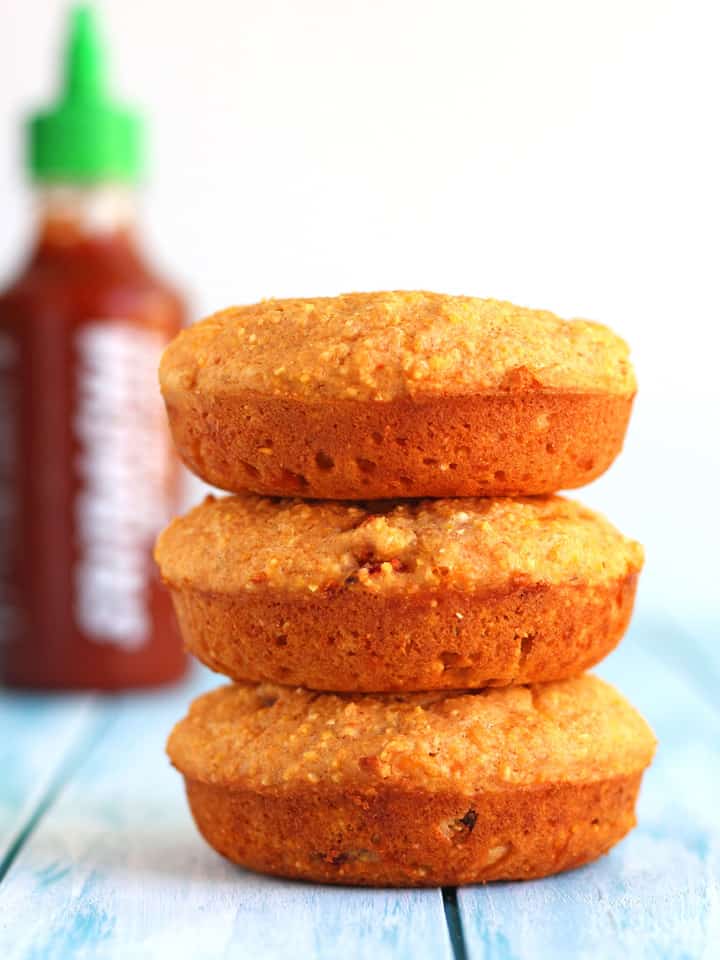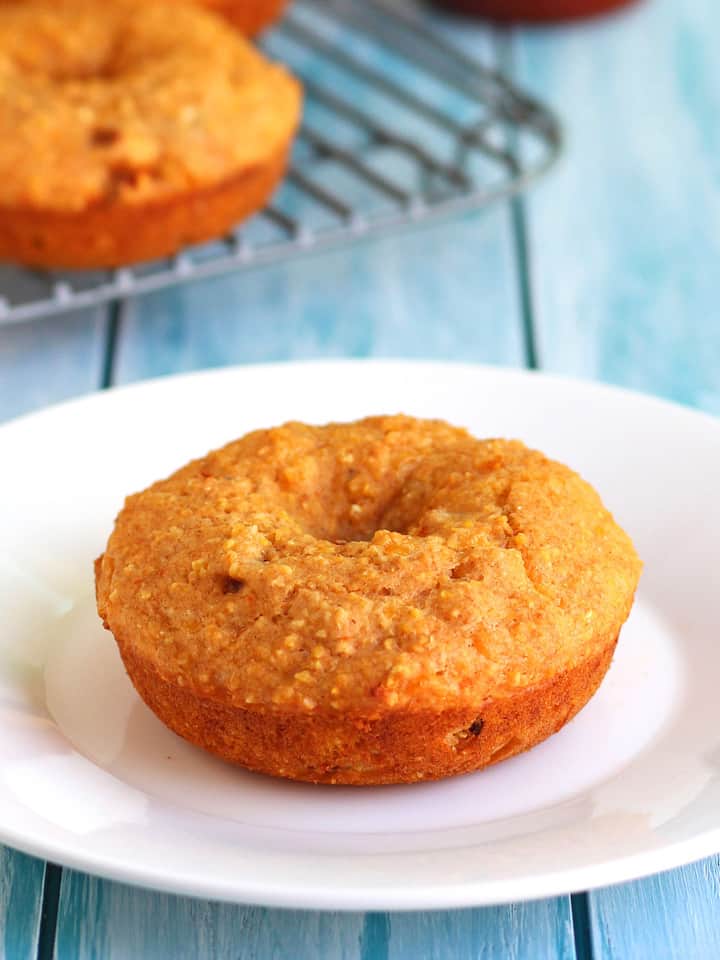 We make these donuts about once a month when we are suffering from a case of LBT (Leftover Buttermilk Troubles) because baked donuts are always the answer to leftover buttermilk 🙂
***More Yummy Ways To Eat These Donuts***
The ones that aren't devoured while cooling in the pan end up as cornbread veggie sandwiches, veggie burger buns and sometimes just warmed with a bit of butter and jam.
Because these cornbread donuts are easily frozen you can save a few for a lazy weekend morning.
Imagine strolling out to the kitchen, defrosting a Cheddar Sriracha Cornbread donut and pulling an apron over your pajamas. Fry up an egg, grab a leaf or two of kale, tomatoes and a generous helping of apricot jam. You slap it all together and dig into a satisfying breakfast sandwich!
Now with a full belly and fuzzy slippers still on you can sneak off back to bed 🙂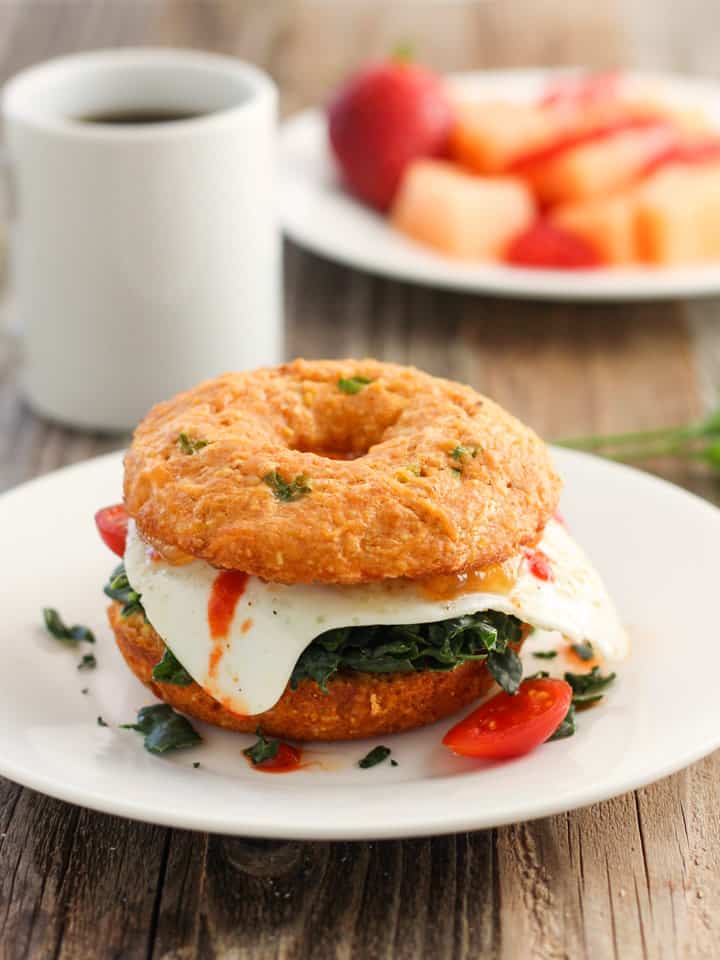 If you are hopelessly in love with Sriracha and can't imagine a meal without that tangy sauce check out our Sriracha Vinaigrette, Spicy Sriracha Roasted Red Potatoes, Mango Sriracha Potato Veggie Bowls or these high protein Sriracha Tempeh Lettuce Wraps!
*Have a few minutes to kill, enjoy a laugh watching Rhett & Link's Sriracha Challenge and really see Sriracha's taste elevating ability put to the test.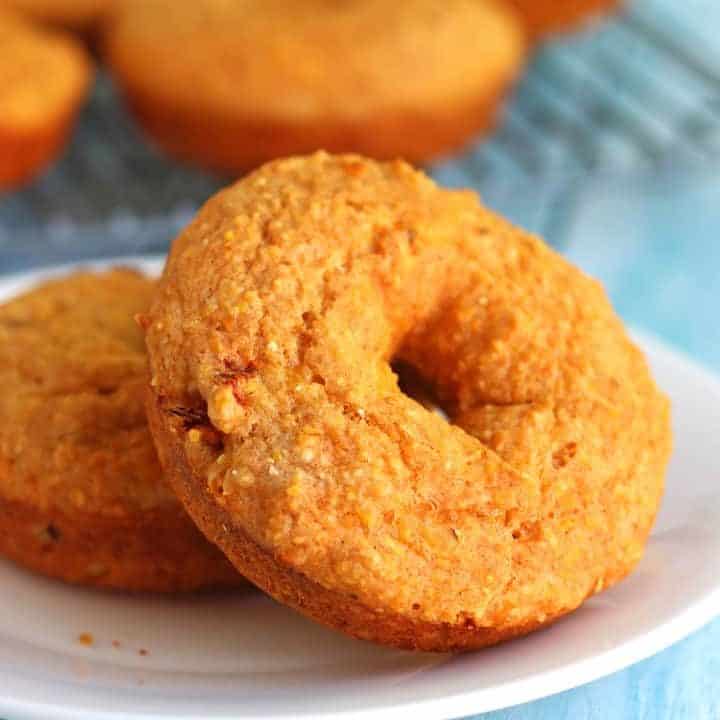 Cheddar Sriracha Cornbread Donuts
Hearty cornbread donuts with a spicy sriracha kick!
Ingredients
1/2 cup stone ground medium grind cornmeal
1/2 cup whole wheat flour
1 teaspoon baking powder
1/4 teaspoon baking soda
1/4 teaspoon salt
1 large egg, lightly beaten
2/3 cup low-fat buttermilk
1 tablespoon butter, melted and cooled
1/2 cup shredded cheddar cheese
1 tablespoon Sriracha sauce
Optional Mix-in's:
1 tablespoon green onions, finely chopped
1 tablespoon sun-dried tomatoes, finely chopped
Instructions
Preheat your toaster oven (or oven) to 425 degrees F and grease a six cavity donut pan.
In a medium sized bowl mix cornmeal, flour, baking powder, baking soda and salt. Make a well in the center of the cornmeal/flour mixture, crack egg into well and mix all together. Stir in buttermilk and then melted butter. Quickly stir in Sriracha sauce, cheddar cheese and green onions/sun-dried tomatoes if you are using them.
Spoon mixture into the prepared pan (the cheddar will make it look a bit lumpy, that's a good thing).
Bake donuts until golden on the edges and a toothpick inserted comes out clean, about 14 to 16 minutes.
Allow donuts to cool in pan for at least 5 minutes before turning out and devouring!
Nutrition Information:
Yield:

6 Baked Donuts
Serving Size:

1 Donut
Amount Per Serving:
Calories:

161
Total Fat:

6.6g
Saturated Fat:

3.5g
Cholesterol:

46.8mg
Sodium:

378.3mg
Carbohydrates:

19.3g
Fiber:

1.6g
Sugar:

1.6g
Protein:

6.5g