Brussels Sprouts Tacos with Mango Avocado Salsa
These Brussels Sprouts Tacos with Mango Avocado Salsa are a flavor explosion that's guaranteed to take your Taco Tuesday to the next level. Using your favorite taco seasoning, corn tortillas, and a quick small-batch salsa you can turn Brussels sprouts into a satisfying vegetarian dinner for two or just for you!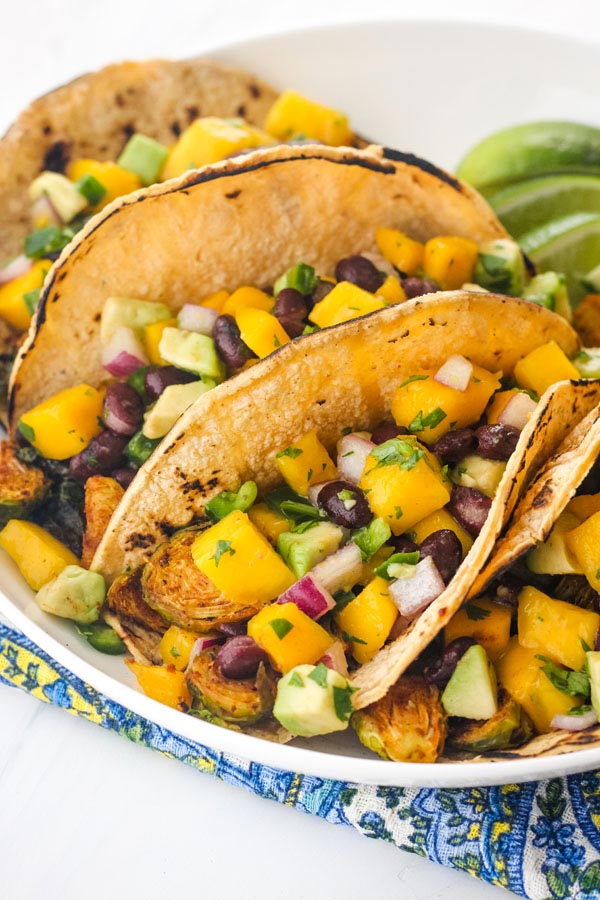 Tasty Vegetable Tacos
Now, depending on how veggie-adventurous you are, this recipe might seem a little out there.
But trust me, it works.
The seasoned roasted sprouts have a heartiness you wouldn't expect.
The mango, lime, onion, cilantro, and jalapeno are fresh and bright.
The avocado is rich, creamy and helps keep you full.
And honestly, when are corn tortillas ever a bad idea?
These vegetarian tacos are sweet, savory, nutritious, fun, easy to customize, and always a hit!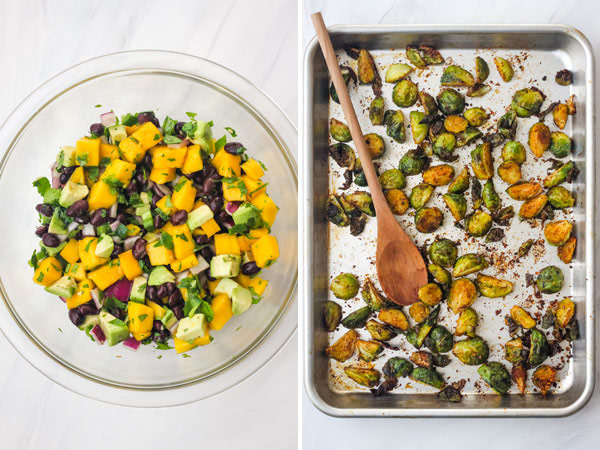 Small Batch Mango Avocado Salsa
Okay, can we talk about the salsa for a minute?
It's so flavorful and also tastes fantastic piled atop veggie nachos, paired with tofu tacos or tossed with spinach and brown rice for a quick lunch.
If there are chips in the house, Tim will devour ALL of it before the sprouts have even finished roasting.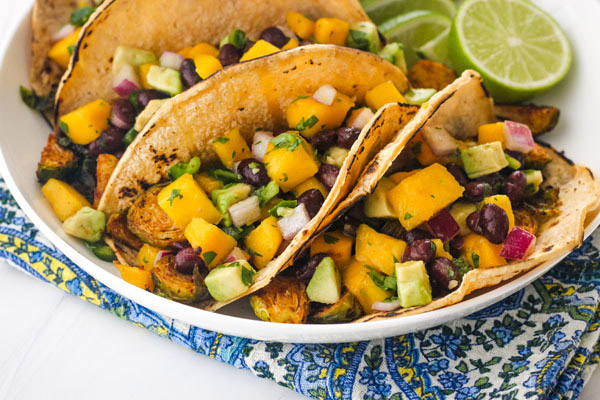 So sometimes I'll double the recipe even if it's just the two of us.
But it doesn't keep well (the avocado browns quickly). So I'd only recommend making extra if you plan on eating the leftovers within 24 hours.
Or if you've got a snacky salsa thief to contend with.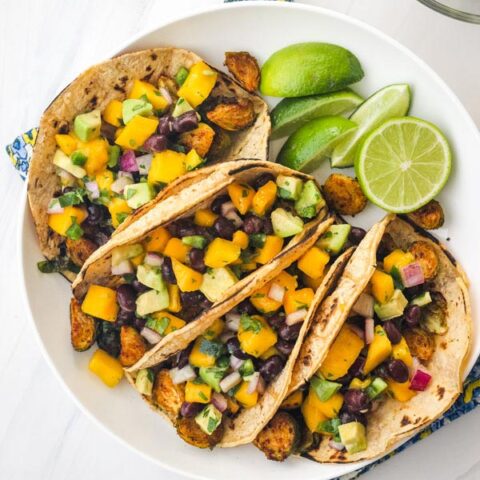 Brussels Sprouts Tacos with Mango Avocado Salsa
Take your Taco Tuesday to the next level with these sweet and savory vegetarian tacos. 
Ingredients
For the Roasted Sprouts
8 ounces Brussels Sprouts, washed and dried
2 to 3 teaspoons Olive Oil, plus more for the pan
1 tablespoon Taco Seasoning (we used Trader Joe's)
For the Mango Avocado Salsa
Half a Large Mango, seeded and chopped into small cubes (about 1/2 cup)
1/4 cup Cilantro leaves, roughly chopped
2 tablespoons Chopped Red Onion or Shallot
1 tablespoon Jalapeno, seeded and diced (*see notes)
Half a Medium Avocado, seeded and cubed
1/2 cup cooked Black Beans, rinsed and dried if using canned beans
Juice of half a lime (plus more lime wedges for serving)
Salt and pepper, to taste
For Serving
Instructions
Adjust your cooking rack to the lowest position and preheat your oven (or toaster oven) to 400°F. Lightly oil a quarter sheet pan.
Slice the sprouts into quarters (or smaller) and add to a medium bowl, drizzle with oil and sprinkle over taco seasoning. Toss to combine. Arrange sprouts in an even layer on your pan and roast, tossing occasionally with a spatula until the sprouts are browned and fork-tender, about 15 to 20 minutes. Taste the sprouts and season with salt and pepper as desired.
While the sprouts cook, wipe out the bowl and add the mango, cilantro, red onion, jalapeno, avocado, black beans, and the lime juice. Stir to combine. Taste the salsa and add salt, black pepper, and more lime juice as desired. Cover and refrigerate until serving.
To serve, warm the tortillas on the stovetop, fill with the sprouts and salsa, and enjoy!

Notes
If the sprouts are very large, slice the quarters in half. You want to be able to bite through them easily once cooked and in the tacos.

For a spicier salsa add more diced jalapeno.
To make the tacos more substantial you can add baked tofu, cooked soy chorizo or more black beans.

Leftover Sprouts Storing & Reheating: Store refrigerated in a covered container for 3 to 4 days. To reheat place on a sheet pan in a 350°F toaster oven, until warmed through, about 5 to 7 minutes.

Leftover Salsa Storage: Transfer any leftovers to a covered container. Place a piece of plastic wrap over the salsa and press it down to keep the air out. Seal the container, refrigerate, and consume within 24 hours.

Nutrition Information:
Yield:

4 tacos
Serving Size:

2 tacos
Amount Per Serving:
Calories:

407
Total Fat:

13.9g
Saturated Fat:

2g
Cholesterol:

0mg
Sodium:

496mg
Carbohydrates:

63.20g
Fiber:

15.2g
Sugar:

10.9g
Protein:

11.4g
Got Leftover Ingredients?
Mango: Sprinkle with chile-lime seasoning for a quick and nutritious snack or add to oatmeal or cereal at breakfast.
Cilantro: Stored this way, cilantro will stay good in your fridge for weeks. Add it to salads, tacos, and scrambled eggs.
Avocado, Black Beans, and Tortillas: You can use them for another meal like quesadillas or baked egg tostadas.