Broiled Mango with Greek Yogurt is a healthy and delicious toaster oven breakfast recipe. With only six ingredients and 10 minutes to make it's perfect for hectic mornings!
How many siblings do you have?
I've got just one and she's pretty fantastic. Though I didn't always think that.
Growing up my sister would torture me with endless tickling and teasing. Like most siblings, over the years there have been times we downright loathed each other.
But she's always had my back. Today, I've got hers.
See, my big sis loves all things tart, tangy and sour. Especially grapefruit. One of her favorite breakfasts as a kid was half a grapefruit sprinkled with sugar.
With the focus of a surgeon, she'd use her grapefruit knife to carefully separate the segments. Slowly devouring each tangy-sweet bite.
These days, her mornings are hectic. Filled with disappearing shoes, conference calls and getting a 4-year old to school on time.
Like every busy person, she's got little to no time for breakfast. And certainly not one requiring a special fruit knife.
So I've swapped her favorite citrus for an easier to prepare sweet and tart broiled mango with Greek yogurt.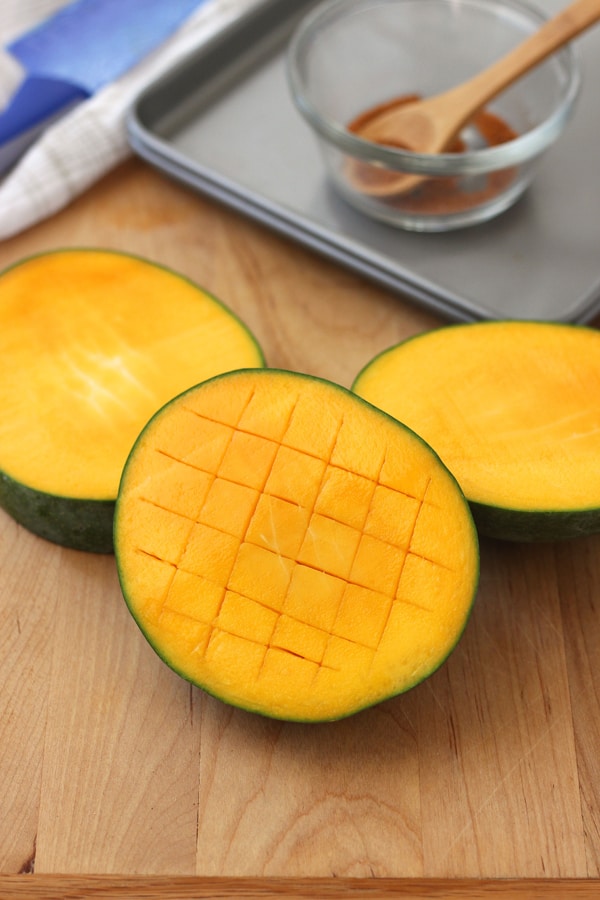 It's an easy toaster oven recipe that's nutritious, satisfying and has exactly what your morning needs: a Mildly Spicy Kick in The Pants.
You can even go all out and top your mango with a handful of chopped nuts, flaky coconut or small batch almond granola.
~ Keep scrolling for Toaster Oven Broiling Tips after the recipe ~
(This Broiled Mango with Greek Yogurt recipe was first posted on Food Fanatic)

Toaster Oven Broiler Tips
Some toaster ovens (like our Breville) allow you to adjust the broiler temperature.  If you find your broiler is too strong and burning food on "High" reduce it to a medium or low temperature.
Keep a close eye on your food when broiling.  The recipe's cooking time is just a guideline, your toaster oven may broil the sugar faster or slower than ours.
Our larger Breville toaster oven recommends the top rack position and no preheating for the Broil function.  Your toaster oven may be different so make sure to check the manual.
Use a broiler-safe pan, like the roasting pan that came with your toaster oven.