Broiled Mango with Greek Yogurt
Broiled Mango with Greek Yogurt is a quick and delicious toaster oven breakfast recipe. With only six ingredients and 10 minutes to make it's perfect for hectic mornings!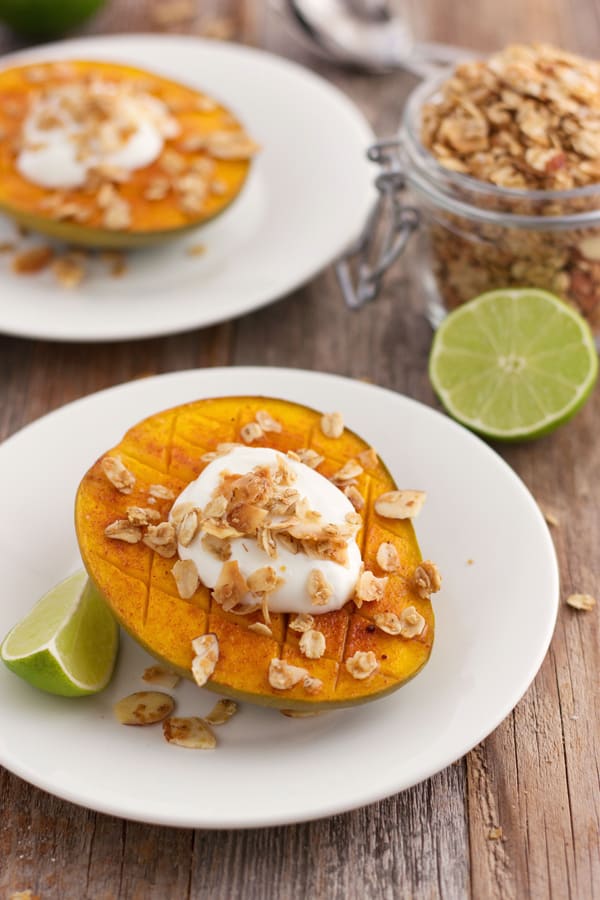 How many siblings do you have? I've got just one and she's pretty fantastic. Though I didn't always think that.
Growing up my sister would torture me with endless tickling and teasing. Like most siblings, over the years there have been times we downright loathed each other.
But she's always had my back. Today, I've got hers.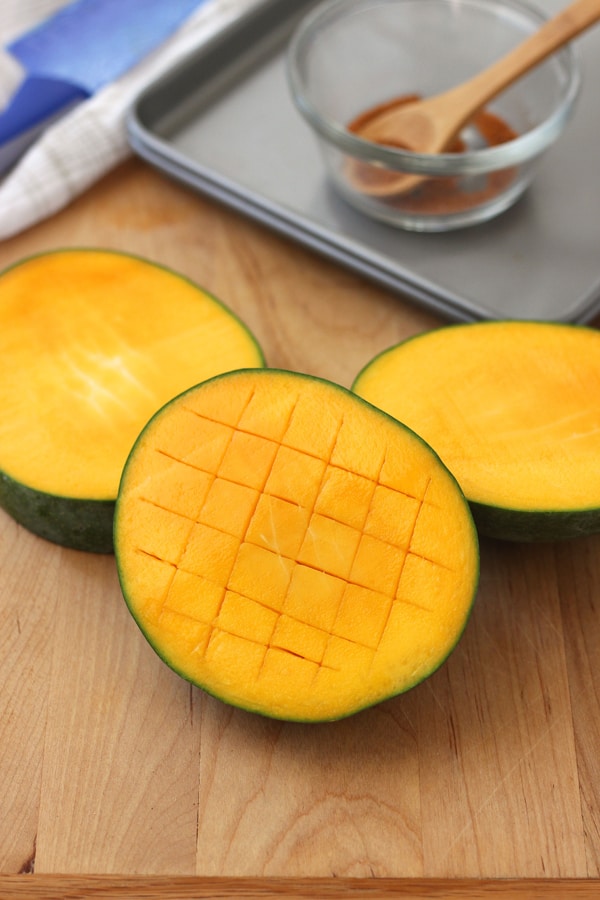 See, my big sis loves all things tart, tangy and sour but her mornings are hectic. Filled with disappearing shoes, conference calls and getting a 4-year old to school on time.
Like every busy person, she's got little to no time for breakfast. So I've swapped her favorite grapefruit for an easier to prepare sweet and tart broiled mango with Greek yogurt.
It's an easy toaster oven recipe that's nutritious, satisfying and has exactly what every weekday morning needs: a Mildly Spicy Kick in The Pants.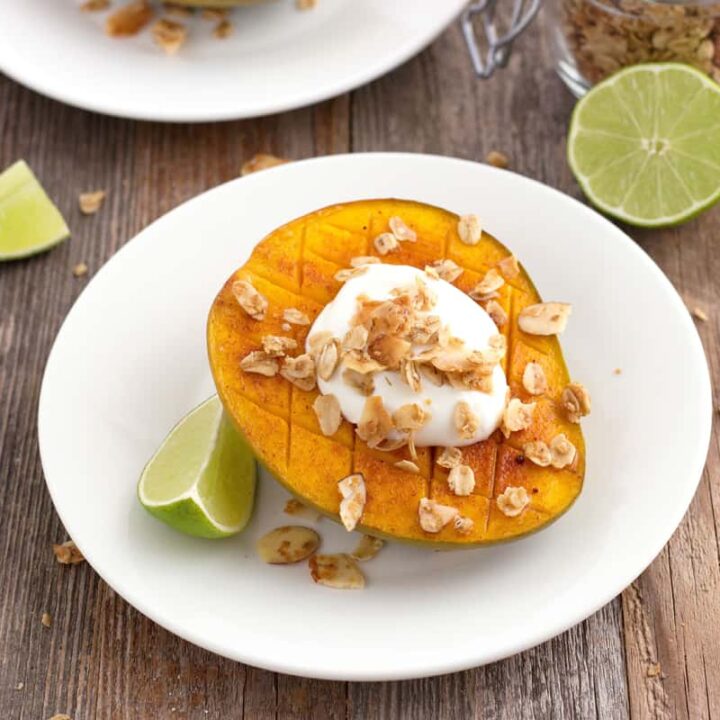 Broiled Mango with Greek Yogurt
For a fun savory-sweet breakfast, sprinkle mango halves with sugar and chili powder and pop under the broiler to caramelize.
Ingredients
1 large Mango, Ripe
1/2 teaspoon Sugar (Coconut Sugar, Granulated Sugar or Brown Sugar)
1/8-1/4 teaspoon Chili Powder (*See Note)
Pinch Fine Sea Salt
2/3 cup Plain Greek Yogurt
1 Lime, Sliced into wedges
Optional Toppings:
Instructions
Adjust your cooking rack to the middle position and set your toaster oven to BROIL.
To slice the mango, hold it upright on a cutting board. Avoiding the pit in the middle, carefully slice each side off of the mango with a sharp knife.
Using a paring knife, score the mango flesh in a crisscross pattern. Try to avoid cutting too deep and breaking through the skin.
Sprinkle each half equally with the sugar, chili powder, and salt.
Place mango halves on a roasting pan and broil until the sugar begins to brown and caramelize, about 3 to 5 minutes.
Serve warm or at room temperature with a scoop of Greek yogurt, lime wedges, and your favorite toppings.
Notes
A chili seasoning blend like Tajin or Trader Joe's Chile Lime Seasoning can be substituted for the chili powder and salt.
Nutrition Information:
Yield:

2 Servings
Serving Size:

Half a Topped Mango
Amount Per Serving:
Calories:

162
Total Fat:

0.9g
Saturated Fat:

0.2g
Cholesterol:

2mg
Sodium:

44mg
Carbohydrates:

33.2g
Fiber:

3.7g
Sugar:

27.5g
Protein:

9.7g
Toaster Oven Broiler Tips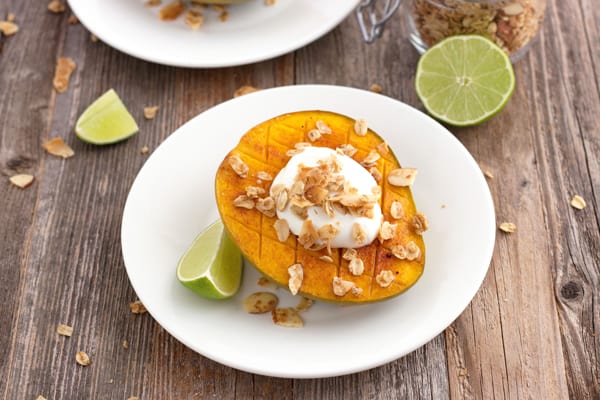 Some toaster ovens (like our Breville) allow you to adjust the broiler temperature. If you find your broiler is too strong and burning food on "High" reduce it to a medium or low temperature.
Keep a close eye on your food when broiling. The recipe's cooking time is just a guideline, your toaster oven may broil the sugar faster or slower than ours.
Our larger countertop oven says to use the top rack position and no preheating for the Broil function. Your toaster oven may be different so make sure to check the manual.
Use a broiler-safe pan, like the roasting pan that came with your toaster oven.