Avocado Toast with Balsamic Roasted Grapes. Crispy whole grain toast covered with creamy avocado and topped with a light salad of arugula, crumbled Gorgonzola and tangy-sweet balsamic roasted grapes.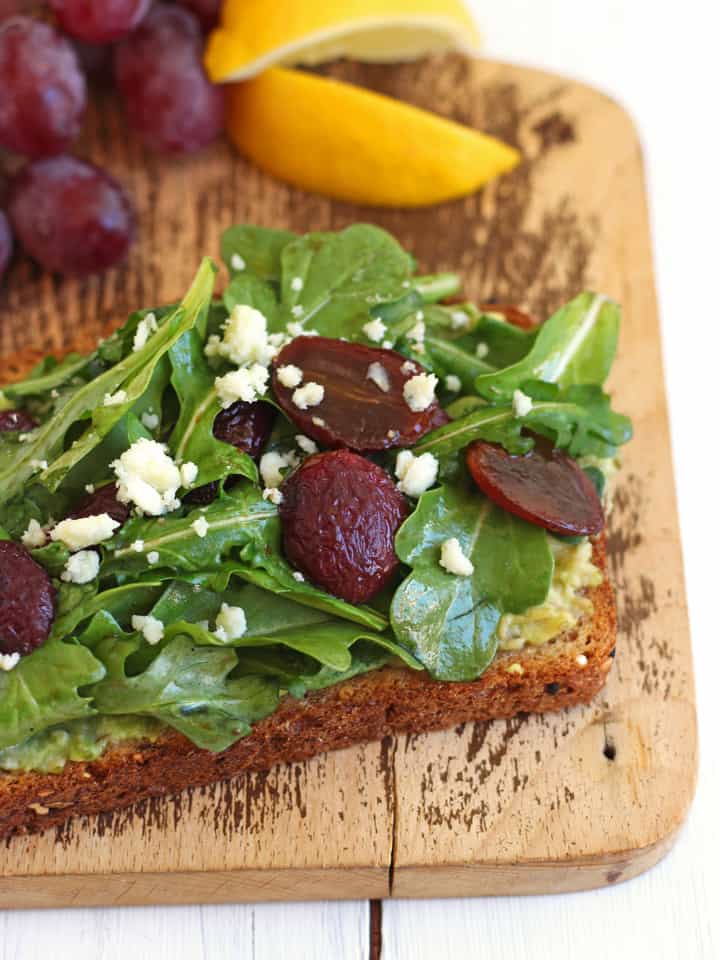 So I'm sorta in love with this Avocado Toast with Balsamic Roasted Grapes. It's absolutely become a new favorite fall lunchtime treat around our house and I'm pretty sure your going to be smitten with it too!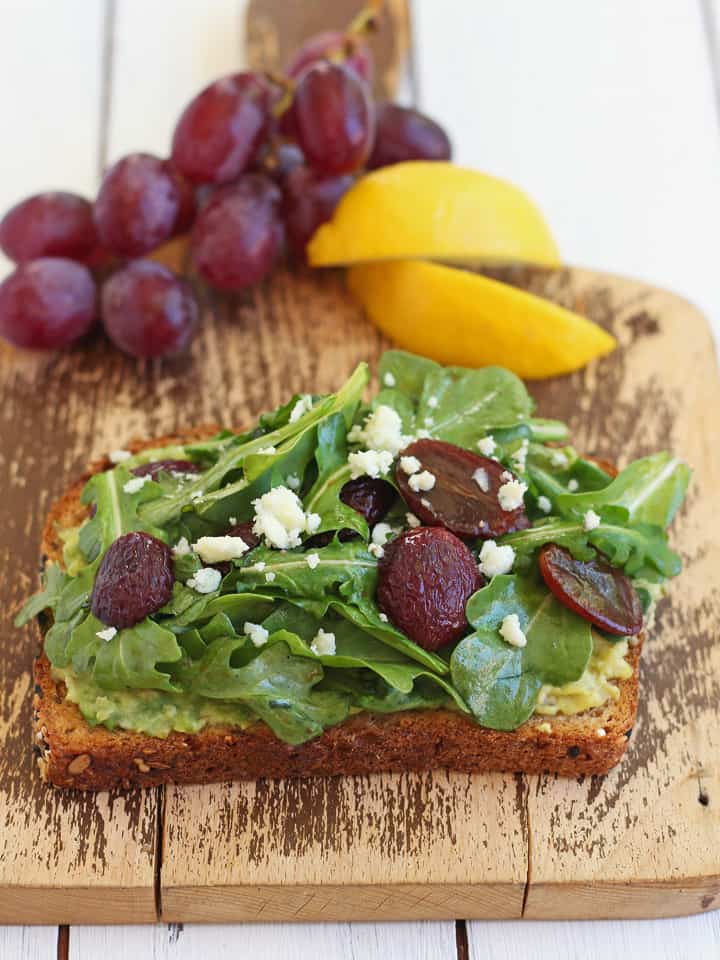 Before you get to toast topping though let's start with the grapes. OMG these grapes are so syrupy and delicious!
And just like these Balsamic Roasted Cranberries you can use your sweet and tangy roasted grapes for so many things beyond just avocado toast. Toss them in a wrap, add them to a cold rice salad or get really wild and pop them in Strawberry Spinach Pita Pockets!
Roasting the grapes is actually super simple. Start by tossing them with oil and your favorite balsamic vinegar together on the pan. (Line your pan with a toaster oven silicone baking mat if you don't want to have to do any scrubbing, things will be getting very sticky)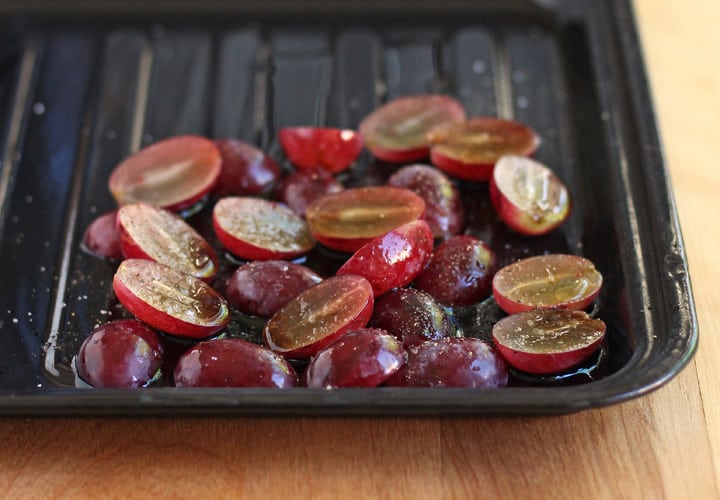 As the grapes roast they release some of their juices. Those yummy juices combine with the vinegar and oil creating the most delicious tangy sweet syrup.
Try to stop yourself from licking the pan or you won't have any dressing for the arugula 🙂

Now that you have your roasted grapes cooling let's build this lunch!
Grab some crispy whole grain toast and smash on creamy avocado. Salt, pepper and a squeeze of lemon.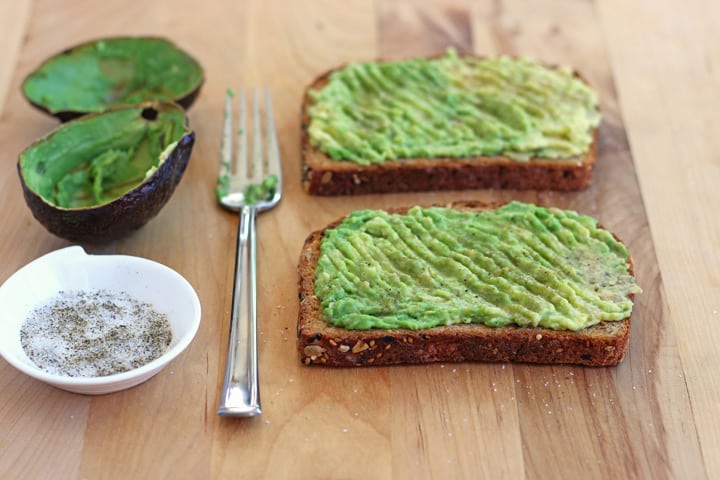 Toss the arugula, balsamic roasted grapes and some of the syrup from the pan together.
Depending on how juicy your grapes are there might be a lot of syrup. To avoid a soggy salad drizzle just a little to start and add more if needed.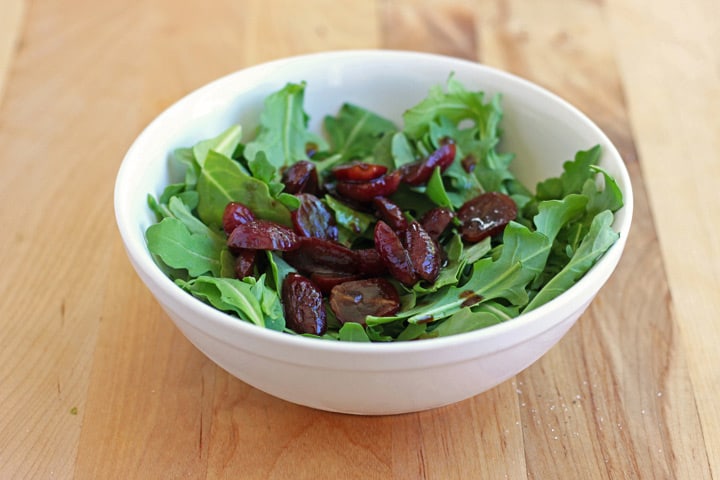 Sprinkle on a little cheese and nuts (bad blogger – I forgot the nuts for the pictures) and enjoy your light but filling Avocado Toast with Balsamic Roasted Grapes.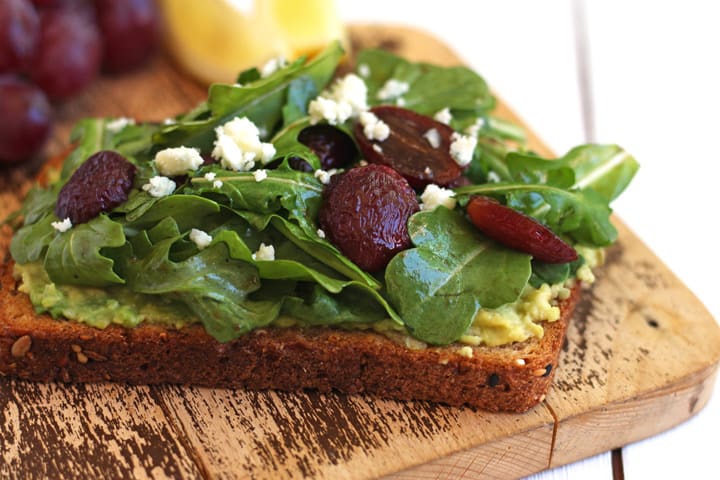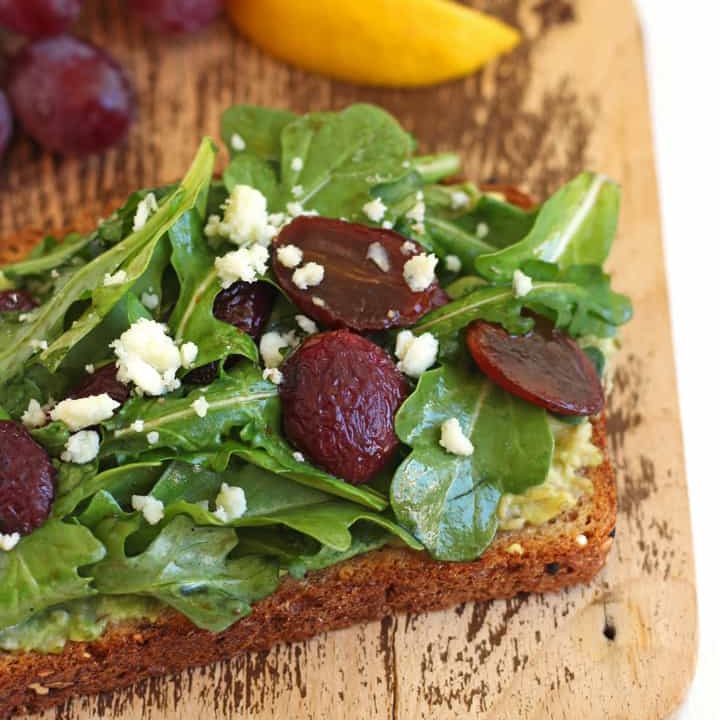 Avocado Toast with Balsamic Roasted Grapes
Whole grain toast and creamy avocado topped with tangy sweet balsamic roasted grapes.
Ingredients
Balsamic Roasted Grapes:
1/2 cup halved seedless red grapes, (12-15 large grapes)
1 teaspoon + 1/2 teaspoon balsamic vinegar, (use the good stuff)
1 teaspoon extra virgin olive oil
Salt and Black Pepper
Toast and Salad:
2 slices whole grain bread
1/2 teaspoon coconut oil or olive oil, (optional)
1 small avocado, , sliced and seeded
2 cups baby arugula or your favorite greens
1 teaspoon crumbled Gorgonzola, (omit for vegan)
Salt and Black Pepper
1/2 a lemon cut into wedges
1 tablespoon chopped walnuts or pecan pieces
Instructions
Preheat toaster oven or oven to 425 F
Place sliced grapes on a small roasting pan or rimmed baking sheet. Drizzle with vinegar and oil, sprinkle with salt and pepper. Toss grapes to coat evenly and arrange in a single layer (try to keep them close together not spread out across the pan). Roast grapes at 425 F for 12 to 15 minutes until they have wilted and started to release their juices. Remove pan and allow grapes to cool slightly.
Drizzle remaining oil (if using) on bread slices and toast until golden and browned.
In a small bowl gently toss together the arugula and grapes, drizzle a little of the grape/balsamic juices over the greens. Lightly salt and pepper.
Top each toast with half of the avocado and mash the avocado well. Squeeze a lemon wedge over the avocado and salt and pepper. Divide the grape salad mixture between the two toasts, sprinkle with cheese and nuts. Serve toasts with remaining lemon wedges if desired.
Notes
Depending on how juicy your grapes are there might be a lot of syrup after roasting them. So you don't get a soggy salad just drizzle a little syrup to start and add more if needed.
Nutritional Information is an estimate for 1 Toast.
Recipe and technique for roasted grapes adapted from this recipe.
Nutrition Information:
Yield:

2
Serving Size:

1 Toast
Amount Per Serving:
Calories:

304
Total Fat:

17.8g
Saturated Fat:

3.6g
Cholesterol:

1.1mg
Sodium:

128.6mg
Carbohydrates:

34.2g
Fiber:

8.3g
Sugar:

15.3g
Protein:

7g