Grab a glass of milk and treat yourself to these addictive toaster oven peanut butter cookies stuffed with chunks of mini dark chocolate peanut butter cups.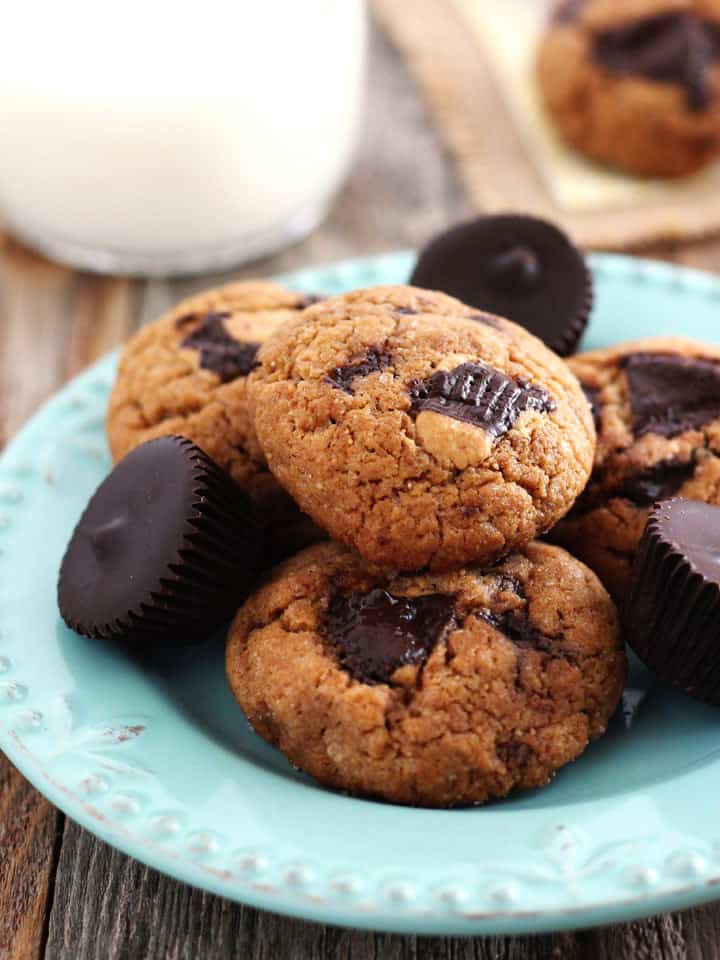 (this post contains affiliate links)
It's not your birthday, there's no celebration or special event.
But you still feel it, sometimes I do too.
The desire for a little extra, a delightful treat just because.
Maybe a perked-up avocado toast with roasted bits of cauliflower and jalapeno? Or even better, sinfully delicious dark chocolate peanut butter cups in a small batch of peanut butter cookies!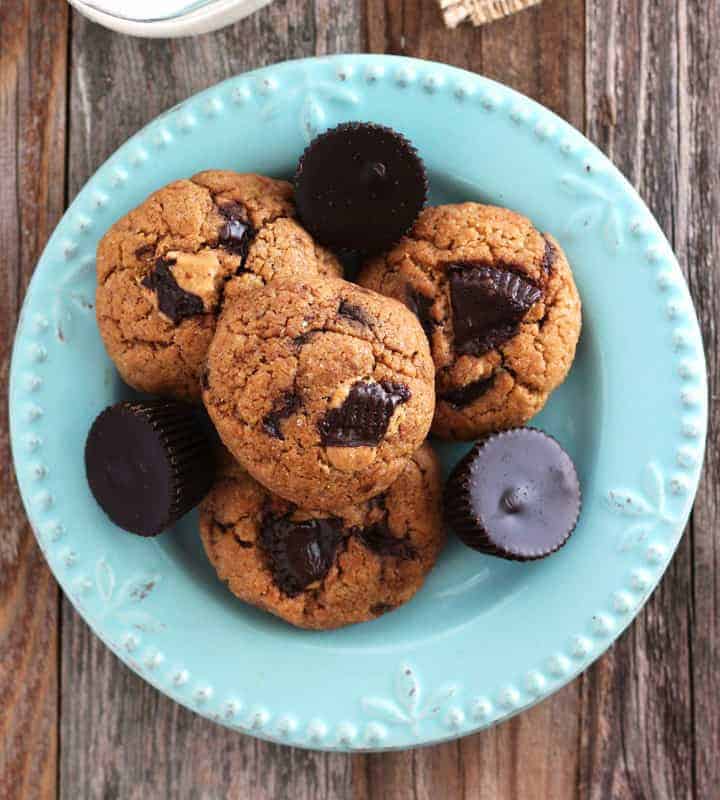 This whole grain cookie recipe is simple, made in just one bowl with creamy natural peanut butter (the kind where the peanut butter and oil separate).
3 Tips For Baking Cookies With Natural Peanut Butter
Use a Half-Filled Jar: A fresh jar always has loads of oil at the top, an almost empty jar can be stiff and dry.  We usually hit the perfect oil:peanut ratio halfway through a jar.
Chill Your Dough: Ugh, I hate chilling cookie dough too but natural PB can cause your cookies to spread. A visit to the fridge helps you bake 8 separate cookies and not a giant cookie puddle.
Be Forgiving: Cookies made with natural peanut butter are like snowflakes, no two batches will be identical.  Equally delicious but always slightly different.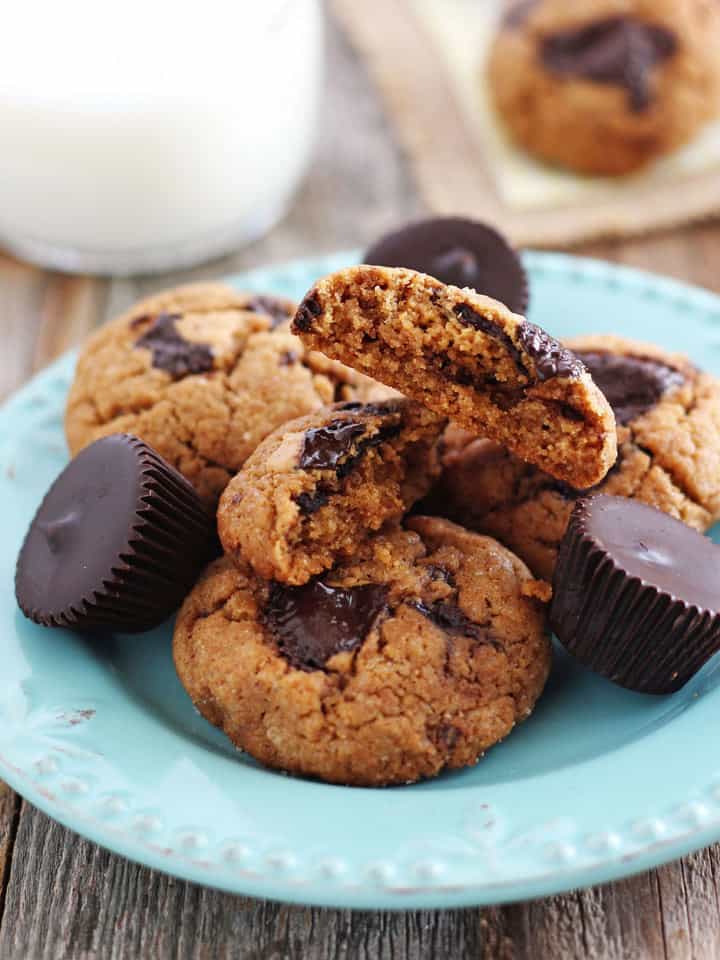 "You got chocolate in my peanut butter!"
How do you make a subtly sweet peanut butter cookie that's crispy on the outside, soft and chewy on the inside even better? Stir in rich and decadent dark chocolate.
We use the mini PB cups from Trader Joe's. They're filled with melty peanut butter and you can get a small bag for just $1.00. Frugal + Delicious, does it get better?
If you don't have mini PB cups no worries, chop up a large peanut butter cup or substitute 2-3 tablespoons of mini chocolate chips.
Either way you can treat yourself to a special peanut butter chocolate treat.
For no reason really, just because.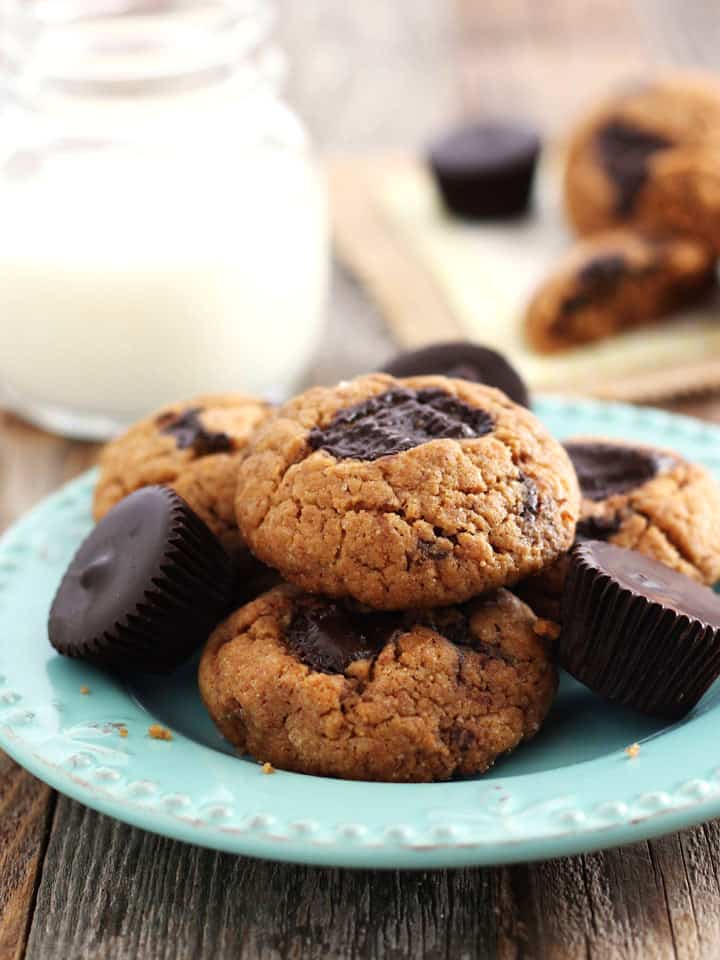 Hungry For More?
If you liked these cookies, you'll love our always expanding list of cookie recipes for your toaster oven. Make sure to check out the Double Chocolate Chip Cookies, they're a tasty way to use up that leftover egg yolk.
Toaster Oven Peanut Butter Cookies
---
Brie
Yield: 8 Cookies
Irresistible Peanut Butter Cup Cookies (Made w/Natural PB)
40 minPrep Time
11 minCook Time
51 minTotal Time
Ingredients
2 tablespoons unsalted butter, softened
3 tablespoons natural creamy peanut butter
1/4 cup and 1 tablespoon packed organic brown sugar*
1/8 teaspoon pure vanilla extract
1 large egg white
1/3 cup white whole wheat flour (or sub All-Purpose flour)
1/8 teaspoon baking soda
1/8 teaspoon baking powder
1/8 fine grain sea salt (plus more for sprinkling)
3 mini dark chocolate peanut butter cups, roughly chopped
Instructions
In a medium bowl, use a hand mixer to cream the butter, peanut butter and sugar until light and fluffy (about 2 mins). Beat in vanilla and egg white. Set mixer to a low speed and beat in flour, baking soda, baking powder and salt.
Stir in chopped peanut butter cups into dough and refrigerate for 30 minutes.
While dough chills, preheat your toaster oven to 375℉ and lightly grease your cookie sheet or line with a toaster oven silpat.
Roll dough into 8 balls and place on prepared cookie sheet at least 1-inch apart (cookies will spread while baking). Sprinkle dough with salt if using.
Bake for 11 to 13 minutes until the cookies are set and edges are lightly golden.
Cool cookies on sheet for 5 minutes before transferring to a baking rack to cool completely.
Notes
Convection Toaster Oven: Reduce temperature to 350℉ and bake for 8 to 11 minutes.
Prep Time includes 30 minutes inactive time chilling dough.
You can substitute traditional dark brown sugar for the organic. Light brown sugar works too but results in a milder flavor.
Dough made with traditional brown sugar will spread more, only bake 4 cookies at a time.
Recipe adapted from AARP/Betty Crocker Cooking for Two Cookbook
7.5
110
http://toasterovenlove.com/toaster-oven-peanut-butter-cookies/
Nutritional Information is an estimate for 1 of 8 cookies.