Cranberry Orange Cornbread Donuts
Cranberry Orange Cornbread Donuts are hearty donuts filled with tart cranberries, tangy buttermilk, and toothy cornmeal. Drizzle your baked donuts with a honey-sweetened orange glaze for a delicious less than 200 calorie toaster oven treat!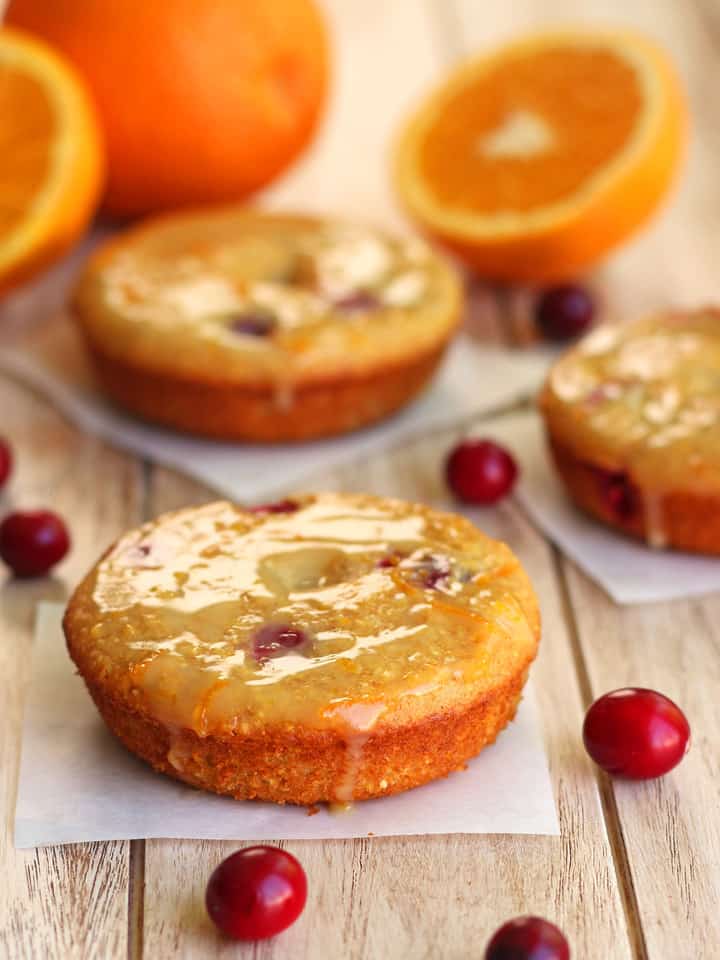 Now that we've said goodbye to summer with Peachy Pita Pizzas it's time to dive head first into one of fall's best flavor combinations with a recipe for Cranberry Orange Cornbread Donuts. Citrus glazed baked cornbread donuts bursting with cranberries…2 please!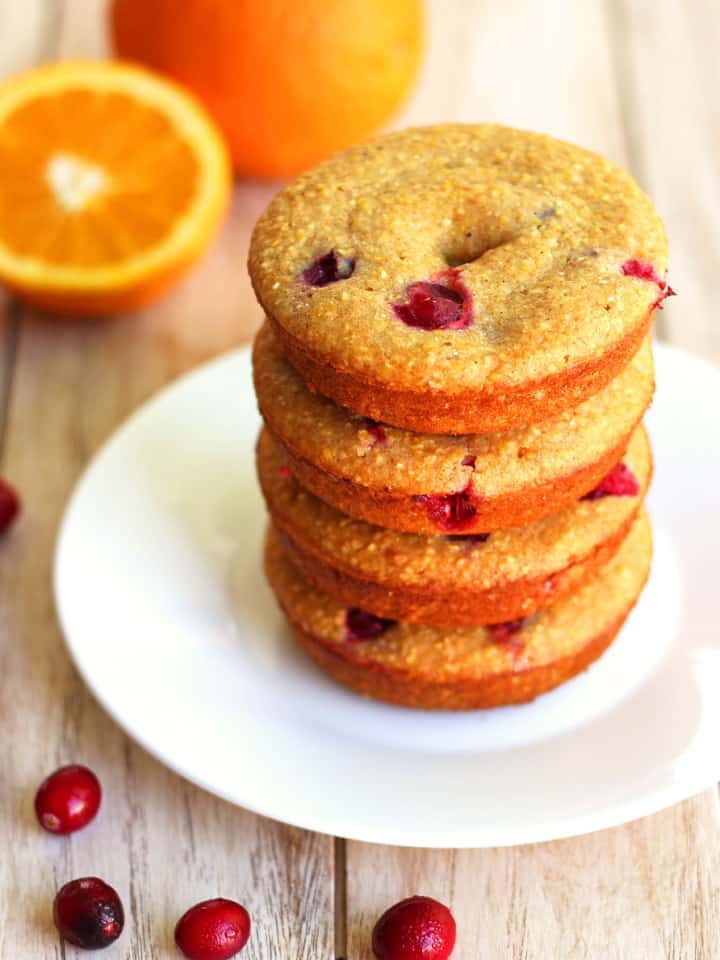 With cranberry harvest season lasting only a few months I usually make this recipe with frozen cranberries. Frozen cranberries are awesome, especially in September when you are craving cranberry cornbread and the nice produce guy at Sprouts kindly tells you fresh cranberries won't be making an appearance at your store until Thanksgiving.
Frozen cranberries are also awesome to have on hand for whipping up a batch of Balsamic Roasted Cranberries or a pan of crowd-pleasing White Chocolate Cranberry Orange Snack Cake.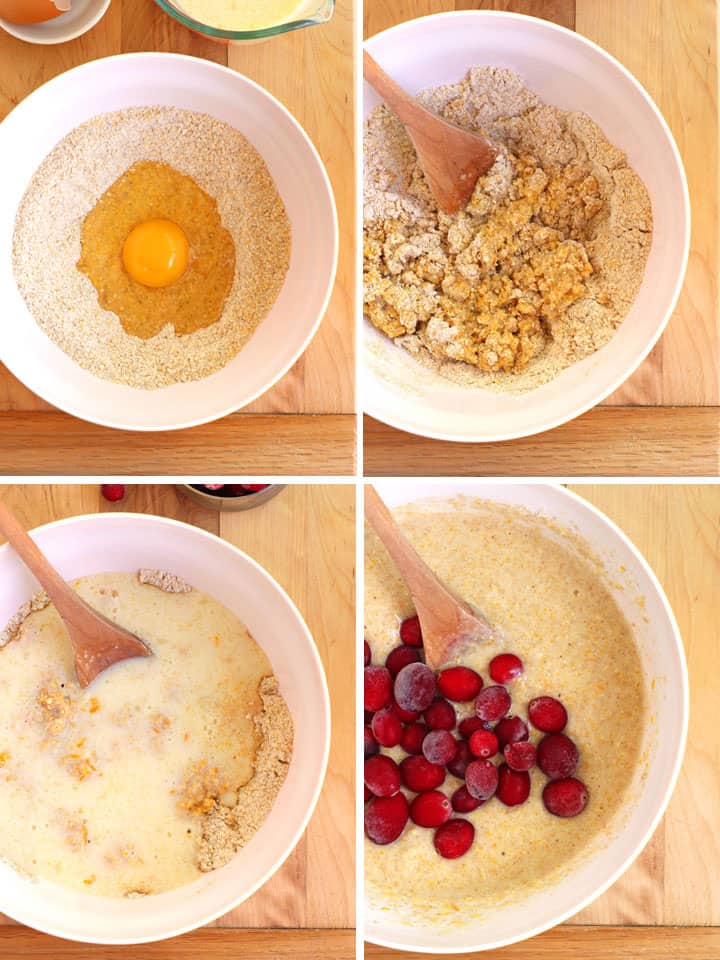 The best part about using frozen cranberries in this recipe = you get to throw them straight into the batter frozen, no thawing!
The buttermilk-cornbread batter takes just a few minutes to mix together and bake up into tasty donuts. It will probably take longer than both times combined for the donuts to cool down so you can drizzle them with glaze!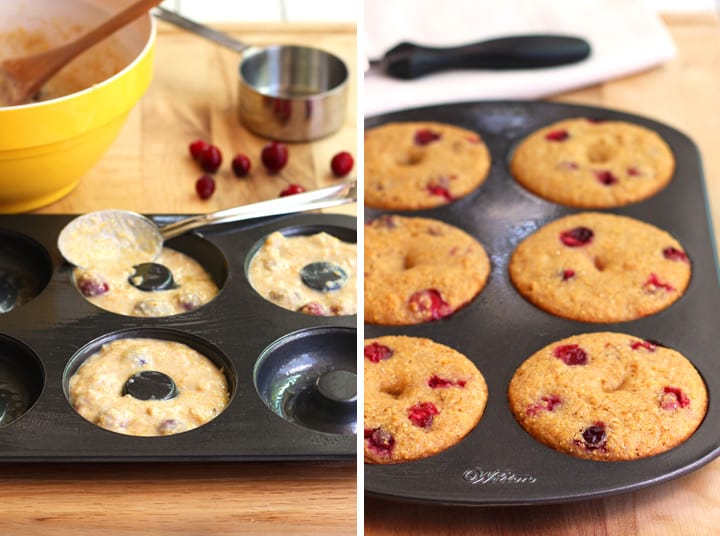 The honey citrus glaze is perfectly yummy on its own. You should taste it before glazing the donuts though to see if you would like more honey or grated orange peel.
Be warned once you start "tasting" it there is a huge chance your donuts may never see that glaze. If I didn't have to take pictures for you I would have grabbed a spoon and gave myself a bellyache 🙂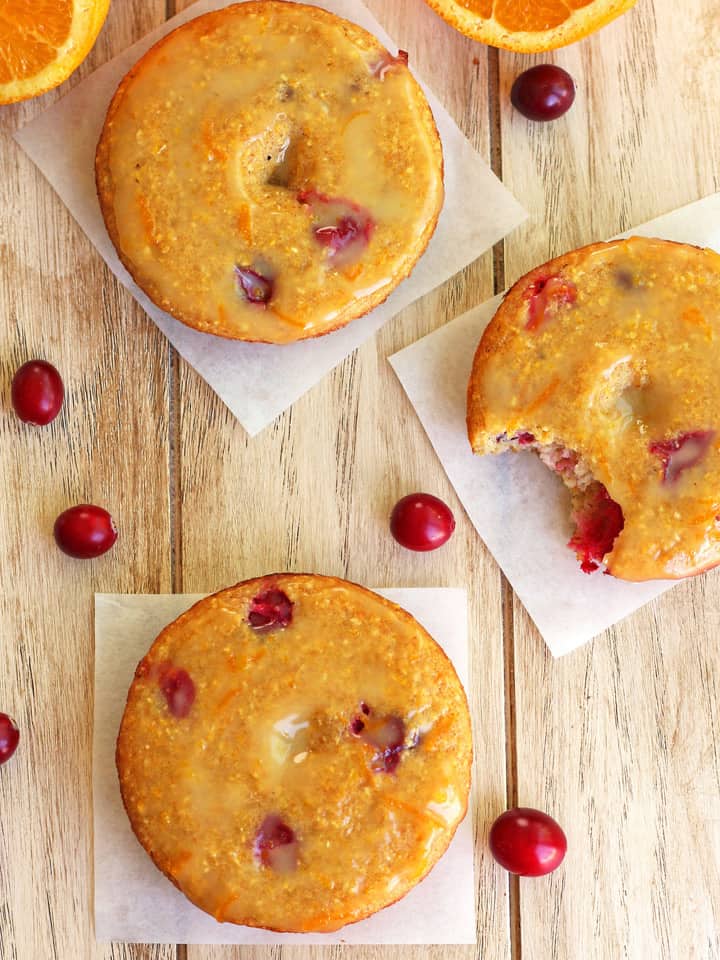 Got your bag of frozen cranberries and feeling ready to usher in fall? Well then let's put on our cardigans, grab a donut pans and bake a welcoming batch of Cranberry Orange Cornbread Donuts!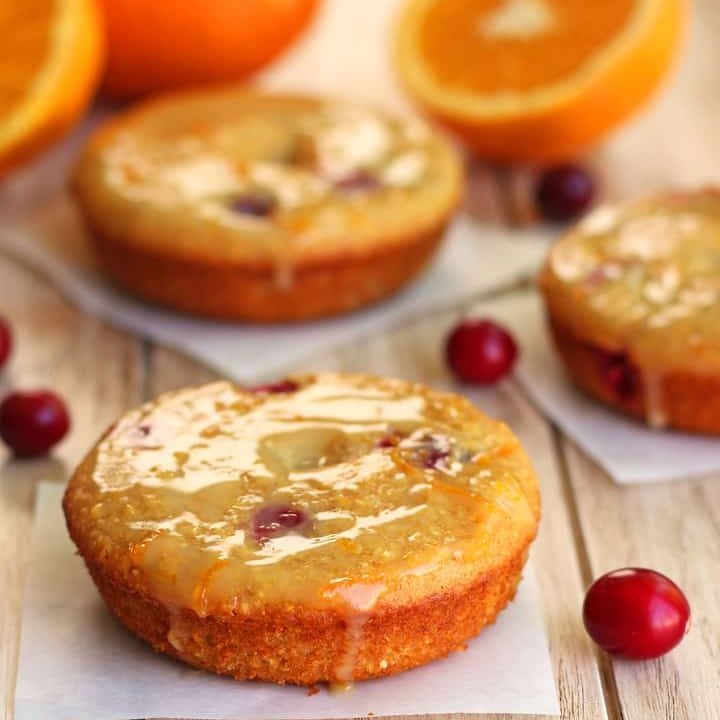 Cranberry Orange Cornbread Donuts
Enjoy all the flavors of fall with these Cranberry Orange Cornbread Donuts. Tart cranberries, toothy cornmeal and a honey sweetened orange glaze.
Ingredients
Cranberry Orange Cornbread Donuts
Cooking Spray or oil for greasing donut pan
1/2 cup stone ground medium grind cornmeal, (We use Bob's Red Mill Brand)
1/2 cup whole wheat flour
1 teaspoon baking powder
1/4 teaspoon baking soda
1/4 teaspoon salt
1 large egg, (at room temp)
2/3 cup low-fat buttermilk, (at room temp)
1 tablespoon butter, (melted and cooled)
2 tablespoons honey
1 teaspoon finely grated orange peel
2 teaspoons fresh squeezed orange juice
1/2 cup fresh or frozen cranberries, (if using frozen do not thaw)
Honey Citrus Glaze:
1 tablespoon + 1 teaspoon coconut butter
1 teaspoon + 1/2 teaspoon honey
1/4 teaspoon finely grated orange peel
2 teaspoons fresh squeezed orange juice
Instructions
Preheat toaster oven or oven to 425 F and grease a six cavity donut pan.
In a medium bowl mix cornmeal, flour, baking powder, baking soda and salt. Make a well in the center of the cornmeal/flour mixture, crack egg into well and mix all together. Stir in buttermilk, melted butter, honey, grated orange peel and orange juice. Quickly stir in fresh or frozen (do not thaw) cranberries.
Spoon mixture into the prepared pan and bake donuts at 425 F for 14 to 16 minutes until the edges are golden brown.
While donuts bake prepare the glaze by combining the coconut butter, honey and grated orange peel. Whisk in the orange juice until desired consistency is achieved.
Allow donuts to cool in pan for at least 15 minutes. Carefully run an offset spatula around donut edges before removing from pan and glazing.
Notes
Nutritional Information is an estimate for 1 Glazed Donut.
Nutrition Information:
Yield:

6
Serving Size:

1 Glazed Donut
Amount Per Serving:
Calories:

166
Total Fat:

6.1g
Saturated Fat:

3.3g
Cholesterol:

44mg
Sodium:

278.3mg
Carbohydrates:

25.3g
Fiber:

2.3g
Sugar:

9.3g
Protein:

4.2g