Blueberry Mango Crisp is a fun toaster oven dessert bursting with sweet-tart summertime flavor. Don't forget the ice cream!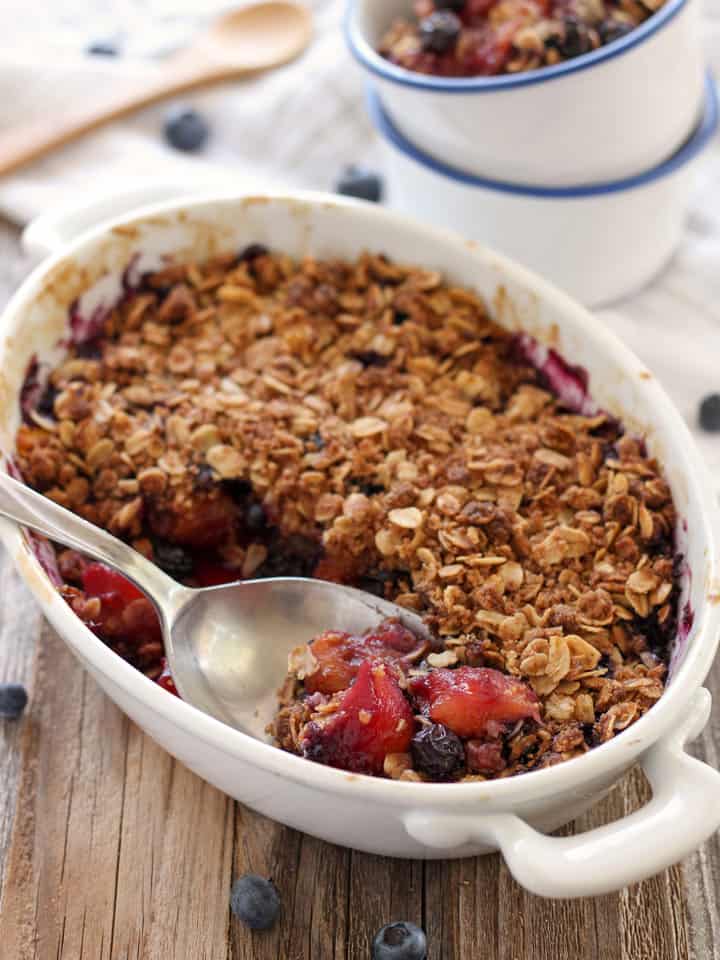 Man do I LOVE me some fresh juicy mangos! Until I was 12 years old I had only experienced dried sugar-sweetened mangos. That all changed when my hometown got its first commercial smoothie shop.
They made the best smoothies filled with frozen yogurt and exotic-to-me fruits like mango and papaya. I would study their printed menu (pre-internet folks) imagining how each of the different flavor combinations tasted. After trying ALL of them I landed on a favorite = Mango + Blueberry + Lime. The tart, tangy, sweet flavor lit up my taste buds and I became a devoted fan of all things mango after that.
Once the great smoothie craze of the 90's died down the little shop turned into a Cupcakery but my love of mangos has never left. Especially after I discovered mangos are a healthy oh-SO-tasty addition to all kinds of meals not just sweets. Like these crazy delicious savory Mango Sriracha Potato Veggie Bowls!
But I'm a sweets girl at heart and since it's my birthday this month I thought a sweet mango treat was in order.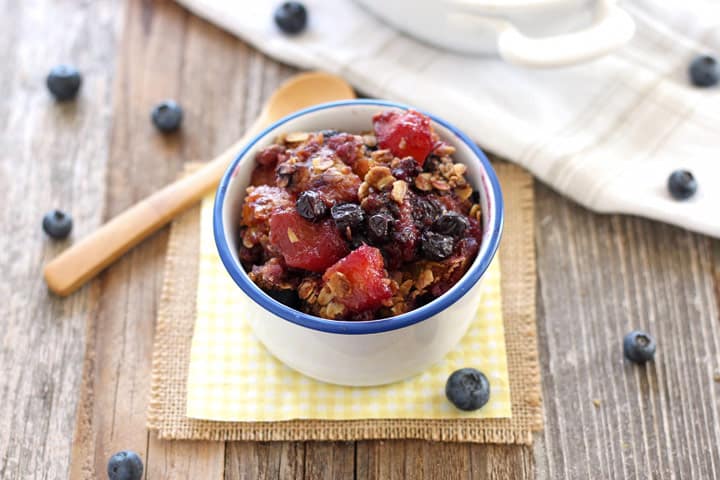 If you follow me on Pinterest then you know I'm a big fan of crisps, crumbles and basically anything with baked fruit and an oat filled topping. They're the perfect ending to a light dinner of Summer Corn and Quinoa Veggie Salad or a Veggie Hummus Flatbread.
So I combined all of my favorite smoothie ingredients into a toaster oven sized Blueberry Mango Crisp. This crisp is full of great summer flavor without being overly sweet. Juicy fresh blueberries, chunks of sweet-tart mangos and a golden buttery whole grain oat topping.
A squeeze of fresh lime juice adds a pop of bright citrus flavor. While a splash of vanilla extract brings out the mango's creamy honey-like quality. And just look at the spectacular color the blueberry juices turn the mango D-E-L-I-S-H!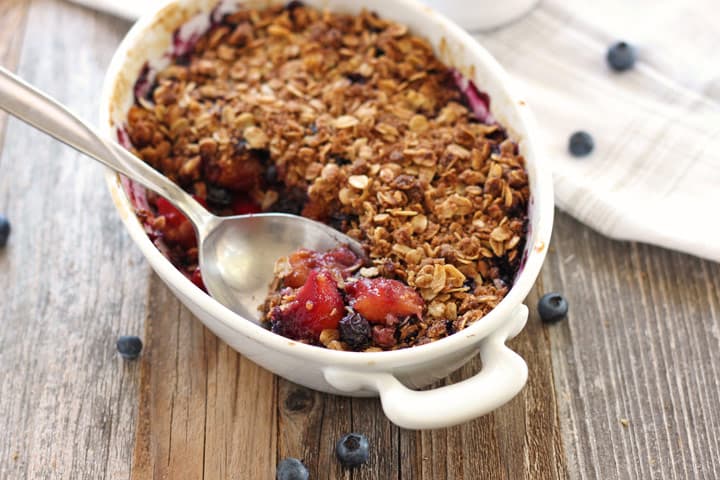 A Few Tips For Your Toaster Oven Crisp:
The crisp is small enough to fit in your toaster oven but does serve four people. You can make it in a 1-quart baking dish or four 6-ounce ramekins.
The filling is tart relying only on the natural sweetness of the fruit. If you prefer a sweeter crisp toss the fruit filling with 1 to 2 tablespoons of brown sugar before topping.
Depending on how close your baking dish is to the upper heating elements in your toaster oven the topping may brown too quickly. If this happens cover the dish and continue cooking until the juices are bubbly.
Just like our berry topped Easy Flatbread Fruit Pizza this blueberry mango crisp is best enjoyed the day you make it but leftovers can be stored in the refrigerator overnight. Or until someone sneaks into the kitchen and gobbles them up…By the way, Tim says it tastes quite good cold straight from the fridge 🙂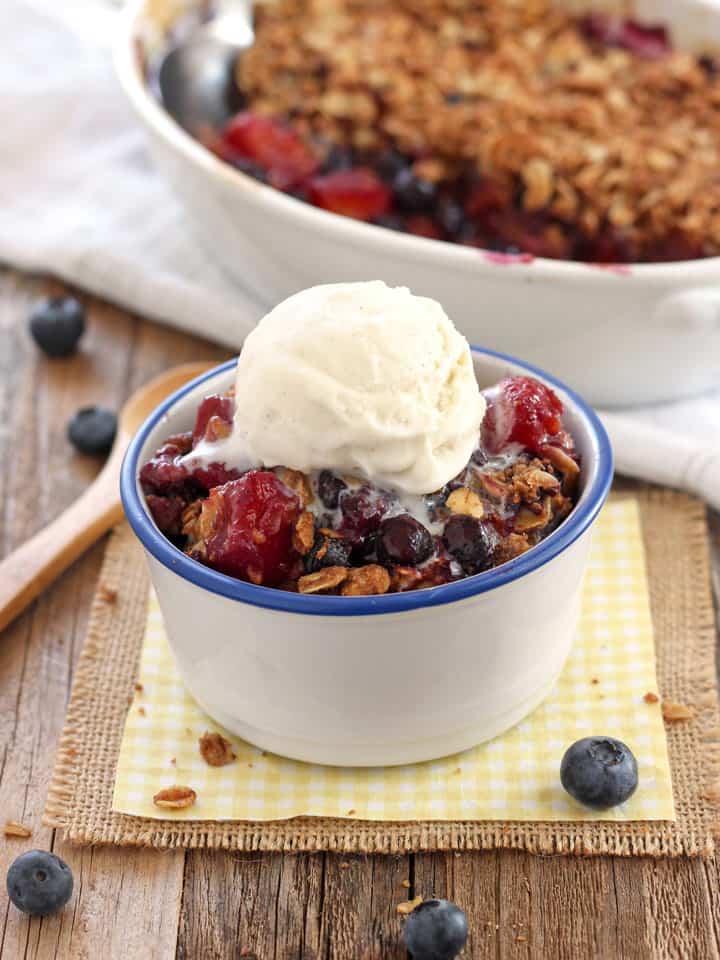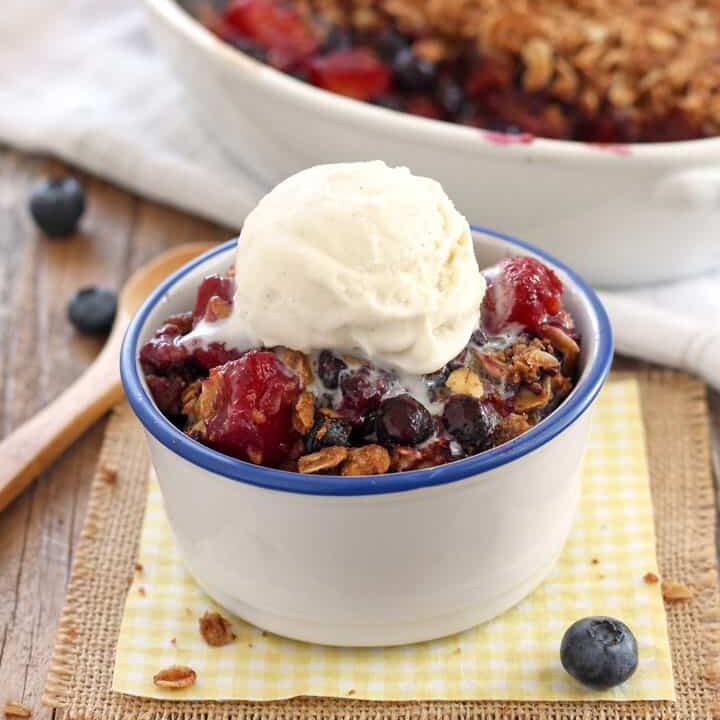 Blueberry Mango Crisp
Mango, blueberries, and fresh lime juice combine for a wonderfully sweet and tangy crisp. Top with vanilla ice cream to make it extra-special.
Ingredients
For the Filling:
2 cups (9 ounces) Chopped Fresh Mango, about 2 large ripe but firm mangos chopped into 1-inch pieces
1 cup (5 ounces) Fresh Blueberries
1/4 teaspoon Pure Vanilla Extract
1 teaspoon Fresh Lime Juice
For the Crisp Topping:
1/4 cup plus 2 tablespoons Old Fashioned Rolled Oats
2 tablespoons plus 2 teaspoons White Whole Wheat Flour (or All-Purpose)
1/2 teaspoon Ground Cinnamon
Pinch Fine Sea Salt
2 tablespoons Light Brown Sugar, Packed
2 tablespoons plus 2 teaspoons Butter, melted and cooled
Instructions
Preheat your oven to 375°F. If using a toaster oven, adjust the cooking rack to the bottom position and select the BAKE setting.
Lightly grease a 1-quart baking dish with oil or butter.
Combine the mango, blueberries, vanilla, and lime juice in the prepared dish. Stir well to coat all of the fruit.
In a small bowl combine the oats, flour, cinnamon, salt, and brown sugar. Drizzle with melted butter and stir well until no dry spots remain.
Sprinkle crisp mixture evenly over the filling.
Place the baking dish on a cookie sheet (to catch any overflowing juices) and bake until the juices are bubbling and the crisp topping is golden brown, about 30 to 35 minutes.
Cool crisp at least 20 minutes to allow the juices to set.
Serve warm or at room temperature with ice cream or yogurt.
Notes
How To Make Half A Recipe
Use the ingredient amounts listed below. Add the filling to a 7x5-inch casserole dish and begin checking for doneness after 20 to 25 minutes, adding more time as needed.
For The Filling:
1 cup (4.5 ounces) Chopped Fresh Mango, about 1 large Mango
1/2 cup (2.5 ounces) Fresh Blueberries
1/8 teaspoon Vanilla Extract
1/2 teaspoon Fresh Lime Juice
For The Topping:
2 tablespoons plus 1 teaspoon Old Fashioned Rolled Oats
4 teaspoons White Whole Wheat Flour
1/4 teaspoon Ground Cinnamon
Pinch Fine Sea Salt
1 tablespoon Light Brown Sugar, Packed
4 teaspoons Butter, melted and cooled
Nutrition Information:
Yield:

4
Serving Size:

1/4 of Recipe
Amount Per Serving:
Calories:

212
Total Fat:

8.6g
Saturated Fat:

5g
Cholesterol:

19.1mg
Sodium:

76.9mg
Carbohydrates:

33.8g
Fiber:

3.9g
Sugar:

21.7g
Protein:

2.9g