Hummus Spaghetti Squash Bowls
Hummus Spaghetti Squash Bowls stuffed with fresh veggies, hummus, salty feta, and more. A simple vegetarian dinner for two that's easy to make and loaded with flavor!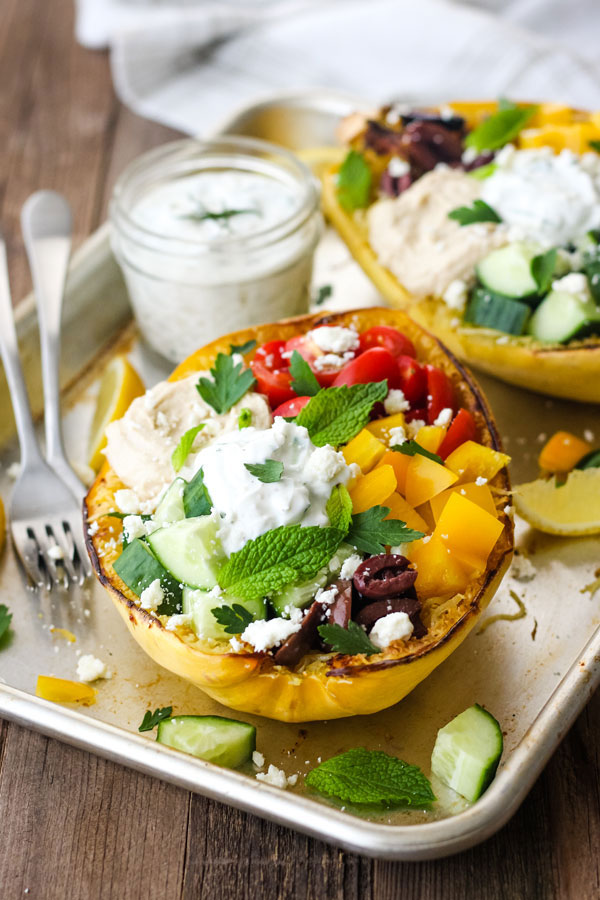 Stuffed spaghetti squash is fun, delicious, and the perfect way to use up leftover random condiments, sauces, and veggies.
Seriously, looking for things to fill a roasted spaghetti squash with is one of the easiest ways to clean out your fridge. That's because spaghetti squash has such a mild buttery flavor it pairs nicely with pretty much anything you've got to use up.
Exhibit A: Spaghetti Squash Burrito Bowls
Exhibit B: Veggie Spaghetti Squash Bowls with Peanut Sauce
Exhibit C: Unbelievably Cheesy Veggie Pizza Spaghetti Squash Boats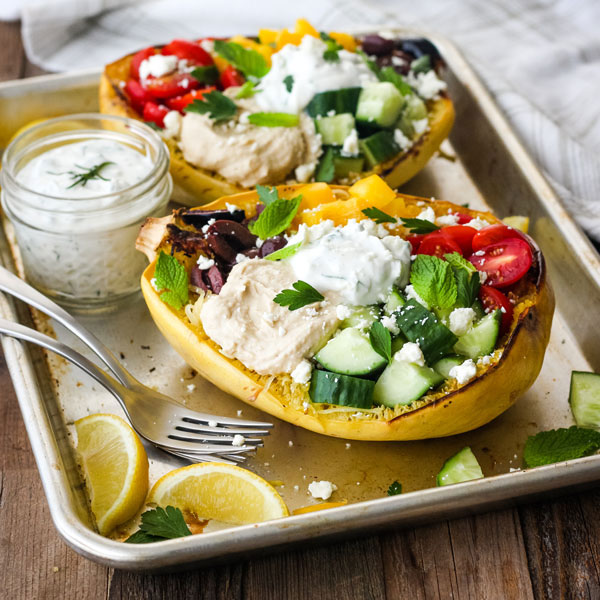 Hummus Spaghetti Squash Bowls
To start you need to roast your spaghetti squash. We like to use a hybrid microwave/countertop oven method but you can cook your squash in a traditional oven, in the instant pot, using your crockpot – basically, any way you please.
If you've never roasted a spaghetti squash before, check out our Ultimate Guide to Toaster Oven Spaghetti Squash for step-by-step photo directions and tips.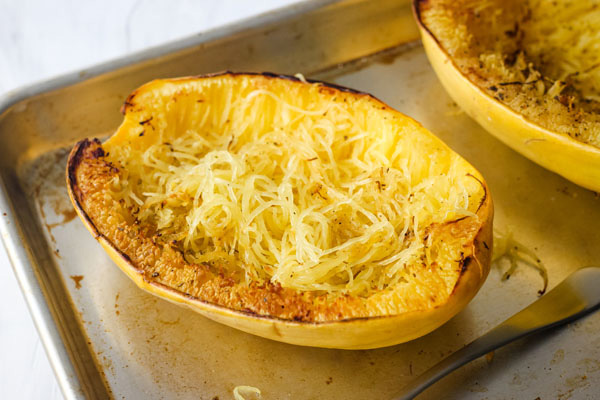 Cooking the squash is the hardest part/takes the most time. After that, all that's left is filling up your bowls!
Today we're stuffing our Hummus Spaghetti Squash Bowls with:
Creamy plain hummus
Fresh veggies (sweet bell pepper, tomatoes, and cucumbers)
Salty feta and kalamata olives
any fresh herbs hanging out in the fridge (like parsley or mint)
and generous dollops of our Tzatziki Sauce For Two
Can I Make These Bowls Vegan?
Absolutely!
Tim made a vegan version where he omitted the feta and tzatziki, swapped the plain hummus for a spinach and artichoke variety and tossed in some canned chickpeas for added protein. It was a BIG hit with his coworkers.
Like most of our vegetarian recipes, the flavor and ingredient options are super flexible so have fun and get creative!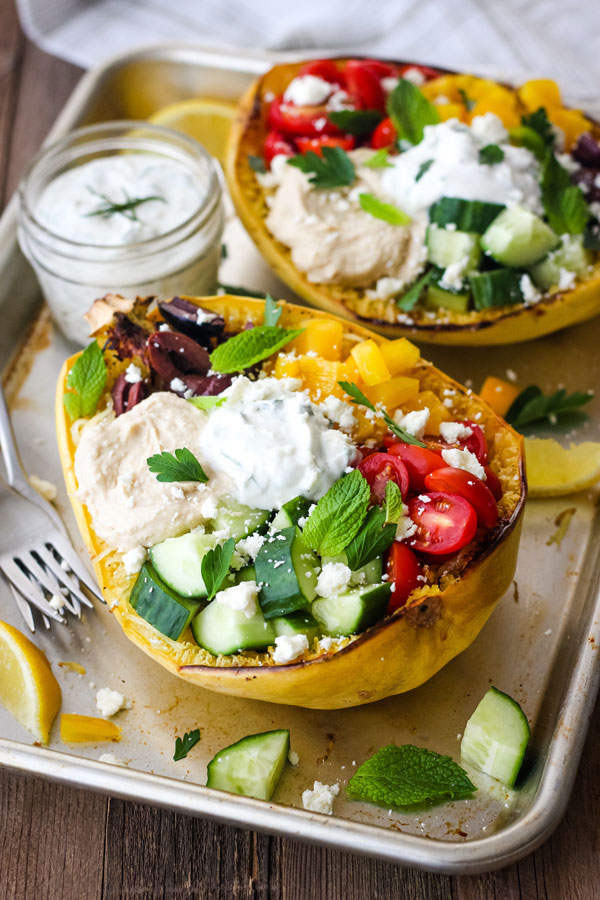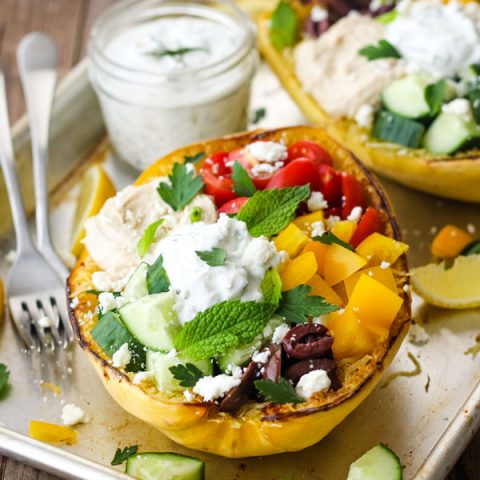 Hummus Spaghetti Squash Bowls
Yield:
2 Stuffed Squash Bowls
Total Time:
1 hour
10 minutes
Seasoned spaghetti squash bowls stuffed with veggies, hummus, and feta.
Ingredients
For The Spaghetti Squash:
Spaghetti Squash (30 oz, 1.9 lb)
1 teaspoon Olive Oil
1/4 teaspoon Dried Oregano
1/8 teaspoon Garlic Powder
Salt and Pepper
For The Bowls:
1/2 cup Grape Tomatoes halved
Half a Yellow Bell Pepper, chopped
1/4 an English Cucumber, diced
8 small Kalamata Olives, chopped
1/2 cup Hummus
2 tablespoons Feta cheese
Fresh Parsley or Mint Leaves
Lemon Wedges
Instructions
ROAST THE SQUASH
1. Adjust the cooking rack in your toaster oven, countertop oven, or oven to the bottom position and preheat to 425°F. Lightly oil a baking sheet or line with a silicone baking mat.
2. Use a knife to carefully poke the squash in a few places on each side. Microwave 4 to 5 minutes.
3. Let the squash cool for a few minutes, then slice in half lengthwise and scoop out the seeds.
4. Rub each half with oil and season with oregano, garlic powder, salt, and black pepper.
5. Place squash (with the insides facing down) on your prepared pan and cook until a fork slides easily through the skin and flesh, about 30 to 45 minutes. (The amount of time will depend on the size of your squash)
6. Remove the cooked squash from the oven and cool for at least 5 minutes.
7. Scrape a fork along the flesh to create strands (make sure to leave a little squash behind to keep the 'bowl' intact for stuffing).
ASSEMBLY
1. Divide toppings evenly over spaghetti squash bowls and dig in!
Notes
Nutritional Information is estimated without the Tzatziki Sauce. Half of our Tzatziki Sauce For Two will add 53 calories, 1.2 grams fat, 4.6 grams carbohydrates, 6.3 grams protein.
Nutrition Information:
Yield:

2
Serving Size:

1
Amount Per Serving:
Calories:

391
Total Fat:

19.8g
Saturated Fat:

4.2g
Cholesterol:

13mg
Sodium:

676mg
Carbohydrates:

47.9g
Fiber:

5.7g
Sugar:

5.5g
Protein:

9.9g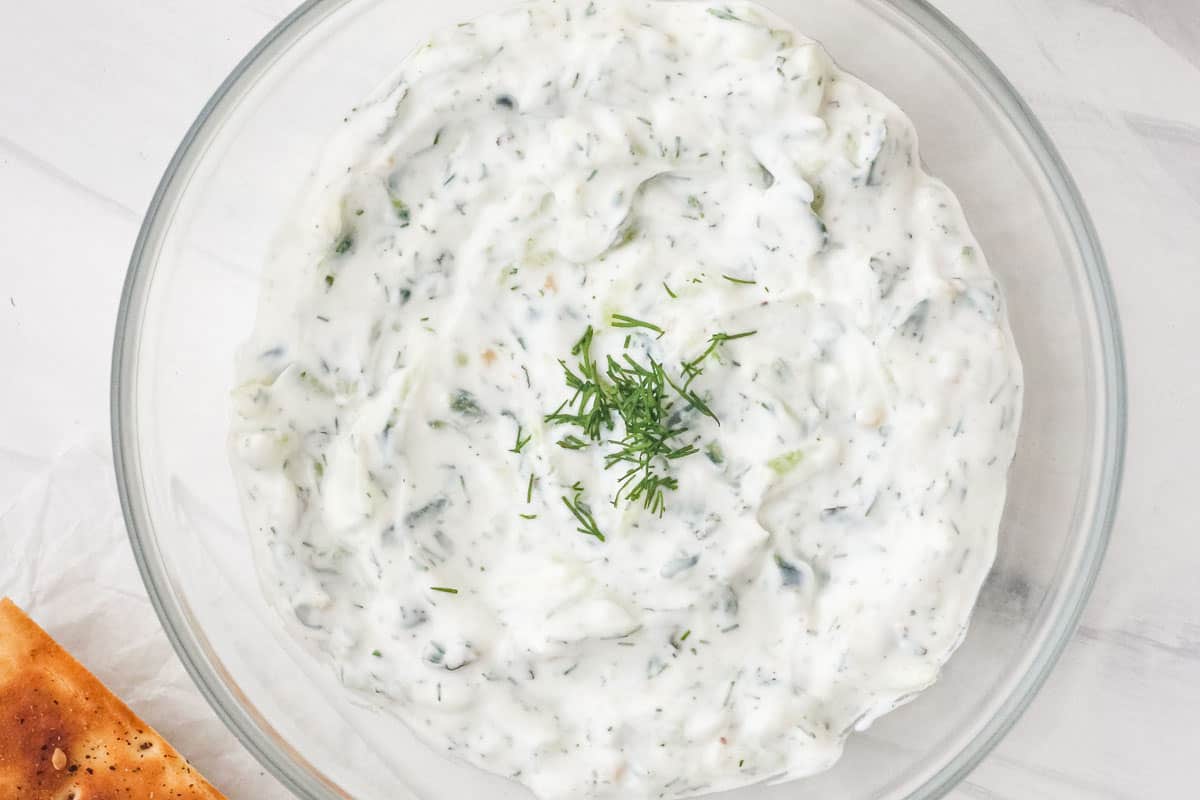 Tzatziki Sauce For Two
Total Time:
1 hour
15 minutes
An easy small-batch version of your favorite creamy cucumber yogurt sauce.
Ingredients
1/4 English Cucumber (about 2.5 to 3 ounces)
1/2 cup Greek Yogurt (we use 2%)
1 teaspoon Lemon Juice
2 teaspoons Fresh Dill Weed, finely chopped (substitute 1/2 teaspoon dried dill)
1 teaspoon Fresh Mint Leaves, finely chopped (substitute 1/4 teaspoon dried mint)
1/4 teaspoon Minced Garlic (about half a clove)
Fine sea salt
Ground black pepper
Instructions
Grate the cucumber using a box grater. Gather shredded cucumber in a clean kitchen towel and twist to squeeze out excess water.
In a medium bowl, combine the yogurt, lemon juice, dill, mint. Add the cucumber and stir well. Taste and add salt and pepper as desired. (We usually add a few pinches of each)
Cover bowl and refrigerate for at least one hour to allow the flavors to combine before devouring.
Notes
Store leftover dip refrigerated in a sealed container for up to 3 days.
Nutrition Information:
Yield:

2
Serving Size:

Half of Recipe
Amount Per Serving:
Calories:

53
Total Fat:

1.2g
Saturated Fat:

0.9g
Cholesterol:

6mg
Sodium:

53mg
Carbohydrates:

4.6g
Fiber:

0.4g
Sugar:

3g
Protein:

6.3g