Corn and Tomato Chickpea Pasta Recipe
Perfect for an easy lunch or dinner, this Corn and Tomato Chickpea Pasta Recipe is just what your summer needs. The simple high-protein vegetarian meal is super satisfying and comes together in one pot!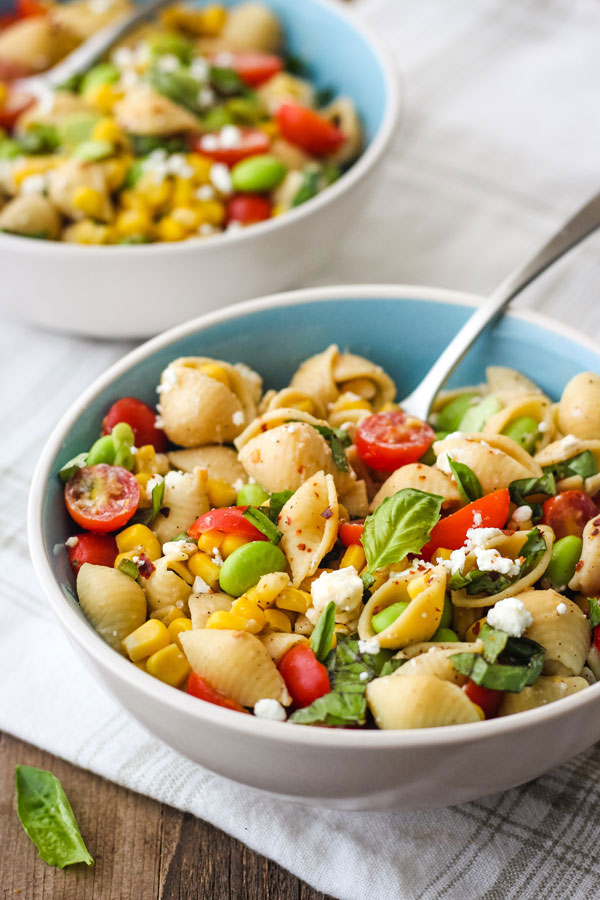 This summer we've really been embracing pasta for dinner. Dishes like our Lemon Veggie Pasta are easy to throw together and I love how they taste great served warm, at room temperature, and even cold.
Right now, we've got this bright and summery Corn and Tomato Chickpea Pasta Recipe on repeat. It's perfect for those evenings when you're tired after a long day (working or hanging at the pool) and are craving a meal that's full of flavor + lots of filling protein and fiber.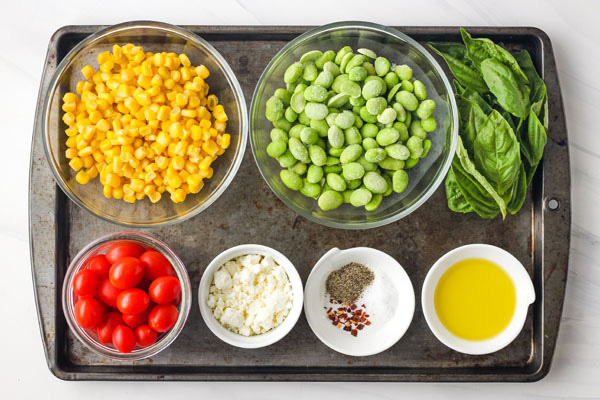 Here's a quick preview of the recipe's delicious good-for-you-ingredients:
Sweet edamame and corn
Juicy grape tomatoes
Fresh basil
Salty feta cheese
Hearty chickpea pasta
What's Chickpea Pasta?
It's pasta made from chickpeas or garbanzo beans instead of the traditional durum wheat flour. We like a brand called Banza (not a sponsor) that's made from 90% chickpeas + tapioca, pea protein, and xanthan gum.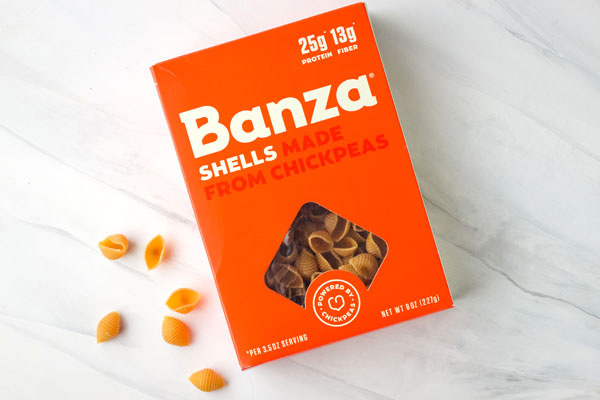 Does It Taste Good?
Surprisingly, yes!
What I really like about the Banza pasta is its fantastic firm-but-chewy texture and tasty chickpea flavor. Tim and I have made this pasta a bunch this summer and it's been a winner with everyone, including our 5-year-old nephew!
Quick Note: While it tastes great (if you like the flavor of garbanzo beans), cooking chickpea pasta is a little different than cooking traditional/whole wheat pasta. No worries though, we've included tips to help you out in the step-by-step photos after the recipe.
Enjoy!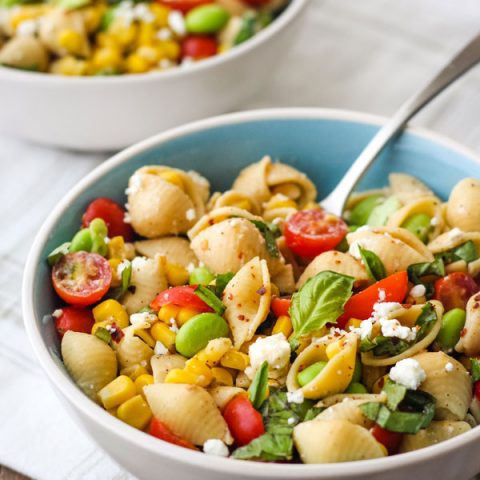 Corn and Tomato Chickpea Pasta Recipe
A filling vegetarian dinner made with chickpea pasta.
Ingredients
4 ounces Dry Chickpea Pasta (we used shells)
1 cup Frozen Shelled Edamame
1 cup Canned Whole Kernel Corn, drained (see notes if using fresh or frozen corn)
1 cup Grape Tomatoes
2 teaspoons Extra-Virgin Olive Oil
1/4 teaspoon Fine Sea Salt
1/4 teaspoon Black Pepper
1/4 cup Crumbled Feta Cheese
1 cup loosely packed Fresh Basil Leaves
2 pinches Red Pepper Flakes (optional)
Instructions
Bring a large pot of water to boil and add pasta. Cook according to the package directions adding edamame in the last 4 minutes of cooking.
While the pasta cooks, slice the tomatoes in half. Stack the basil leaves on top of each other, roll up lengthwise, and thinly slice.
Once cooked, drain the pasta and edamame, rinse and return to pot. Place pot on a heat-safe cutting board or a cool burner on the stovetop. Add corn, tomatoes, olive oil, salt, and pepper; toss to combine. Sprinkle with feta and basil and toss again.
Divide between two bowls, top with red pepper flakes (if using), and dig in!
Notes
Corn Options
Frozen Kernels: combine with edamame and add to pot in the last 4 minutes of cooking.
Fresh Kernels: add to boiling water in the last 2 to 3 minutes of cooking.
Whole Fresh Corn Cob: drop in boiling water in the last 8 minutes of cooking. Once cob is cool enough to handle, slice kernels off and add to the dish.
Nutrition Information:
Yield:

2
Serving Size:

1
Amount Per Serving:
Calories:

416
Total Fat:

15.4g
Saturated Fat:

3.7g
Cholesterol:

17mgmg
Sodium:

522mg
Carbohydrates:

54.9g
Fiber:

13.5g
Sugar:

11.7g
Protein:

24.9g
How To Cook Chickpea Pasta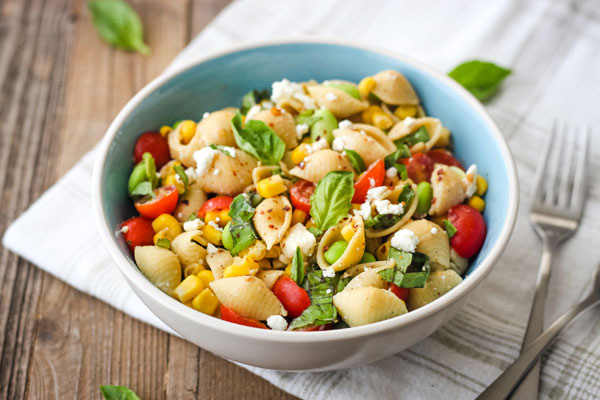 Start by bringing a large pot of water to a boil. Once it's boiling add a few pinches of kosher salt and then the pasta.
Tip #1: You'll See Foam During Cooking
The foam is totally normal but can be a little unsettling, especially if you've never had the experience of cooking dried chickpeas before. If you want to reduce the foam add a little olive oil to the water during cooking.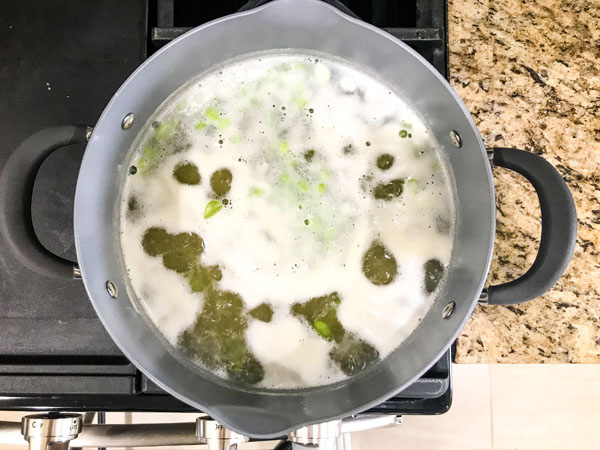 Cook the chickpea pasta according to the package directions, carefully adding the frozen edamame to the pot in the last 4 minutes of the cooking time.
Tip #2 – Check For Doneness Early
Our box of Banza chickpea shells said to cook for 9 to 11 minutes. At exactly 9 minutes, our pasta was perfectly cooked.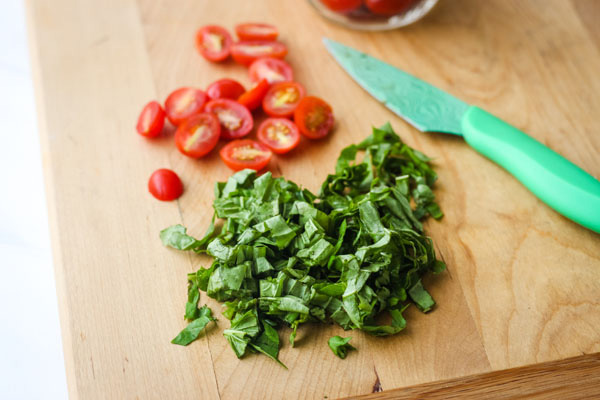 While the pasta is cooking, slice the tomatoes in half. This helps to spread their juicy sweetness throughout the dish.
Next, stack the fresh basil leaves into a pile. Roll the pile up lengthwise and finely slice the basil into ribbons.
Once the pasta is cooked to your preference, drain the pot.
Tip #3 – Rinse Your Pasta
The pasta develops a starchy coating during cooking. To remove it, you'll need to give the pasta a good rinse.
After you've drained and rinsed the pasta and edamame return them to the pot. To keep from over-cooking the pasta, place the pot on a cool burner on your stovetop or on a wooden cutting board.
Dump the corn, tomatoes, olive oil, salt, and pepper into the pot and use a pair of tongs to toss everything together. Shake the crumbled feta over the pasta and add the basil. Toss once more.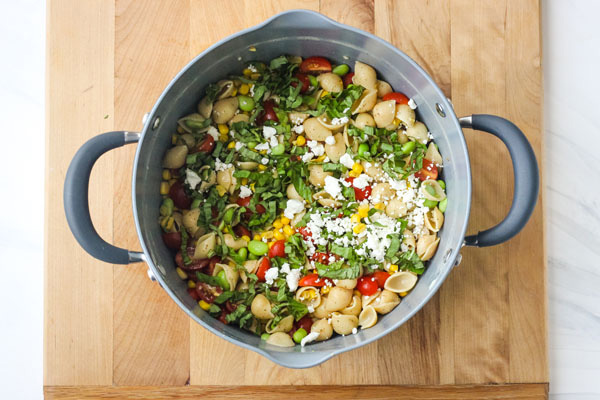 3 Quick Pasta Upgrades To Try
For a fun spicy kick, sprinkle with red pepper flakes.
Add a little crunch with a handful of toasted chopped walnuts.
If you have a bottle of Balsamic Glaze on hand from making Toasted Caprese Sandwiches, drizzle some on.
Lastly, divide the pasta between two bowls or plates, grab a fork, and dive in!