Small Batch Peanut Butter and Jelly Bars
These Small Batch Peanut Butter and Jelly Bars are tasty little nuggets of lunchtime nostalgia perfect for kids and adults. They received a thumbs up from my 2-year-old nephew, sister, brother-in-law and a group of treat testers at Tim's office. The recipe's quick to throw together and you can customize the jelly flavor too (raspberry preserves are always a winner!).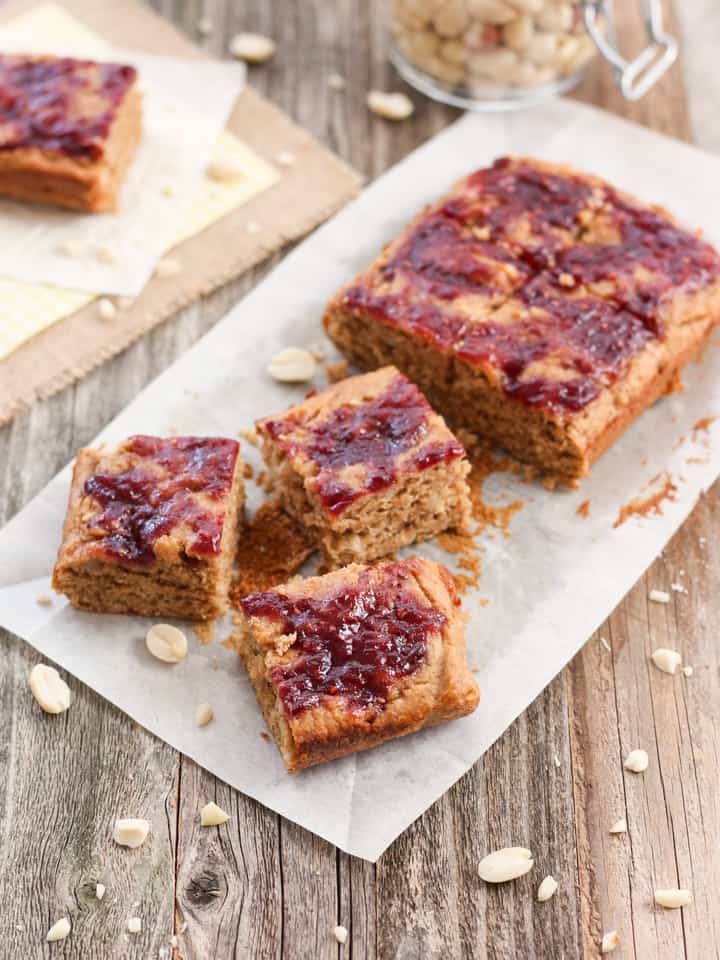 If you're a peanut butter and jelly fan whose cooking for one or two then you'll want to bookmark this small batch recipe. It's like a cross between a banana bread and a peanut butter blondie topped with a healthy dose of berry preserves!
And not only is it silly easy to make but it's dairy-free, egg-free and vegan-friendly.
How To Make These Peanut Butter and Jelly Bars
Start by mashing the heck out of a small banana. Then stir in super creamy natural peanut butter, sweet maple syrup, coconut oil and a splash of vanilla.
Grab a large bowl and whisk together whole wheat pastry flour, baking powder and a pinch of salt.
Now let both mixtures meet along with a few tablespoons of chopped peanuts for a little crunchy texture and extra peanut flavor.
Spoon the batter into a greased loaf pan and spread into an even layer.
Drop small 1/2 teaspoon amounts of preserves on top of the batter and lightly swirl them around with a toothpick or skewer (don't dig into the batter).
Once you've got everything all swirled up, bake the bars for about 20 minutes.
Let the bars cool before slicing, then It's Peanut Butter Jelly Time!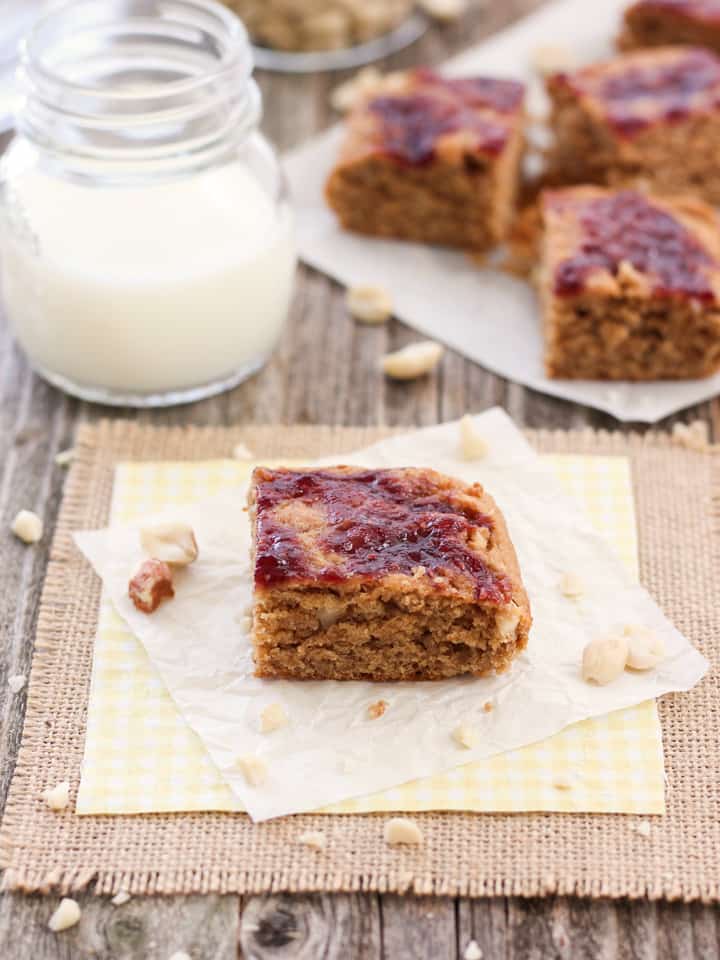 2 Quick Tips
The finished batter is crazy thick so use your muscles and a rubber spatula to spread it around the greased loaf pan. I picked up this cool idea for making small batch bars in a loaf pan from the America's Test Kitchen Complete Cooking for Two cookbook. They use a loaf pan to make lasagna along with thick small batch brownies and blondies.
My favorite part of these bars is the preserves. Preserves, jam, jelly, dollops of delicious berry sweetness…whatever you call them just don't skimp on the preserves. If you're more of a strawberry or apricot fan go ahead and pair these cakey peanut butter bars with any flavor of preserves you want.
Enjoy these small batch peanut butter and jelly bars as a snack or easily elevate them to dessert status.
To keep things reasonable I use my cookie scoop to scoop a little vanilla ice cream, spoon on a bit more preserves (because YUM!) and finish with a tiny sprinkle of chopped peanuts for a super satisfying dessert for one.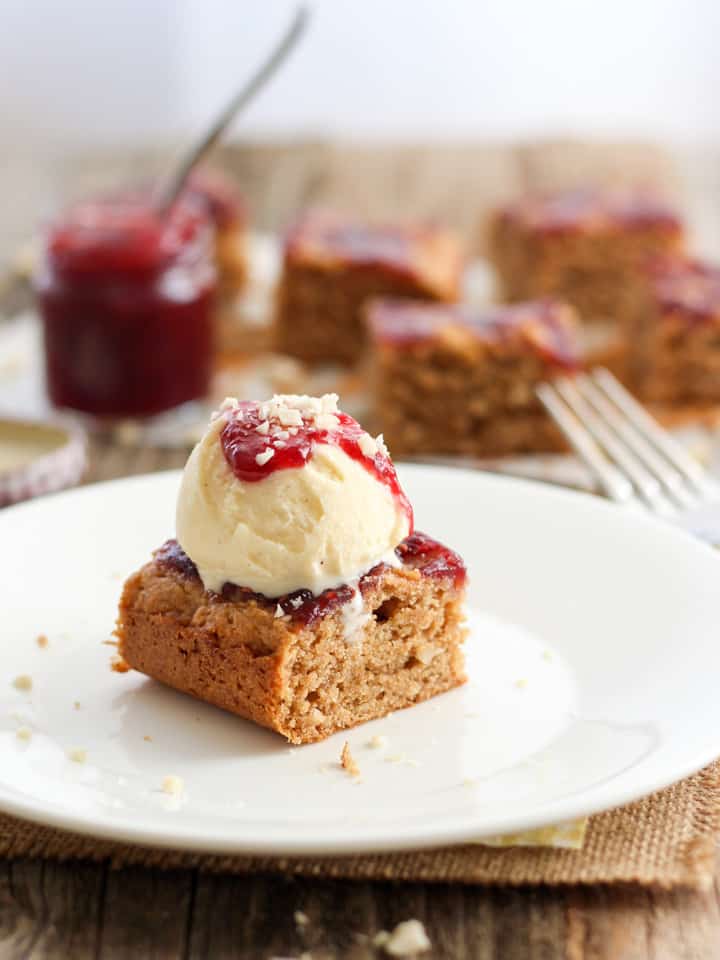 If you know a fan of all things peanut butter and jelly we'd love it if you'd share this recipe with them too!
This recipe is adapted from the Salted Caramel Peanut Butter Bars recipe in the "But I Could Never Go Vegan!" cookbook by Kristy Turner from the vegan site Keepin' It Kind.
You have to check out this book, I dare you to not be hypnotized by the veggie burger on the cover! Tim and I still eat a diet that includes dairy and eggs but that hasn't stopped us from enjoying many of the recipes including BBQ Cauliflower and Sunflower Sausage (sounds crazy I know but tastes soooo good).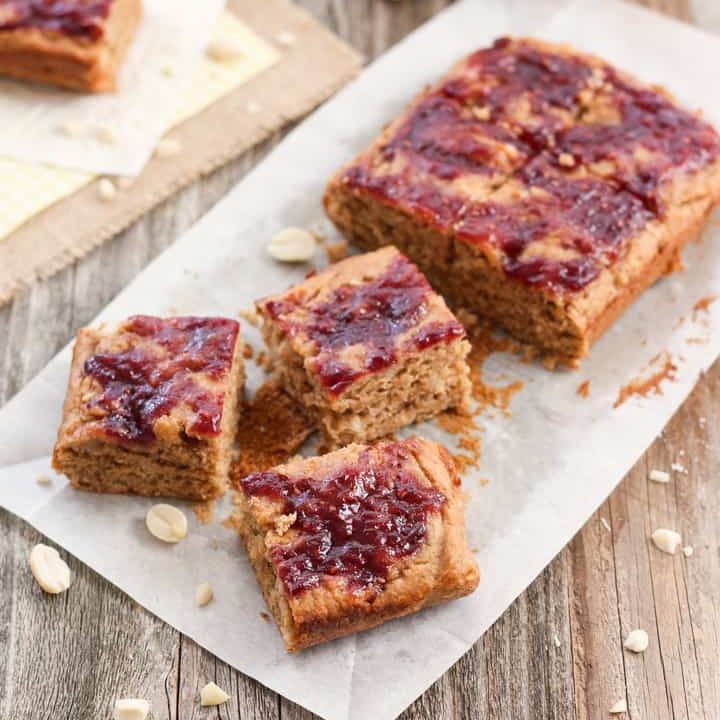 Small Batch Peanut Butter and Jelly Bars
The classic flavors of a peanut butter and jelly sandwich baked into a moist and cakey snack bar treat.
Ingredients
1/2 cup whole wheat pastry flour
1/2 tsp baking powder
1/4 tsp salt
1/3 cup mashed banana, about 1 small to medium banana
1/4 cup natural smooth peanut butter
3 tablespoons real maple syrup
2 teaspoons melted coconut oil
1/2 teaspoon pure vanilla extract
2 tablespoon chopped raw shelled peanuts
2 tablespoons raspberry preserves
Instructions
Preheat your toaster oven or oven to 350 F and grease a 8 1/2 x 4 1/2 inch loaf pan.
In a small bowl mix together the peanut butter, maple syrup, coconut oil and vanilla. Stir until completely combined.
In a large bowl stir together the flour, baking powder and salt.
Make a well in the center of the flour, pour in the banana mixture and sprinkle with chopped nuts. Stir just until combined and no flour streaks remain. The batter will be very thick.
Scrape batter into the prepared loaf pan and use a rubber spatula to spread into an even layer.
Dot batter with 1/2 teaspoon drops of the raspberry preserves. Use a skewer or toothpick to lightly swirl the preserves just on the top of the batter (do not drag through the batter).
Bake at 350 F for 20 to 22 minutes, rotating the pan halfway through the bake time. The bars will be finished cooking when the edges are golden and a toothpick inserted in the center is clean.
Allow bars to cool in the pan for 10 minutes before running a knife along all of the edges and using a spatula to transfer them to a rack to cool completely (about 30 minutes). Slice into 8 servings about 2 x 2 inches each.
Bars will keep stored at room temperature in a single layer in an airtight container for up to 3 days.
Notes
*We use a natural creamy peanut butter (Kirkland Natural Peanut Butter) that requires stirring. If you use a no-stir peanut butter you may need to add an additional teaspoon or two of oil.
Top with a small scoop of your favorite ice cream to turn these bars into a fun dessert.
Recipe inspired by and adapted from the Salted Caramel Peanut Butter Bars recipe in the But I Could Never Go Vegan! cookbook.
Nutritional information is an estimate for 1 of 8 bars.
Nutrition Information:
Yield:

8
Serving Size:

1 Bar
Amount Per Serving:
Calories:

136
Total Fat:

6.6g
Saturated Fat:

2g
Sodium:

100mg
Carbohydrates:

17.7g
Fiber:

1.8g
Sugar:

8.8g
Protein:

3.2g