Roasted Sweet Potato Rounds
Roasted sweet potato rounds are perfect for any time you need a quick and nutritious snack, side dish, or appetizer. Crispy outside, tender and creamy inside, the baked sweet potato slices are always a hit with kids and adults. Better make two batches, you won't want to share!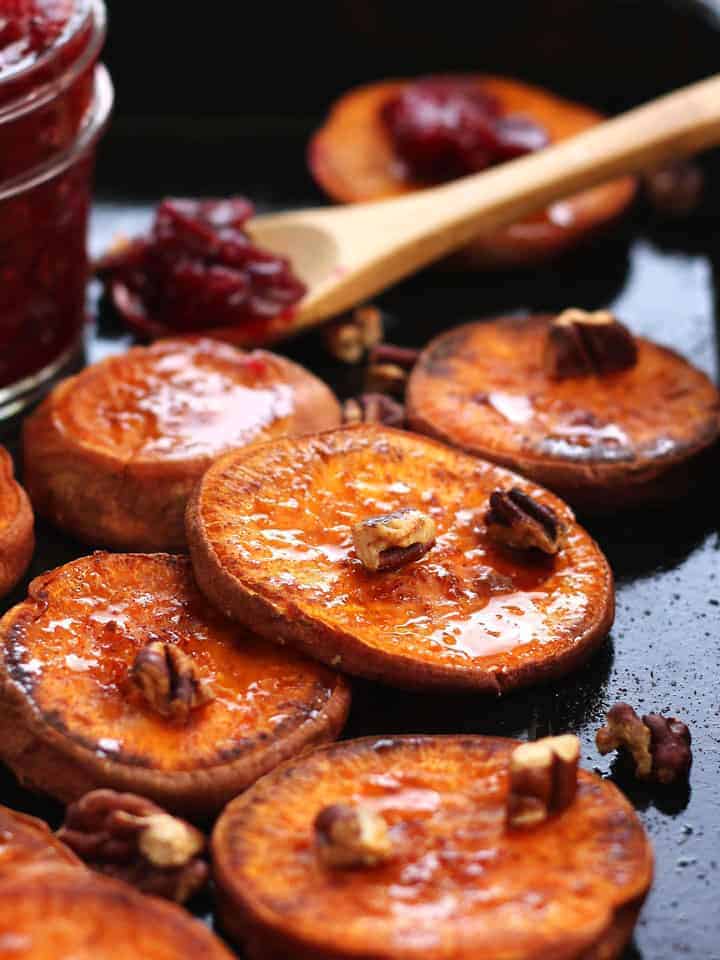 Life-Changing, Unbelievably Easy, Ridiculously Delicious, Perfect for Any Occasion Roasted Sweet Potato Rounds. That was the original title of this easy sweet potato recipe. But it's kind of a mouthful.
Around here we love baked sweet potatoes. And, I know you heart them too. The problem is that baking a whole sweet potato takes forever.
Okay, so maybe it's more like an hour. But you know what I'm talking about. When you're waiting for something you crave, it feels like an eternity before you'll get to dive into that creamy baked sweet potato.
That's why you're going to love these tasty baked sweet potato slices. They're crispy on the outside – tender on the inside and take just 30 minutes to make!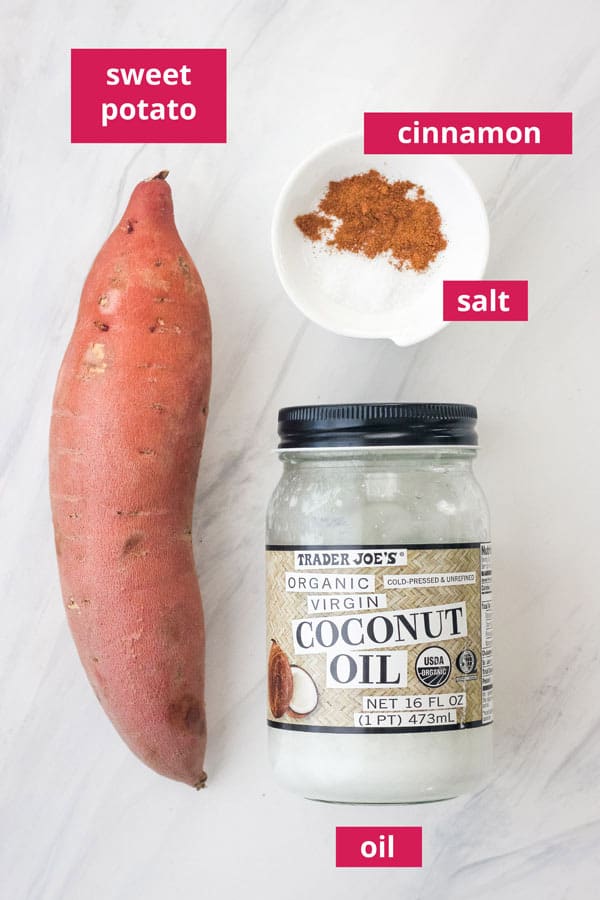 Recipe Ingredients
The baked slices reheat well in an oven or toaster oven so feel free to double or triple the recipe for meal prepping or a make-ahead holiday appetizer.
Sweet Potatoes: Look for long, thin, and more evenly shaped sweet potatoes. They'll be the easiest to slice.
Oil: You can use any kind of oil you want. Coconut oil adds a light sweetness that tastes great with cinnamon. Olive oil brings a more savory flavor that pairs well with hummus or cheese.
Salt: Sea salt or table salt both taste delish – just adjust the amount to suit your preference.
Cinnamon: It gives the roasted rounds a fun sweet potato pie-vibe. But if you're planning to use a savory topping (like pizza sauce or chili), make sure to omit it.
Step By Step Instructions
1. Preheat your oven or toaster oven to 425°F. Then lightly oil a sheet pan or line with a silicone baking mat.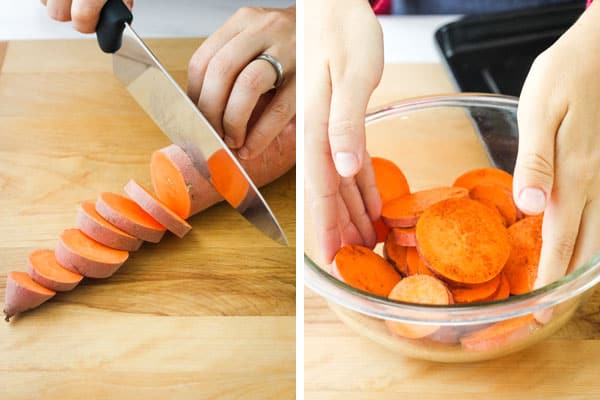 2. Slice the sweet potato into ¼ to ½-inch thick rounds. Try to keep the slices the same thickness, if they are too thin those slices will overcook and burn on the edges.
3. Add the sweet potato rounds to a bowl and drizzle with the oil. Sprinkle over the salt and cinnamon and toss well to combine making sure all of the pieces are coated with the oil.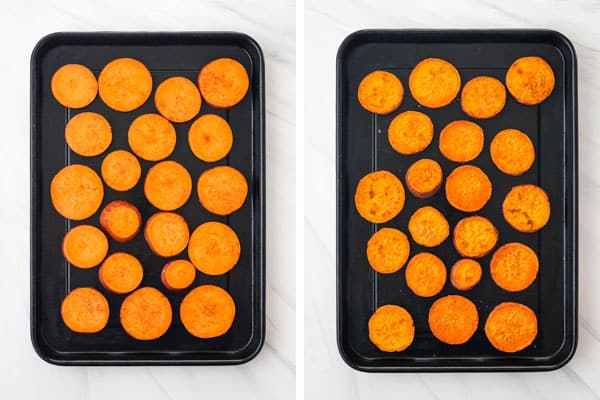 4. Arrange the sweet potato slices in a single layer on the pan. You don't want them piled on top of each other. But it's okay if they are touching since the rounds will shrink up a little as they cook.
5. Bake for 10 minutes, then carefully flip the slices and continue cooking until they are caramelized and fork-tender, about 8 to 10 minutes more. Cool on the pan for a few minutes before devouring!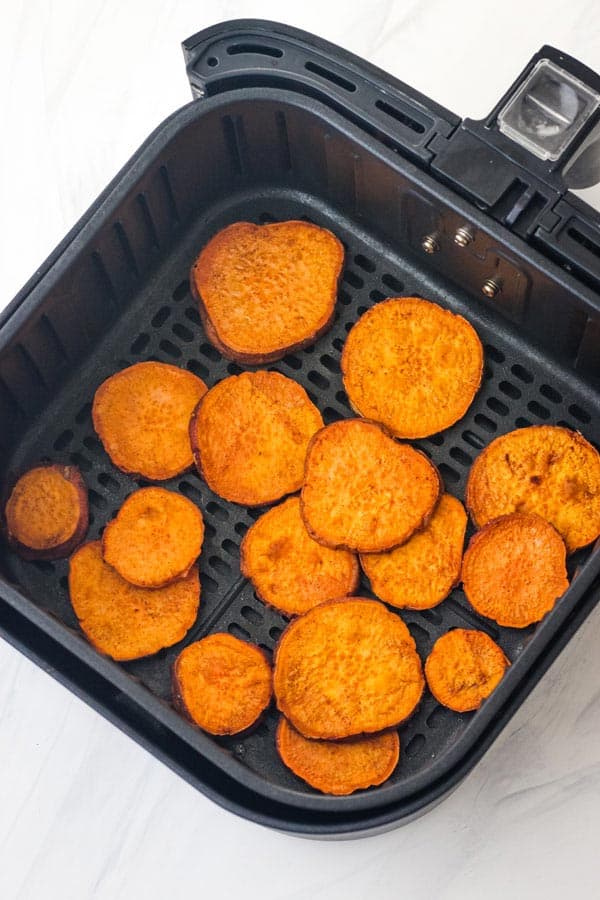 Tips and Variations
Air Fryer: Preheat the air fryer to 370°F or 375°F. Add the oiled and seasoned sweet potato slices to the basket and cook until fork-tender, about 12 to 16 minutes. For even browning, make sure to flip or toss them halfway through the cooking time.
Make Ahead: The cooked slices can be stored refrigerated in a covered container for 3 to 4 days. To reheat, place on a sheet pan and heat in a 350°F toaster oven (or 325°F with convection) until warmed through, about 10 minutes.
Break Out The Dip: The slices taste delicious dipped in guacamole or hummus and make a great chip substitute for nachos too. For even more topping ideas, keep scrolling after the recipe card.
I gave this batch a "Thanksgiving Leftovers" treatment with a drizzle of real maple syrup, some of our balsamic roasted cranberries, and a few toasted pecan pieces. They were so yummy, I'm not even ashamed to admit polishing off the whole pan. All. By. Myself!
But I'm pretty sure you could top them with anything in your fridge or pantry and they'll be equally irresistible.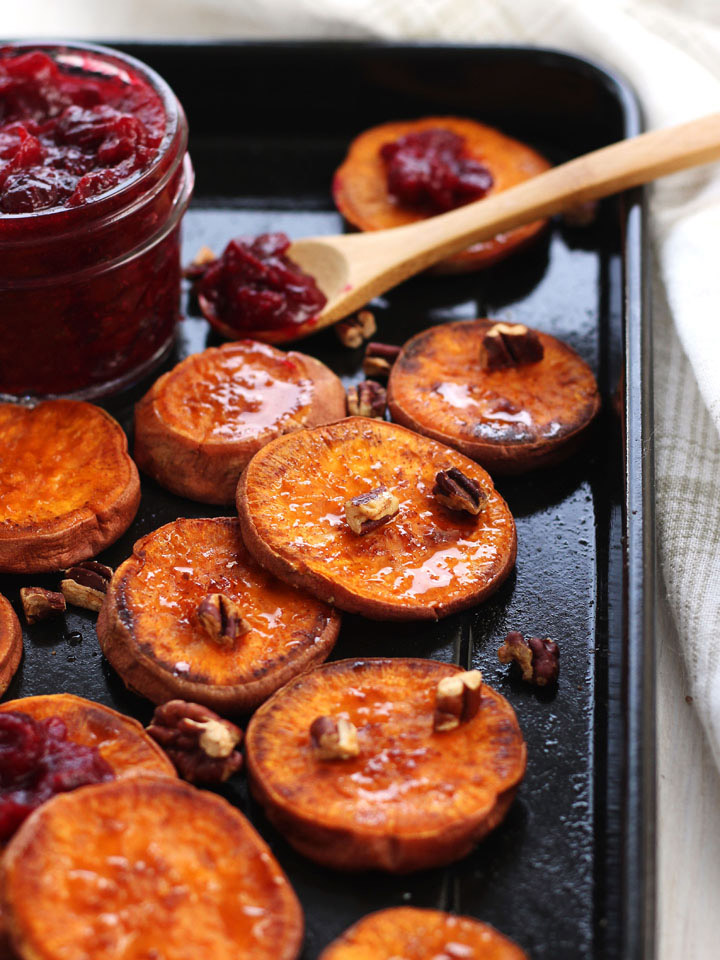 More Tasty Sweet Potato Recipes
Roasted Sweet Potato Rounds
These irresistible sweet potato rounds are crispy on the outside, creamy on the inside, and so easy to make in the air fryer or oven!
Ingredients
1 Large Sweet Potato, about 12 ounces, washed and dried
2 teaspoons Oil (we used melted coconut oil)
¼ teaspoon Ground Cinnamon (optional)
⅛ teaspoon Fine Sea Salt
Instructions
Preheat your oven to 425°F. If using a toaster oven, select the BAKE setting and adjust the cooking rack to the lowest placement. Lightly oil a roasting pan or baking sheet.
Slice the sweet potato into 1/2-inch rounds.
In a medium bowl combine the slices, oil, cinnamon, and salt. Toss well to coat.
Arrange rounds in a single layer on your prepared pan.
Bake sweet potato slices for 10 minutes. Carefully remove the hot pan and flip the rounds with a fork or spatula.
Return to the oven and cook until the sweet potatoes are golden and caramelized about 8 to 10 minutes more.
Serve rounds plain or with your favorite toppings.
Notes
Convection Toaster Oven: Reduce the temperature to 400°F and begin checking sweet potatoes for doneness after 15 minutes, adding more time as needed.
Air Fryer Directions: Preheat to 370°F or 375°F. Add slices to the basket and cook for 6 minutes. Carefully flip or toss the slices and continue cooking until fork-tender, about 5 to 8 minutes more.
Oil: Coconut oil tastes great with cinnamon but you can use any oil you want. Olive oil and avocado work well too.
Seasonings and Toppings: Have fun and experiment. Try olive oil with chipotle powder or garlic salt for a more savory snack. Keep scrolling after the recipe card for lots of ideas.
For the best rounds look for thinner sweet potatoes that are an even width.
Loosely adapted from this recipe
Nutritional information is an estimate for 1 of 2 servings without any toppings.
Nutrition Information:
Yield:

2
Serving Size:

6 ounces
Amount Per Serving:
Calories:

240
Total Fat:

4.8g
Saturated Fat:

4g
Cholesterol:

0mg
Sodium:

52mg
Carbohydrates:

47.5g
Fiber:

7g
Sugar:

0.8g
Protein:

2.6g
More Toppings For Your Roasted Sweet Potato Rounds
*For all of the variations below, omit the cinnamon used in the original recipe.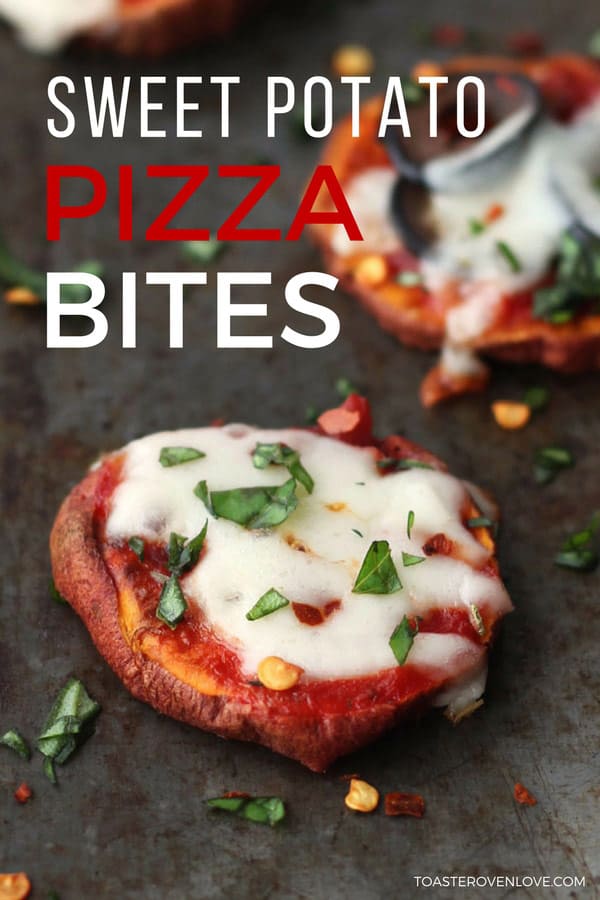 Pizza Bites: Use olive oil in place of the coconut oil in the roasted sweet potato rounds recipe. Spread cooked rounds with pizza sauce, shredded mozzarella cheese, and sliced olives. Broil for 1-2 minutes until the cheese is melted and bubbly. Sprinkle with fresh basil and red pepper flakes.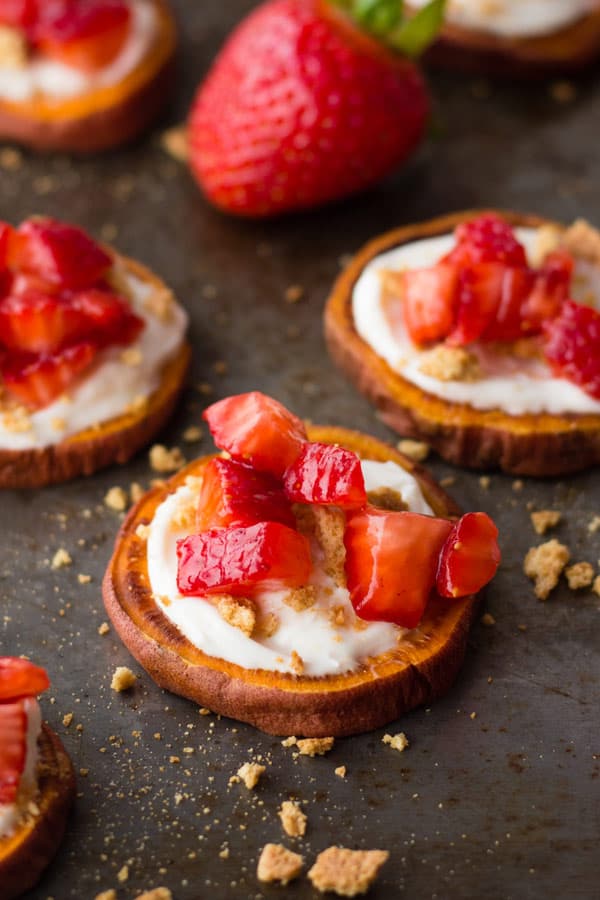 Strawberry Cheesecake: Spread slices with a mixture of 2 ounces softened light cream cheese, 1 tablespoon Greek yogurt, 2 teaspoons honey and 1/8 teaspoon vanilla. Top with 1/4 cup chopped strawberries and half a sheet of graham cracker, crushed.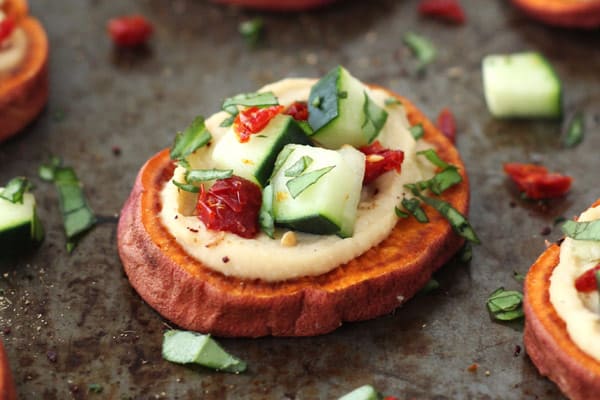 Cucumber Hummus: Top slices with hummus, diced cucumber, chopped sun-dried tomatoes, a sprinkle of Za'atar and fresh basil.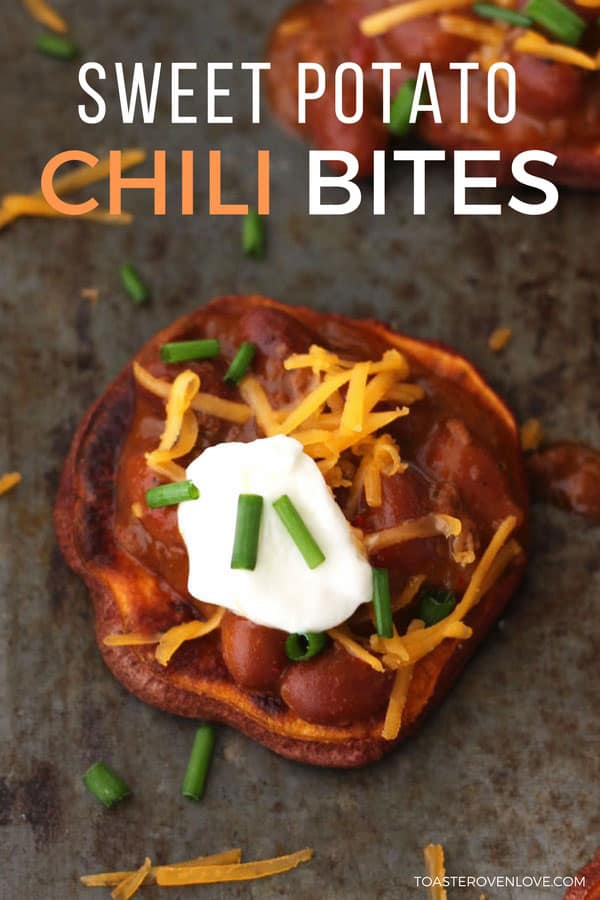 Loaded Chili Cheese: Generously top slices with 1/2 cup of vegetarian chili. Sprinkle with shredded cheddar cheese, small dollops of plain Greek yogurt and chopped chives or green onions.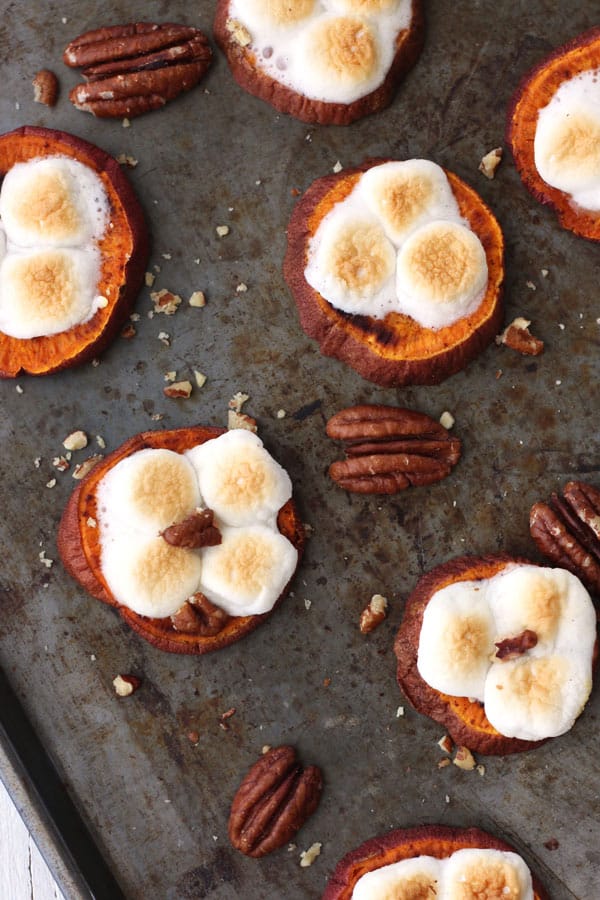 Sweet Potato Casserole: Top baked sweet potato slices with mini marshmallows and broil for 1 minute until puffed and lightly browned. Sprinkle with cinnamon and toasted pecans.
For an epic Thanksgiving S'more sandwich one between two graham crackers.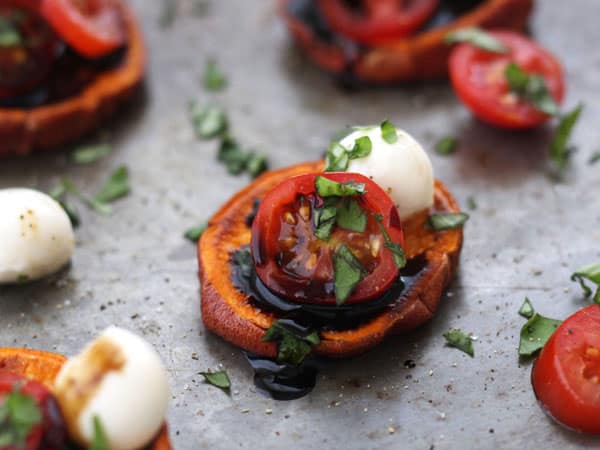 Sweet and Tangy Caprese: Top rounds with mini mozzarella balls, sliced grape tomatoes, torn fresh basil and a drizzle of balsamic glaze.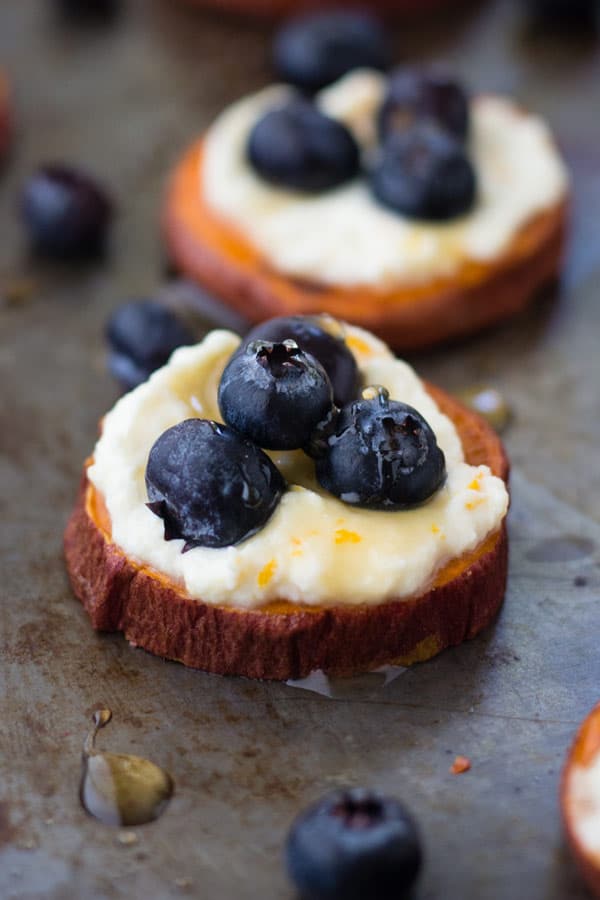 Creamy Blueberry Ricotta: Spread slices with a mixture of 1/4 cup ricotta cheese and 1/4 teaspoon orange zest. Top with 1/3 cup fresh blueberries and a drizzle of honey or maple syrup.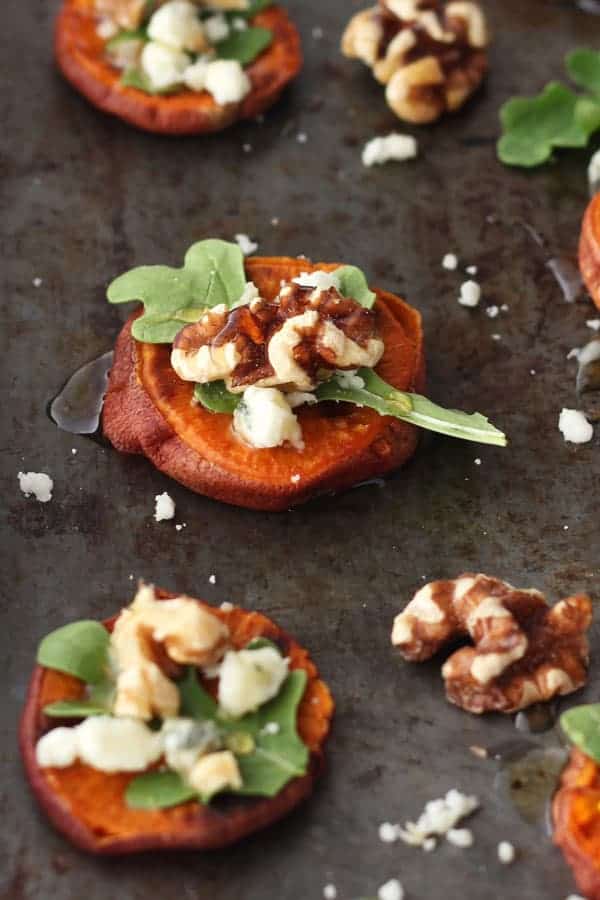 Walnut Blue Cheese: Top roasted rounds with fresh baby arugula, crumbled blue cheese, chopped or whole walnuts and a drizzle of honey.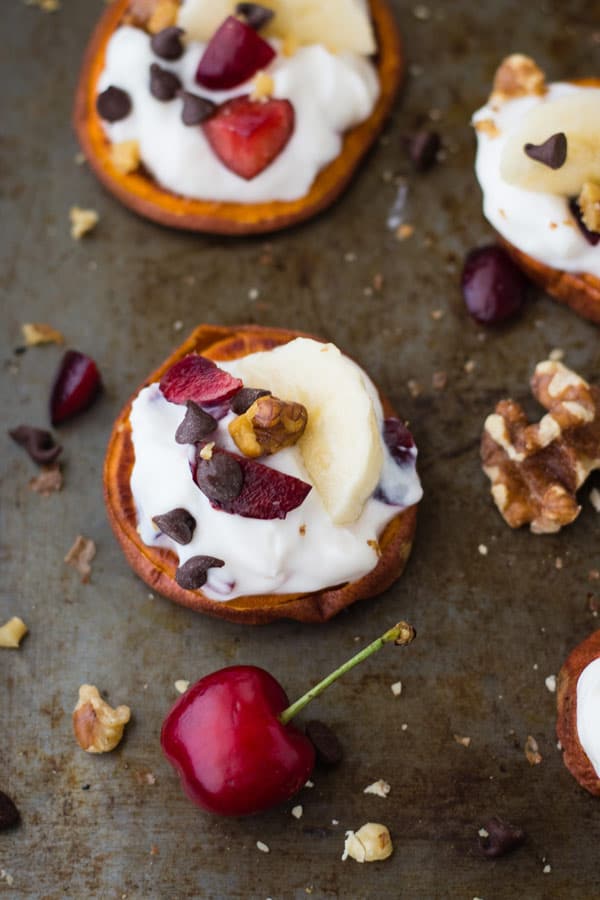 Cherry Banana Split: Dollop a mixture of 1/4 cup vanilla Greek yogurt mixed with 3 tablespoons chopped cherries onto each baked sweet potato slice. Top with banana slices and mini chocolate chips.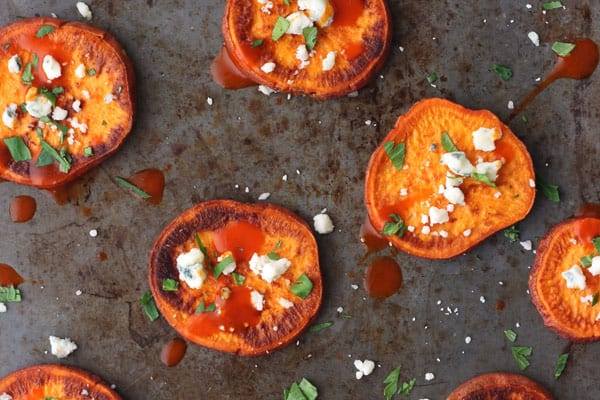 Buffalo Blue Cheese: Substitute 2 teaspoons olive oil mixed with 2 teaspoons buffalo sauce for the coconut oil in the original recipe. Top cooked rounds with crumbled blue cheese and finely chopped celery leaves. Drizzle with more buffalo sauce before serving.