Jalapeño Pumpkin Cornbread Donuts. A moist and spicy cornbread donut perfect as buns for fried egg sandwiches, with vegetarian chili or warmed with butter and honey as a late night snack.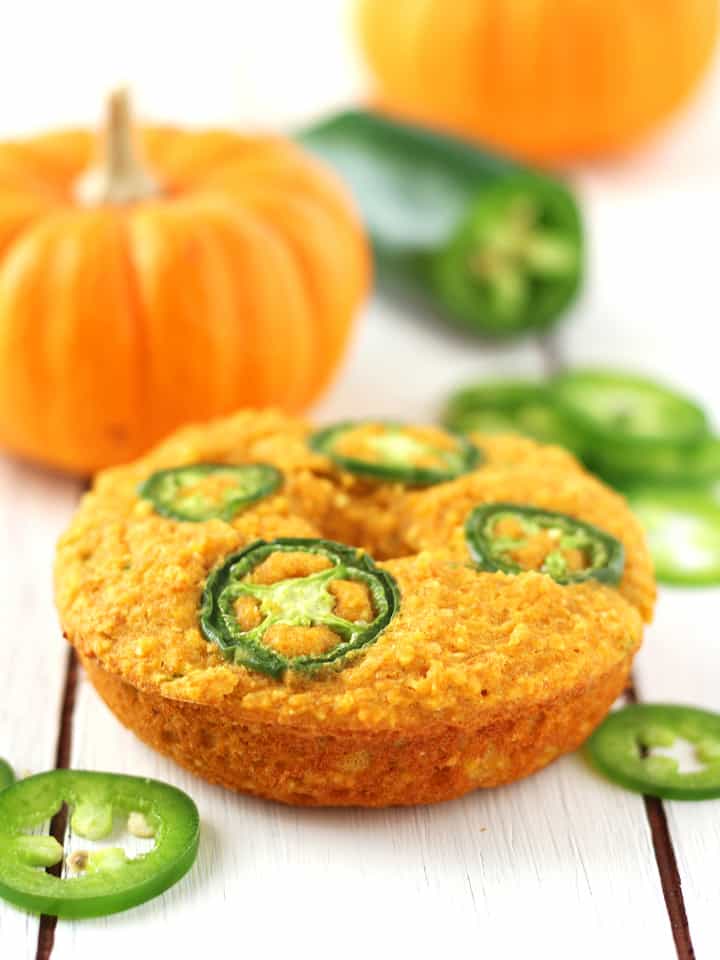 After cracking open a can of pumpkin for last week's Pumpkin Ricotta Stuffed Maple French Toast I had a mason jar full of pumpkin on my hands and 5-7 days to make good use of it.
Three attempts at adapting our Cheddar Sriracha Cornbread Donuts recipe later my pumpkin problem was finally solved.  We had a freezer full of Jalapeño Pumpkin Cornbread Donuts – Yay!  Aaaaand a tasty recipe to share with you 🙂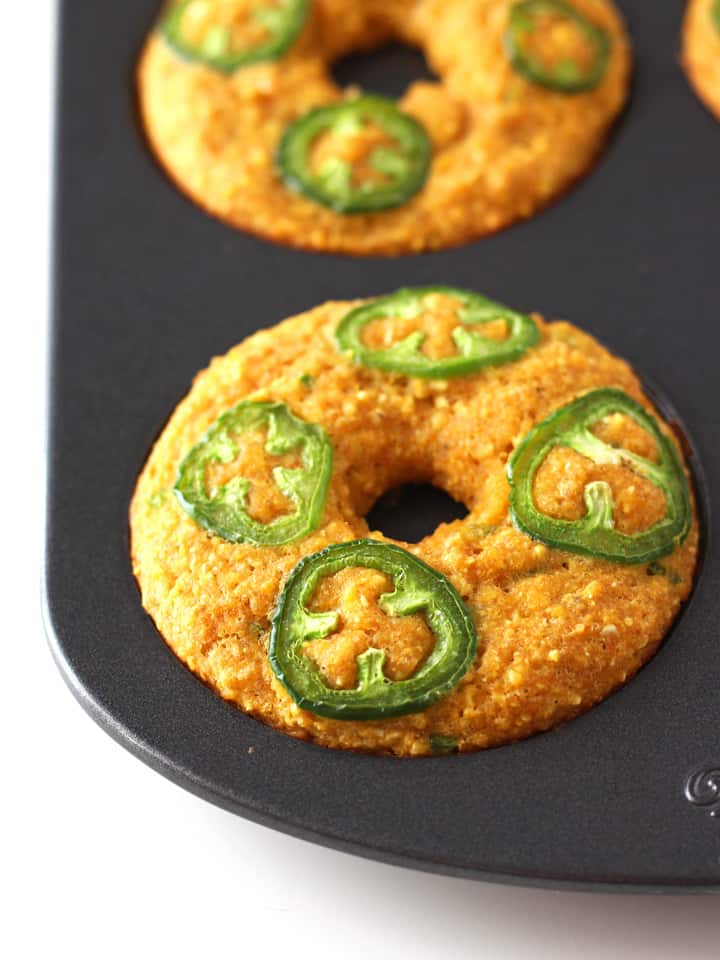 Although we have been going steady with sriracha sauce for a few years now we do have room in our hearts and bellies for other hot sauces too.  One of them being Cholula Hot Sauce.  Cholula is a south of the border original that has a mild heat and smoky flavor from its blend of dried peppers.
When added to cornbread it contributes a layer of savory spices but loses some of it's heat which makes it perfect to pair with a seeded and diced jalapeño.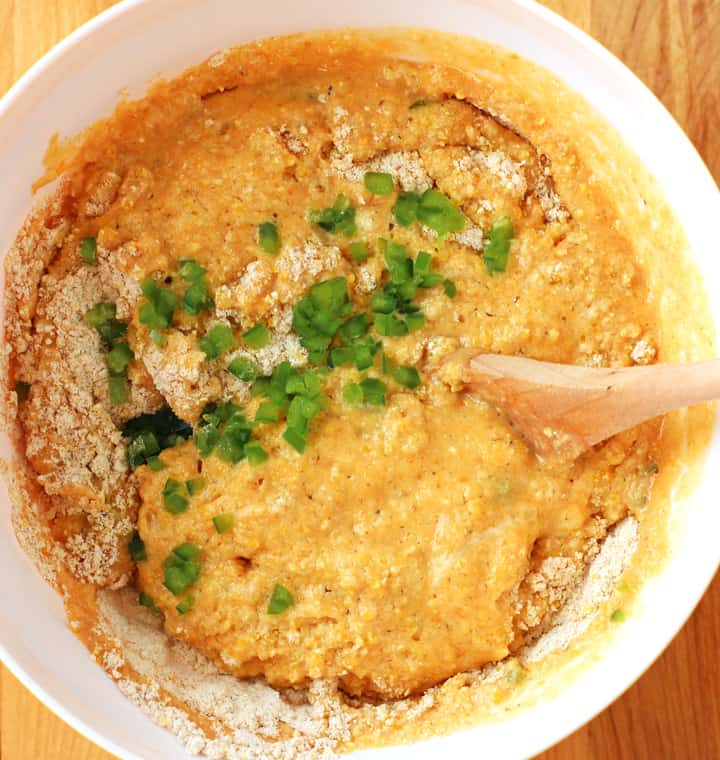 Speaking of jalapeños, don't skimp on the sliced jalapeño topping, it's not only cute but adds even more flavor and heat to these savory donuts.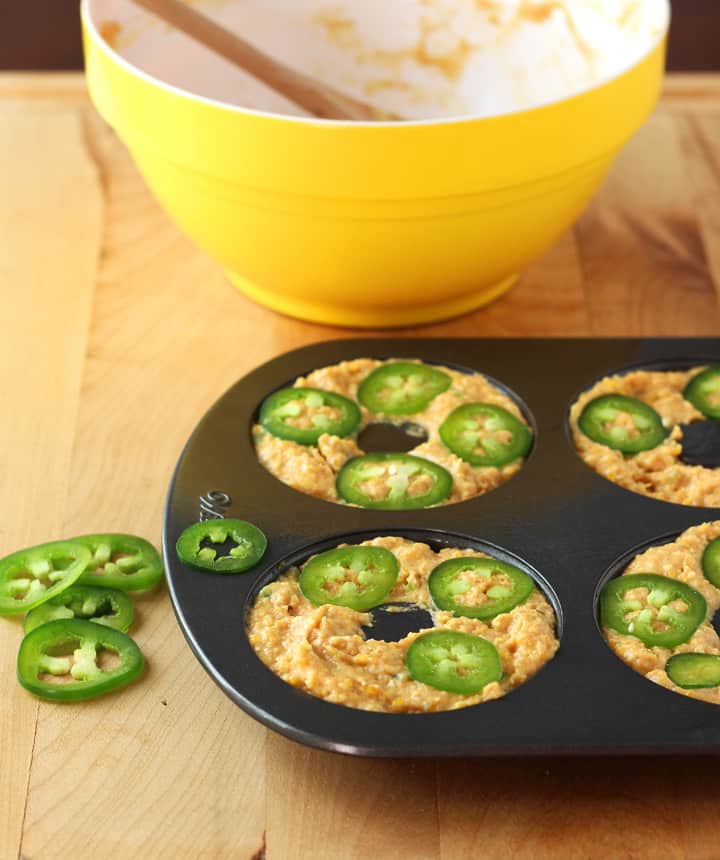 Despite their name you won't taste the pumpkin in these donuts but you will know it's there.  The creamy pumpkin adds moisture that balances out the coarse texture of the medium grind cornmeal perfectly.
Not soggy, not dry just a delicious, moist and hearty cornmeal donut.  Tasty on their own, these donuts would also make the perfect buns for a few black bean veggie burgers topped with Jalapeño Roasted Cauliflower.
So at this point, if you've got a donut pan, an open can of pumpkin and some jalapeños I think you know what you need to do 🙂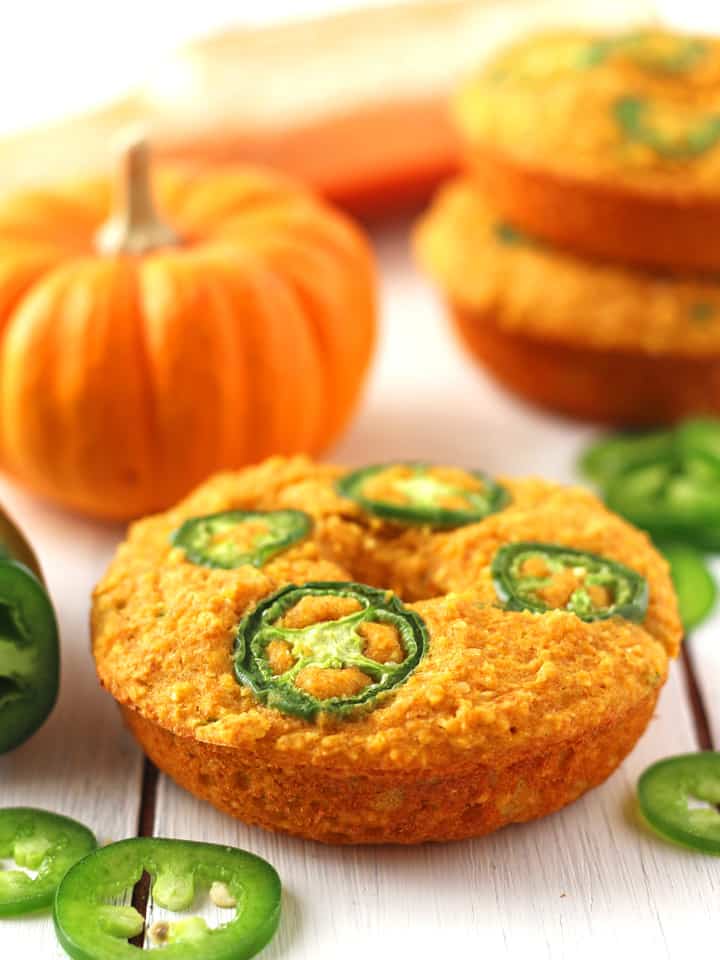 Buns for fried egg sandwiches, with vegetarian chili or warmed with butter and honey as a late night snack I'm sure you will be able to find plenty of ways to enjoy these tasty Jalapeño Pumpkin Cornbread Donuts.

Jalapeño Pumpkin Cornbread Donuts
---
Brie
Yield: 6 Donuts
Spicy and savory cornbread donuts made with buttermilk, pumpkin and whole wheat flour.
10 minPrep Time
15 minCook Time
25 minTotal Time
Ingredients
1/2 cup stone ground medium grind cornmeal (We use Bob's Red Mill Brand)
1/2 cup whole wheat flour
1 teaspoon baking powder
1/4 teaspoon baking soda
1/4 teaspoon salt
1 large egg (at room-temp)
1/2 cup + 1 tablespoon low-fat buttermilk (at room-temp)
1/3 cup canned pumpkin puree
1 tablespoon butter, melted and cooled
1 tablespoon honey
2 teaspoons or up to 1 tablespoon hot sauce (we used Cholula Hot Sauce)
2 small jalapeños divided, one seeded and finely diced (about 1.5 tablespoons) and one thinly sliced for topping
Instructions
Preheat your toaster oven or oven to 425 F and grease a six cavity donut pan.
In a medium sized bowl whisk together the cornmeal, flour, baking powder, baking soda and salt.
In a small bowl combine the egg, buttermilk, pumpkin, honey, melted butter and hot sauce. Whisk ingredients until very well combined.
Make a well in the center of the cornmeal/flour mixture, pour in the buttermilk mixture and fold them together just until combined and small lumps remain. Quickly stir in the chopped jalapeño.
Spoon mixture into the prepared pan and top each donut with the jalapeño slices, lightly pressing the slices into the batter.
Bake donuts at 425 F for 13 to 15 minutes.
Allow to cool in pan for at least 5 minutes before using an off-set spatula to gently remove donuts from the pan. Donuts are best enjoyed warm and served with butter and honey.
Notes
Jalapeños heat levels vary greatly. Try a small piece before adding them to the batter and adjust amount of diced jalapeños depending on your preferred heat level.

For a spicier donut increase diced jalapeños to 2 tablespoons or include some of the seeds as the seeds contain the majority of a jalapeños heat.
7.5
62
http://toasterovenlove.com/jalapeno-pumpkin-cornbread-donuts/
Nutritional Information is an estimate for 1 Donut.